Smart devices like smartphones, computers, and TVs have an Accessibility Menu to help people with disabilities like visual and hearing impairment. While the voice assistant or Audio Description feature on LG Smart TV can be helpful to people with weak eyesight, it might be very irritating to those who don't have any problems. In this tutorial, we'll check out the steps to turn off Google Assistant, Audio Description, or voice guidance on LG TV.
When the voice assistant or voice guidance on your LG Smart TV is enabled, you'll get audio feedback while browsing the menu and selecting options. Moreover, the audio description also works while using apps like Amazon Prime Video, Netflix, Disney+, Apple TV, web browser, etc. Thus, if your LG TV is reading or describing the menu out loud, it means you have activated audio guidance accidentally or unintentionally. You must turn off the Audio Description feature to make it stop talking.
If you think your TV has too many apps installed on it, don't forget to read my tutorial describing the steps to delete and manage apps on LG TV.
The voice guidance feature is found on all smart devices and is branded with different names by different manufacturers. Thus, Android devices have Talkback mode, and on Samsung Smart Smart TVs, the voice assistant is present as Voice Guide. All LG LED, OLED or Nano-cell TVs have the Audio Description feature that can be enabled or disabled from Accessibility settings. If you own a TV from Sony, you should check out my guide describing the steps to turn off Talkback on Sony Smart TVs.
Note: When Audio Description or Guidance is enabled on your LG TV, the on-screen pointer or cursor will stop working.
Editor's Pick: How to Fix WiFi Keeps Disconnecting Problem on LG TV
Turning Off Audio Description on LG TV
If you don't have bad vision, you really don't need a voice assistant to read out the contents on the screen aloud and will find the voice-over on your LG TV irritating. In order to deactivate the LG TV voice assistant, you will have to navigate to your TV settings and turn off Audio Description found under Accessibility settings.
Since the LG TV remote doesn't have a Menu button, press the Settings button to access the Settings menu.
Navigate to All Settings using the down arrow button on the navigational pad.
When you have entered the LG TV Settings screen, navigate to Accessibility, and select it by pressing the center scroll button.
Now, highlight Audio Description and click on it to turn it off.
The voice assistant or guidance on your LG TV will be turned off.
On some LG Smart TV models, the voice assistant is found as Audio Guidance. The steps to deactivate the voice guidance, however, remain the same.
Press the Gear Icon/Settings button on your remote and go to All Settings > Accessibility on your LG Smart TV.
Click on Audio Guidance.
Highlight the On/Off toggle and click on it.
The toggle button will be greyed out and that means you have successfully turned off Audio Guidance on your LG TV.
Turning Off Google Assistant on LG TV
All LG Smart TVs offer the integration of Google Assistant and Alexa under the voice control option. Having set up the voice control service, you can control your TV using Alexa or Google Assistant commands.
Google Assistant is a very convenient feature. If you don't like it, you can set up Alexa instead. However, if you encounter the "Meet your Google Assistant" screen every time you turn on your LG TV, there's an easy way to get rid of that.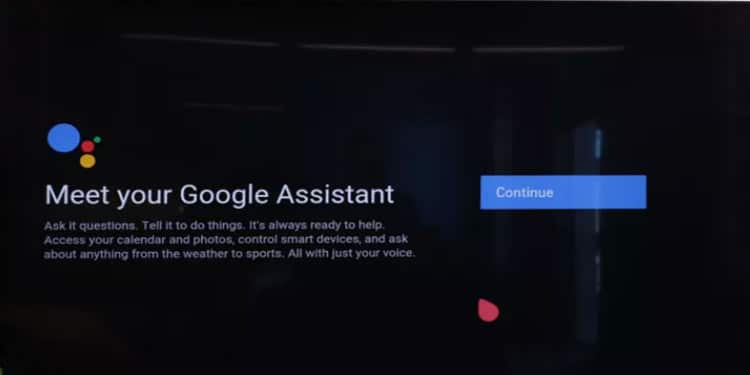 By default, the "Meet your Google Assistant" screen pops up automatically without pressing the microphone button when the TV is powered on. The screen offers only a "Continue" button and that means that there is no option except to click it and go through the Google Assistant privacy agreement and accept it. By following the steps described below you can stop this annoying screen from appearing.
Below is how you can turn off Google Assistant on your LG Smart TV.
Press the Settings button on your remote and select All Settings from the list of icons that pops up.
When you have entered the LG TV Settings menu, select General. On newer OLED and Nano-cell TVs, you'll find the 'User Agreements' option under About This TV.
Then select the Agree option.
Your TV will reboot to apply the changes and when it turns on again the "Meet your Google Assistant" screen won't bother you anymore.
Please note that the above method will disable the microphone button on the LG remote control and that means you won't be able to use any voice command at all.
Read Next: Turn on Blue Light Filter or Eye Comfort Mode on LG TV