Windows 10 is currently in a mess and there's a lot to not like. Fortunately, it isn't the only OS out there and Linux distros are now just as feature-packed as Windows with arguably better user interfaces. Moreover, Macs can be pricey whereas Linux distros are usually free. But there is a boatload of Linux distributions out there and finding the best can be tricky. To help you with that, I have made a list of the best Linux distros available in the wake of 2023. Before you really install any of them, you can test any Linux distro online.
To help you in your journey to find the perfect distro, we've created a list of the 5 best Linux distros you should try now. You might have tried a couple of distros in the list if you've used Linux before. However, if this is your first time using Linux, then don't fret. All five distros listed here are user-friendly and can be set up easily. Therefore, you don't have to worry about entering codes or commands to get things up and ready. Before switching to Linux, you might want to check out why Windows is better than Linux.
Elementary OS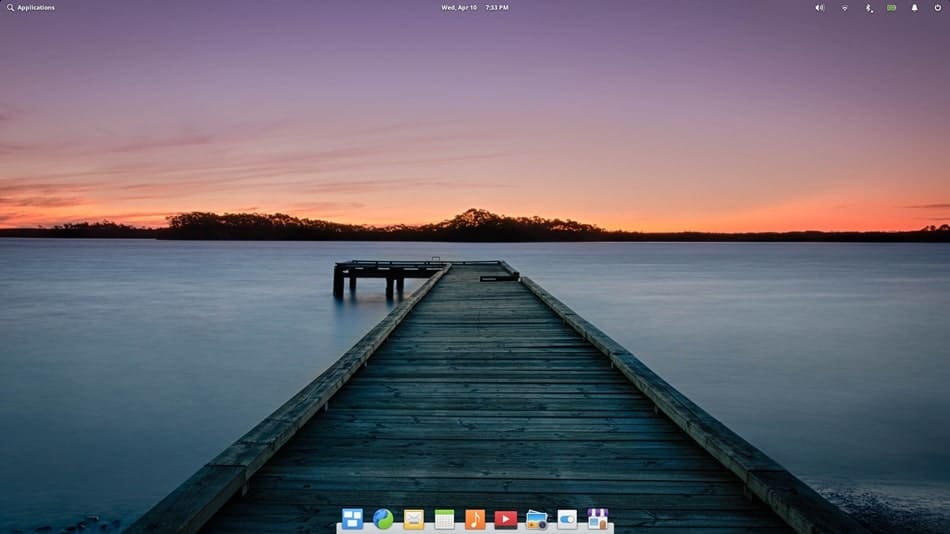 This is one of the best Linux distros you can get your hands on. Moreover, it's a great distro option for those looking to switch over from Mac.
Pros:
Easy to operate.
Beautiful user interface design.
Works smoothly on older hardware too.
Cons:
Few pre-installed apps.
Slower updates.
Elementary OS has one of the best user interface designs compared to other popular Linux distros. From the wallpapers to the icons, everything looks and feels great. The distro comes with the Pantheon desktop environment and is based on GNOME. The latest update is dubbed Elementary OS 5.1 Hera and brings forward a freshly designed Greeter and Onboarding experience. And it also has Flatpak support with Sideload and AppCenter. You can have an even better experience by setting up the hot corners in Elementary OS.
There are a few pre-installed apps such as the Epiphany browser, Geary email client, Calendar app, and more. Although, you might want to download Google Chrome or Firefox for a better browsing experience. Additionally, you can search and install apps from AppCenter. All in all, Elementary OS is perfect for first-time Linux users and those who've been using Linux for years.
Deepin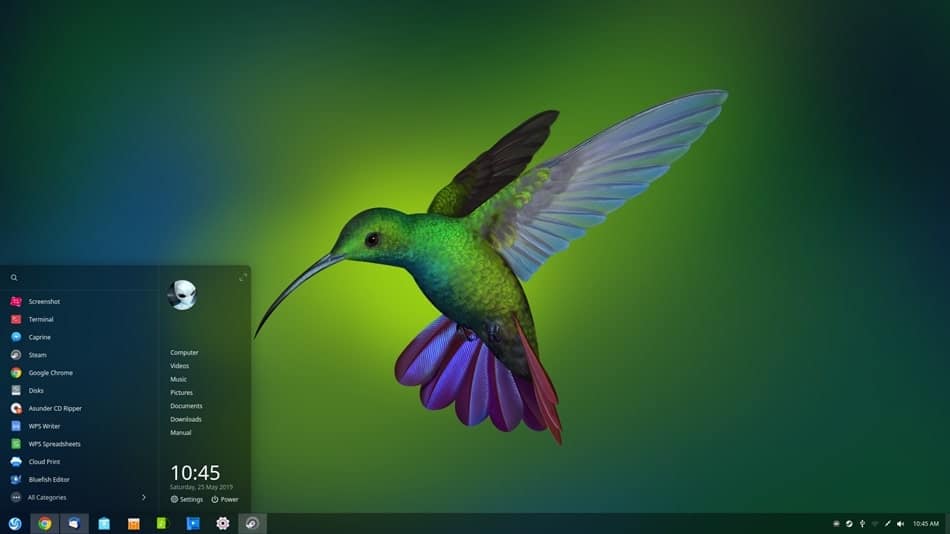 Now here's a Linux distro that is arguably just as beautiful if not better than Elementary OS.
Pros:
Stunning user interface.
Useful pre-installed first-party apps.
In-built Deepin Software Center
Cons:
It isn't recommended for older hardware.
Lacks refinement in certain areas.
Deepin a.k.a Linux Deepin is one of the most stunning Linux distros in terms of UI design. Some would agree that Deepin has a better UI than Apple's Mac OS. It comes with its own desktop environment called DDE or Deepin Desktop Environment. There are a handful of pre-installed apps — including Deepin Terminal, Deepin Editor, and several other first-party apps.
The OS is fairly easy to use and is suitable for first-time Linux users as well. Thanks to the in-built customization options, you can configure your desktop interface based on your own preference. Hence, you can either match it to look like Windows or Mac. The only possible downside is the alleged security or privacy risk since the distro is created by a Chinese company. Nonetheless, Deepin is a fairly great Linux distro that we'd recommend to anyone looking for a clean and beautiful distro.
Must read: Play Windows Games on Linux with Steam Right Now
Zorin OS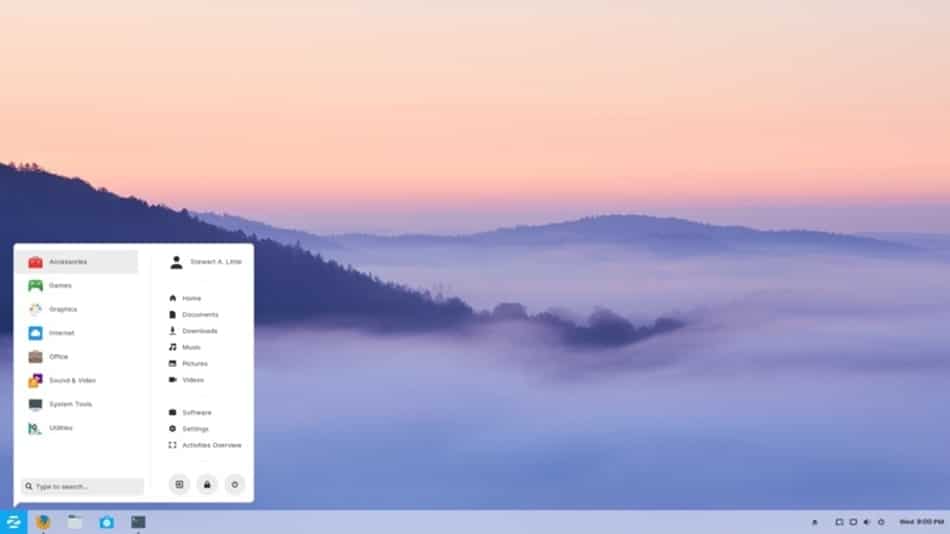 Here's a Linux distro that's geared towards those looking to make the switch from Windows to Linux.
Pros:
Familiar user interface for Windows users.
The Lite version is perfect for older hardware.
Great selection of pre-installed apps and drivers.
Cons:
Limited customization options in the free version.
Zorin OS is one of the most popular alternative Linux distros for Windows users. The UI is designed to match that of Windows 7 — including the start menu. Although, I personally prefer Zorin OS's design over Windows 7 and Windows 10 for that matter. The distro is based on Ubuntu LTS releases and is available in four different versions at preset. These versions are — Ultimate, Core, Lite, and Education.
Unfortunately, the Ultimate edition of Zorin OS is paid and it's the most feature-packed of the lot. Nonetheless, if you aren't a customization freak, the Core edition should do. Additionally, Zorin OS Lite can be installed on older laptops or desktops. The distro isn't too resource-heavy and if you want to support the Linux community, purchasing the Ultimate edition is a no-brainer.
Manjaro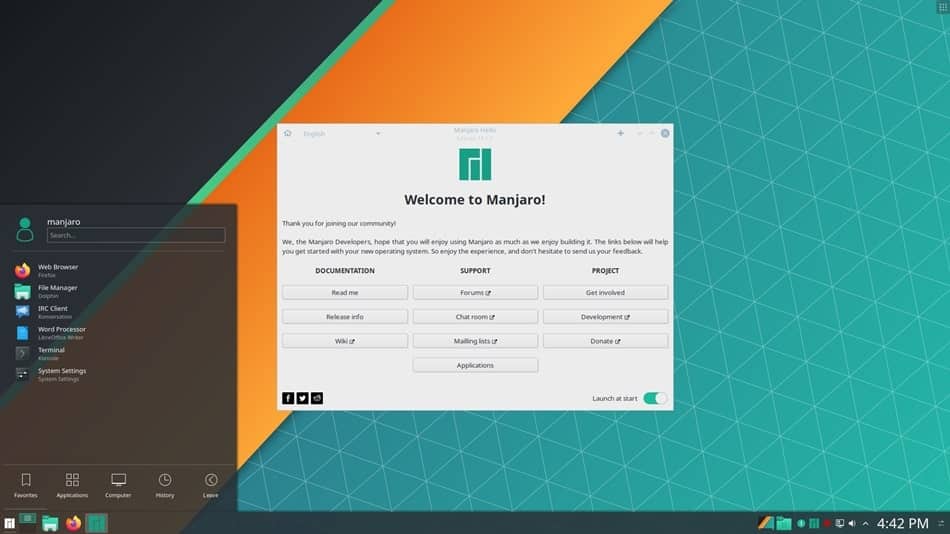 There are only a few Arch-based Linux distros that are actually easy and intuitive to use. Manjaro is one of them.
Pros:
Faster system updates.
Multiple different desktop environments.
Easiest to set up and use Arch Linux-based distro.
Cons:
Some stability issues.
It can get tricky for first-time Linux users.
Manjaro has rapidly become one of the most popular Linux distros. It is fast and is updated with new features and security updates within a few weeks of release. Moreover, it comes with a bunch of useful pre-installed apps and drivers. Therefore, first-time Linux users can also begin working as usual without having to worry about installing basic apps or software.
It's also available in multiple different desktop environments — XFCE, KDE Plasma, Gnome, Architect, and more. Therefore, there's a different flavor for everyone. Although, we recommend checking out the KDE Plasma or Gnome edition first. Nonetheless, Manjaro will only get better after each update and is worth checking out if you haven't yet tried an Arch-based distro.
Ubuntu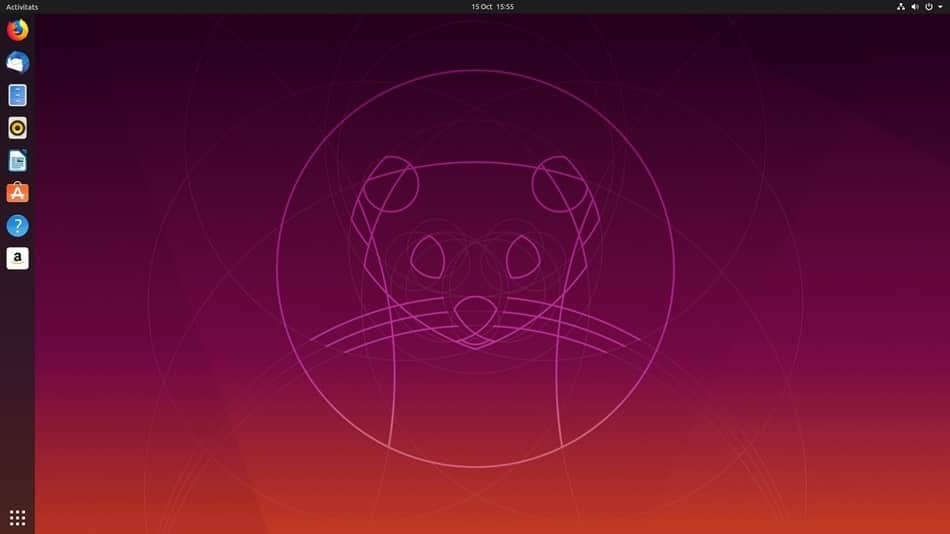 Of course, the most popular Linux distribution has to be on the list. It's feature-rich and has a huge community behind it.
Pros:
Multiple sources for support.
Simple user interface.
First-party software center.
Cons:
Ubuntu is easily one of the most popular and highly recommended Linux distros at the moment. Moreover, the latest Ubuntu 19.10 update has brought forward several new features. And it feels a lot more snappy than previous versions. The popular distro is also perfect for anyone looking to try out Linux for the first time. There's an LTS version for those looking out for long-term support. And for those who want the latest software and features, there are standard releases.
If you use Ubuntu, we have lots of tutorials on Ubuntu to help you use it like a pro.
Check out: How to Create a Persistent Ubuntu USB
Additionally, users now have the option to install NVIDIA graphics drivers while setting up Ubuntu without an active internet connection. Ubuntu 19.10 comes with Gnome 3.34 although you can opt to download the various other Ubuntu flavors. Thanks to the huge community, most problems you might face already have solutions that you can find with a quick search. While Ubuntu isn't the best-designed Linux distro, it isn't too shabby. There's a light and dark theme to switch between. And like any other Linux distro, you can customize just about everything.
These are the top 5 Linux distributions that you should try this year. Every distro has its own pros and cons hence the best way to decide the distro for you is to use it.
Read next: 5 Reasons Why Linux is Better Than Windows