If you've ever been curious about the gaming scene on Linux you've probably heard of Valve, and its gaming platform Steam. Gaming used to be something you could do better on a smartphone than a full-blown high-end Linux PC. That's not because Linux can't handle graphics-intensive games but because there just wasn't any support. Now with Valve's commitment to Linux gaming things have been changing slowly. The big names like EA still don't consider Linux seriously but at least many Indie games on Steam get a Linux release. Valve is now trying a new feature for Steam Play which will let you play Windows games on Linux.
Proton
You've probably heard that news if you like to stay in the loop. Valve is currently testing the Steam Play feature on the Steam beta for Linux. The feature is officially named Proton and is a fork of WINE, except it shouldn't be as hard to use. Valve has even made the source code available on Github, that is to say, Proton is open source. While in theory, you should be able to play all the Windows-only games available on Steam, the reality is a little different. For now, only a small list of games are supported but you can expect the numbers to grow fast when the feature gets out of beta. Officially supported at launch, including DOOM, Final Fantasy VI, Tekken 7, Star Wars: Battlefront 2, and several more.
Whitelisted titles
Don't miss: 3 Lightweight Desktop Environments for Linux
Note
As mentioned, the feature is still currently in beta so expect bugs even on supported games. And those that are unsupported, some games will crash, some won't start, some will do both but may run into problems later. As of now, Valve has whitelisted only 27 games out of 27000 that should work with Steam Play. Since the feature is still in beta, you won't be seeing Windows-only games on the Steam Store using your Linux Steam client. You'll have to manually search for these games. You can find an updated list of games you can install and run on Linux on this community maintained list.
How to play Windows games on Linux with Steam
Well, needless to say first of all you'll need the Steam client installed on your Linux PC. You can find a version for your Linux distro available over at the official Steam website.
Get Steam Beta
When you have it installed, log into the client using your Steam account.
In the Settings, select Account from the left column if not already selected and click on the button that says CHANGE… under Beta participation. 
In the new pop up window that appears, select Steam Beta Update from the drop-down menu under Beta participation.
Click on OK and then click on RESTART STEAM. Steam will then close, download and install the beta update and then start up again.
Enable Steam Play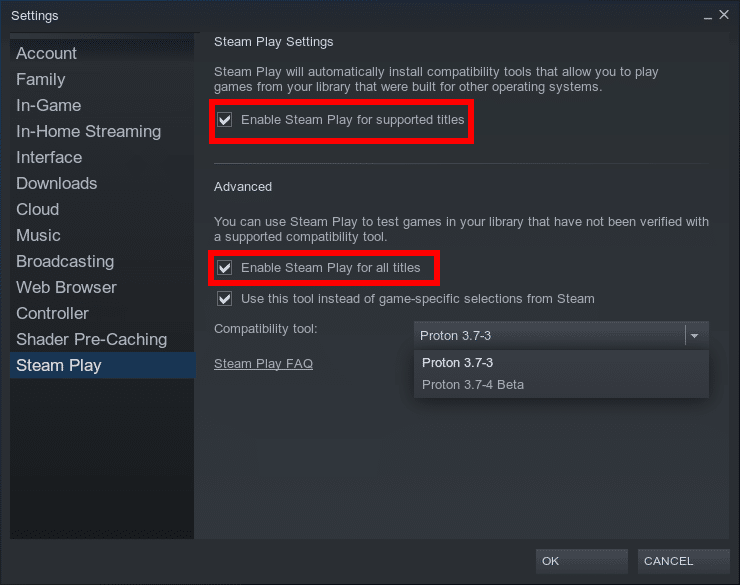 When Steam restarts with the beta update installed, go to Settings again, click on Steam Play in the left column and enable the following options.
Enable Steam Play for supported titles: You can play the whitelisted Windows-only games.
Enable Steam Play for all titles: You can play all Windows-only games, or at least try to but they're most likely to bug out and crash or never even start.
When you find a Windows only game on Steam now using the client, you should be able to see the Install button.
Must read: 5 Popular Mac and Windows Apps Also Available For Linux