Deepin is the default desktop environment of the Deepin Linux distribution and has been created specifically for it. The distribution and also the desktop environment are projects of Chinese software company Deepin Ltd. Deepin is one of the most minimalistic desktop environments you'll come across. It is also extremely slick and beautiful right out of the box, unlike many other desktop environments. You don't need to install the entire Deepin distro to get a taste of the desktop environment though. We'll show you how you can install the Linux Deepin 15.8 desktop environment on Ubuntu 18.10. The instructions should also work for Ubuntu 16.04 onwards.
Deepin is one of the best Linux distros. You can install it on any of the official Ubuntu flavors such as Kubuntu, and even the latest Linux Mint 19. All you need after that is a stable internet connection. No need to tussle with a tar.gz archive or scripts of any kind. You will also need a computer that's capable of handling Deepin, preferably with a decent graphics card. Deepin may look clean and minimalistic but it is definitely not light-weight. Before we get to the installation though, let's see what you'll be installing first.
As you can see in the official video above, Linux Deepin 15.8 makes brilliant use of transparency and blur effects, and it does use them a lot.
Sure it looks gorgeous but Deepin is not for everyone. It is quite unique when you compare it with other Linux desktop environments. It's not just another traditional desktop environment. It's sort of an amalgamation of the good parts from all other desktop environments. Deepin is a custom interface built atop common technologies, in this case, are Qt/C++ and Golang.
Deepin interface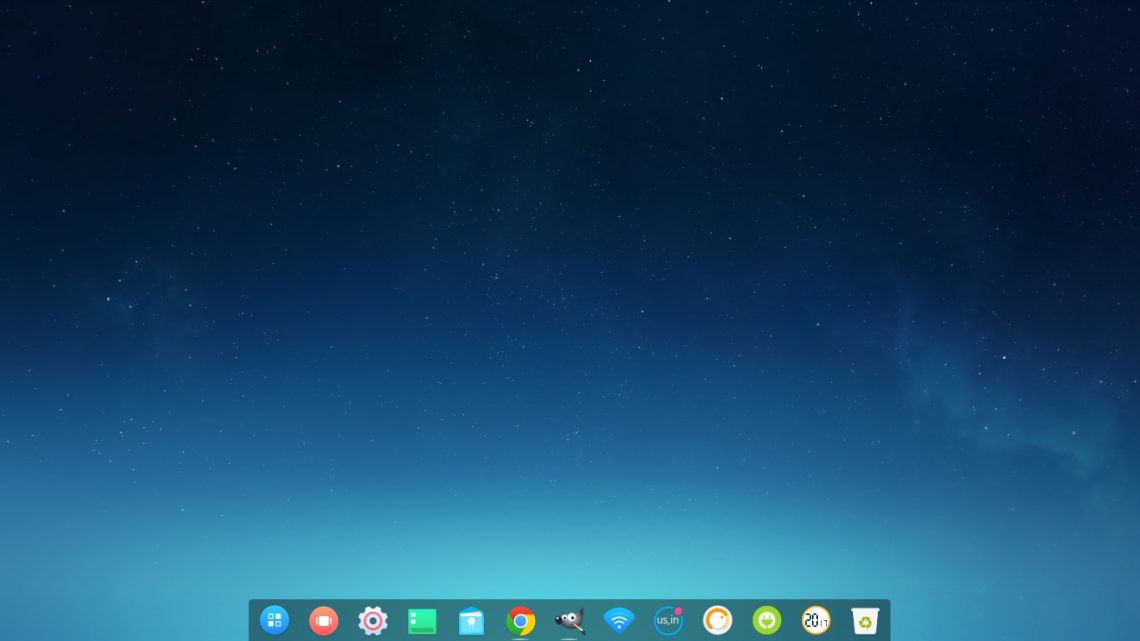 Unlike GNOME which has a top bar, or KDE which has a bottom panel, or MATE which has a top and a bottom bar, Deepin simply has a dock. This dock at the bottom is all the desktop interface you get. It contains an app launcher, a task switcher, and other system icons such as WiFi, sound, battery, etc. You can, of course, dock or undock your favorite apps.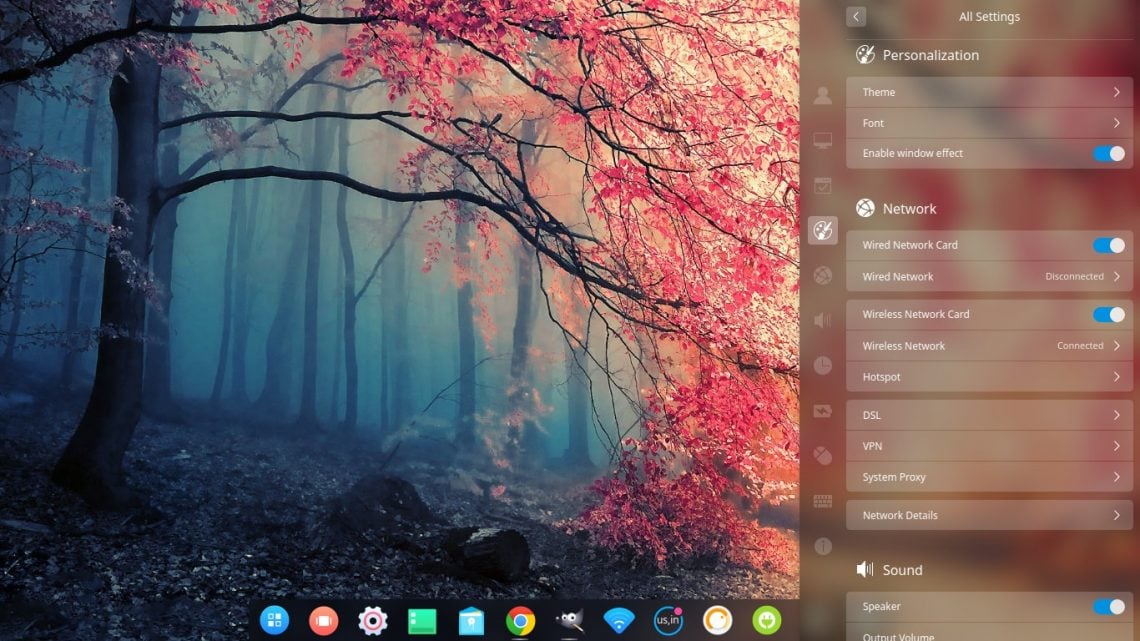 The Settings on Deepin 15.8 is not a separate app but appears more like a panel from the left of the screen like on Budgie. All the settings from user accounts to power management are accessible right here in the panel. A number of first-party apps have been created to go along with the desktop such as the Deepin File Manager, a text editor, and multi-tab terminal, a screen recorder, a screenshot utility, and a Microsoft Paint style drawing program.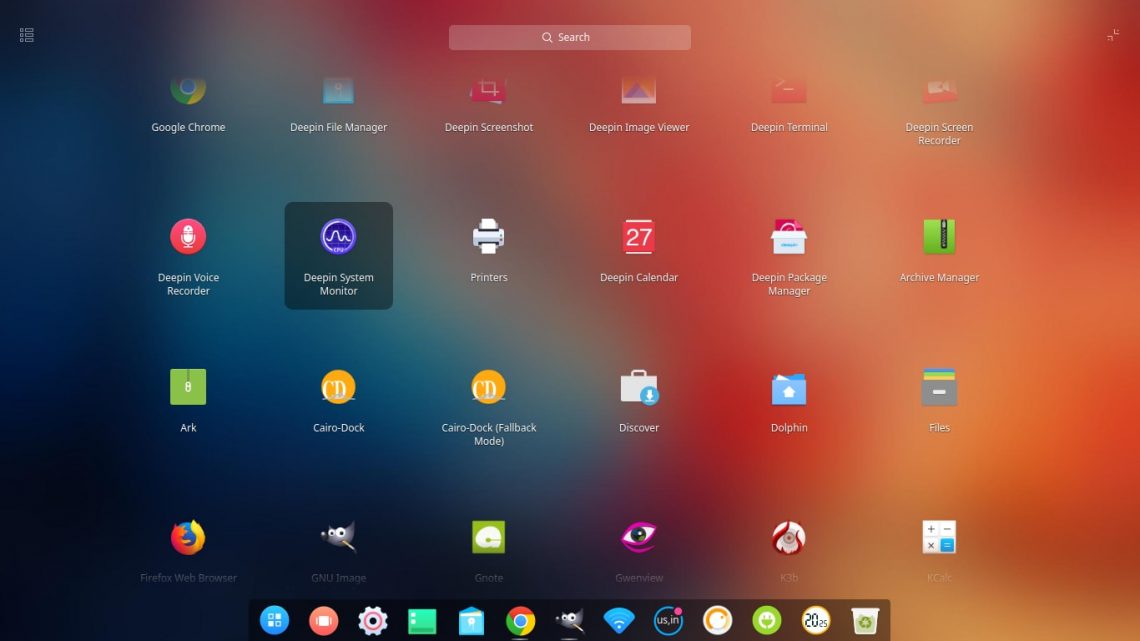 Deepin 15.8 new features
Listed below are some of the key features an changes in Deepin 15.8. Keep in mind that these changes are for the entire Deepin Linux distribution and not just the desktop.
Redesigned control center
Dock improvements
Improved HiDPI support
A new GRUB boot menu
Full disk encryption
Optional Dark theme
Updated apps
Better handling of Office document files
How to install Deepin desktop environment on Ubuntu
If you're curious to try out Deepin 15.8, here's another thing that you should probably consider. The PPA that you'll need to add to install is a third-party PPA and is not maintained by Deepin or Ubuntu. Thus, there is no official support offered in case of broken or conflicting packages. If you're ready, simply launch a Terminal and enter the command given below.
sudo add-apt-repository ppa:leaeasy/dde
This will add the required PPA to your system and also update your system. Ubuntu 18.04 automatically refreshes the system package list after a new PPA is added. Once the update is complete, enter the command to install Deepin as below.
sudo apt install dde dde-file-manager
This will pull a stack of packages listed under this meta-package. Most of these will be Qt-based since the Deepin desktop environment is itself Qt-based. The Terminal will let you know the total size of packages that need to be downloaded and how much space they will use. Press 'y' on your keyboard when prompted and just wait. This can take a while depending on your internet connection.
At some point during the installation process, you'll be required to select a preferred display manager. If you're using GNOME or a GNOME-based DE, you probably have gdm3 already installed. KDE users will have sddm installed. Deepin uses lightdm for its login and lock screens. You can choose to remain with your default display manager though and we'd recommend that you do. So select gdm3 using the arrow keys on your keyboard and hit Enter.
Deepin GTK theme
Unless you make this selection the installation will not proceed further. Once installed, you can log out and select Deepin from the login screen. Enter your password and you'll be logged in with Deepin desktop environment. It might look sleek and wonderful at first, especially the Deepin apps. But as soon as you launch a regular GTK app you'll find it doesn't look quite right.
To make regular Ubuntu apps look the part, you'll need to install the Deepin GTK theme. You can do this by entering the following command in the Deepin Terminal. You can also use any other Terminal app that you prefer and have.
sudo apt install deepin-gtk-theme
Once installed, head to Settings > Personalization > Window Theme and select Deepin/Deepin Dark.
Read next: How to Switch Display Manager on Ubuntu Linux