Ever accidentally deleted some of your contacts while editing them? Or, instead of one, just all of them? Or one day, out of the blue, you don't see any of your contacts in the contacts app, don't take tension as we got you covered. A contact list is very important after all that's where all the information for contacting your friends, family, and that pizza place is stored, right? You, obviously, don't want to lose that.
With an Android device, comes the power of Google. So, if you, somehow, lost all you contacts, then here's how you can get them back.
Please note that this method will restore only those contacts whose backup is made by Google in the last 30 days of their deletion. If you never changed your device's sync settings, then there's a very high chance that your contacts have been backed up by Google automatically.
Steps to Restore Deleted Google Contacts
Launch a web browser from your computer.
Open your Gmail account.
Click the Gmail dropdown in the upper left-hand corner of your screen.
Click Contacts.
On the next page, click More in the left-hand panel.
Click Restore Contacts.
Select the preferred time and click restore.
Now, just to be on the safer side, we will sync the contacts on your phone too. Here's how to do it.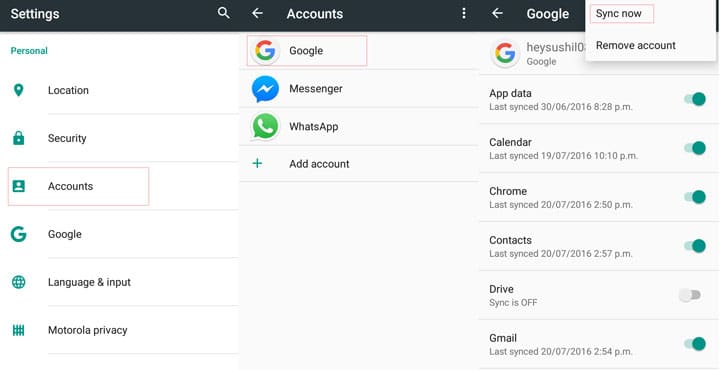 Open your phone's settings app.
Tap Accounts under Personal section.
Tap Google.
Select the account which is linked to your contacts if you have more than one account.
Tap the three vertical dots (menu button) on the right-hand corner of the screen.
Tap Sync now.
Now your device will restore all the contacts from your Gmail account which you thought you have, supposedly, lost. Pretty easy, right? You were getting stressed over it for no reason.