Budgie is a homegrown desktop environment of the Solus project, based on GNOME 3. Due to its growing popularity in the Linux community, it even received an official Ubuntu favor that ships with Budgie desktop pre-installed. The developers have been working on Budgie 11, meanwhile, the current latest version to exist is Budgie 10.4. It's a light-weight alternative to the GNOME desktop itself and is a modern desktop that features heavy integration with the GNOME stack. Being light-weight comes with a few sacrifices of course. But for a lot of people, these turn out to be the right sacrifices. There are also some additions that you probably won't find on GNOME, at least I haven't.
What's new in Ubuntu Budgie desktop 10.4
Budgie 10.4 now makes use of animations while minimizing and maximizing applications.
Now the alt+tab switcher prefers the theme icon instead of the X11 icon.
To go backward in the Alt+Tab dialog, the Shift+Alt+Tab support has been added.
Budgie 10.4 introduces the Night Light applet for reducing eye strain.
Places Indicator and Workspace applet too have seen multiple improvements. For each workspace, the windows are now represented by icons in a grid layout.
Notable Budgie features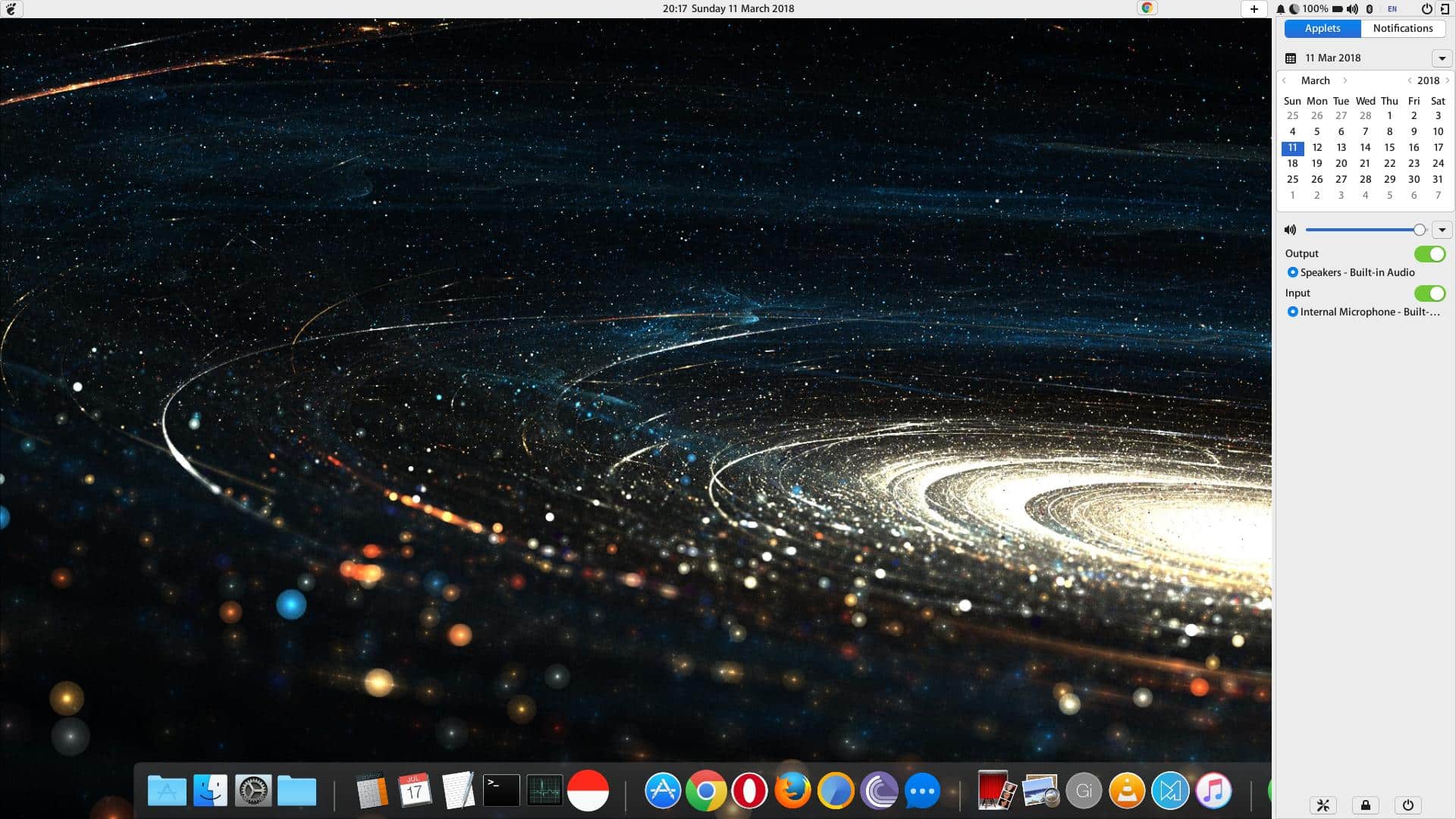 Modifying Budgie's appearance is easier than GNOME's. It does not need a separate Tweak tool and allows you to do a fair bit of customization. Clicking on the Settings button at the bottom of the Raven Sidebar Control opens up the Settings, not the music player. Budgie has a built-in theme and a dark theme. The built-in theme simply prevents desktop elements like the panels from being affected by themes and keeps them dark. The themes look nice, but the look is not for everyone. If you'd like to turn these off you can do so with simple toggles.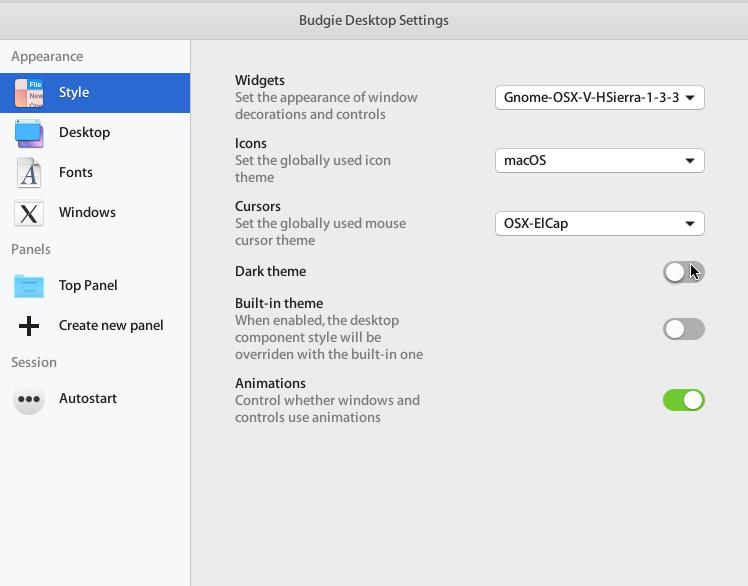 There are a number of things you can change here from application themes to fonts, icons, and cursors. It also lets you customize the top panel's size, make it transparent, add, remove, or move the applets on the top panel, etc. It is no match for the Plasma desktop's customization, but it is still quite better than what GNOME or Unity offers. All in all, Budgie is a solid take at a modern Linux desktop. It looks nice even with the default settings and works just as well. The applets may not be as flexible as GNOME extensions or Plasma widgets but that could change as popularity grows.
Read on: Try Ubuntu's New Yaru Theme Right Now
Installing Budgie Desktop 10.4
Installing Ubuntu Budgie desktop is not a hassle if you're used to your Ubuntu by now. You may have used the Terminal plenty of times already to install and uninstall software. Budgie can be installed similarly via the Terminal. Depending on your Ubuntu version, you will need to add a PPA, or not. Execute the commands given below one by one depending on your version of Ubuntu and follow the on-screen instructions. The first commands add the respective PPAs according to your system version. You'll be required to enter your password.
The second commands update the list of packages available and then the third commands install the Bungie desktop package to your system. You might be required to press Y on your keyboard to confirm the installation.
16.04 LTS
sudo add-apt-repository ppa:budgie-remix/ppa
sudo apt update
sudo apt install budgie-desktop
17.04 LTS
sudo add-apt-repository ppa:ubuntubudgie/backports
sudo apt update
sudo apt install budgie-desktop
17.10 LTS
Ubuntu 17.10 already includes Budgie in the official repositories so you won't need to rely on PPAs. Simply run the install command and press Y when asked.
sudo 

apt 

install 

budgie

-

desktop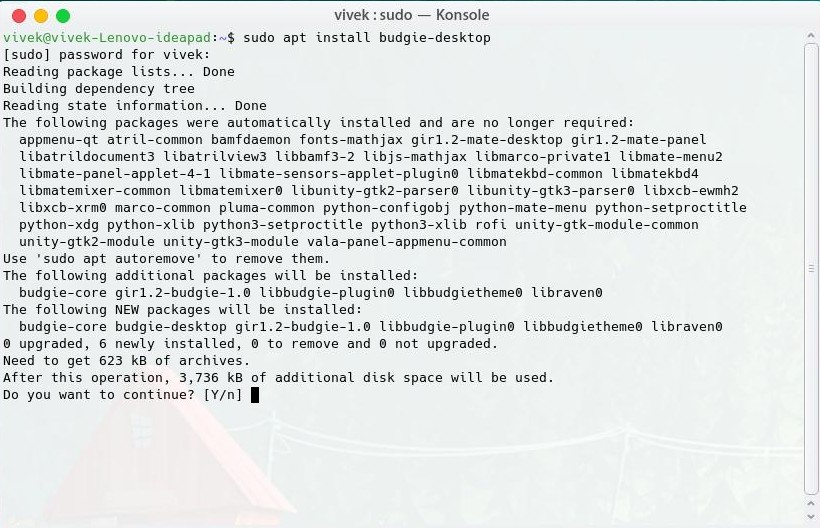 How to switch to Budgie desktop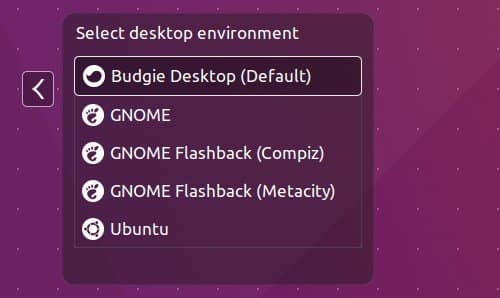 To switch to Budgie desktop, you'll have to log out of your current desktop session. Click on the Ubuntu logo icon next to your username on the login screen and select Budgie Desktop. After that, enter your username and password to log in and you'd be greeted with a brand new desktop environment.
Installation Command
To uninstall Budgie just run the following command in a Terminal.
sudo apt remove budgie-desktop-environment budgie-desktop && sudo apt autoremove

Recommended for you: How to Enable Flatpak Support in Ubuntu