In case you haven't heard, Google has been working on a Material Design 2 revamp and instances of it have already started to appear. We've seen some new elements with a more rounded approach incorporating Google's new material design 2 guidelines. With all the focus on Android,  you'd be forgiven to think that Google considers Android as the future. However, with the inclusion of Android apps on Chromebooks, it was made clear that the company is betting on ChromeOS when it comes to larger screens. Keeping up with the interface changes, Chrome will now let you customize the new tab page if you're using Chrome 70.0.3534.4.
If you click on the three-dot menu button in your Chrome and go to Help > About Google Chrome, you'll notice you have version Version 65.0.3325.181 installed. If you're not always connected to the internet you'll have an even older version of Chrome.  So how do you get Chrome version 70 or above? Just like on Android, Google maintains several Chrome channels on Windows/Linux/Mac and even ChromeOS. If you want the new customizable new tab page you'll need to download Chrome Dev.  Once you have it installed, follow on with the steps below.
Downloads
Customize the new tab page on Google Chrome
The new tab page has a brand new look but most of it is not exactly that new. The curvaceous Google search bar in the center and the rounded icons at the bottom were actually available before, just not enabled by default. You'd have had to enable them via Chrome flags. Now they're enabled by default but also, there are now options to customize the new tab page and they're quite new. One of these options is the option to add custom links to 'most visited'. You no longer have to depend on Google to show you your favorite websites, which, to be honest, has hardly ever guessed the site I wanted to visit. Users can now manually add them specifying the exact address and name.
Don't miss: How to Enable Picture-in-Picture in Google Chrome
It's such a basic feature that rivals of Chrome like Firefox and Opera have had since ages but it is finally on Chrome too. To add a shortcut just click on the + icon at the end of your most visited website list. Enter a name for the website and a URL and click Done. Chrome will automatically fetch the website's favicon as long as you have an active internet connection. Similarly, you can also edit a shortcut. To do that, hover your mouse over the shortcut and a three-dot overflow menu button will appear. Clicking on it will open up the Edit shortcut dialogue.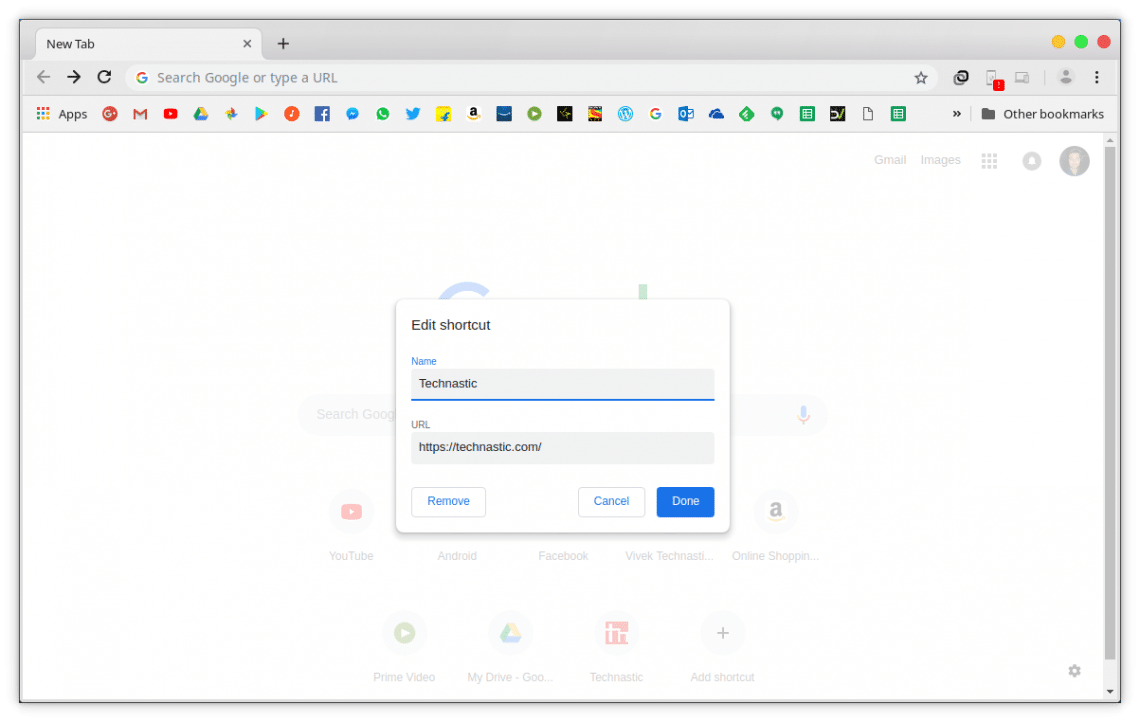 You'll also notice a tiny cogwheel icon towards the bottom right of the new tab page. It lets you reset all shortcuts to default and also reset the background to default. More importantly, it lets you change the background to an image from Google's own Wallpaper app from the Google Pixel smartphones named as Chrome Backgrounds here. You can also upload an image of your own choice to use as the new tab page background.
Must read: How to Use Google Chrome Malware Scanner & Cleanup Tool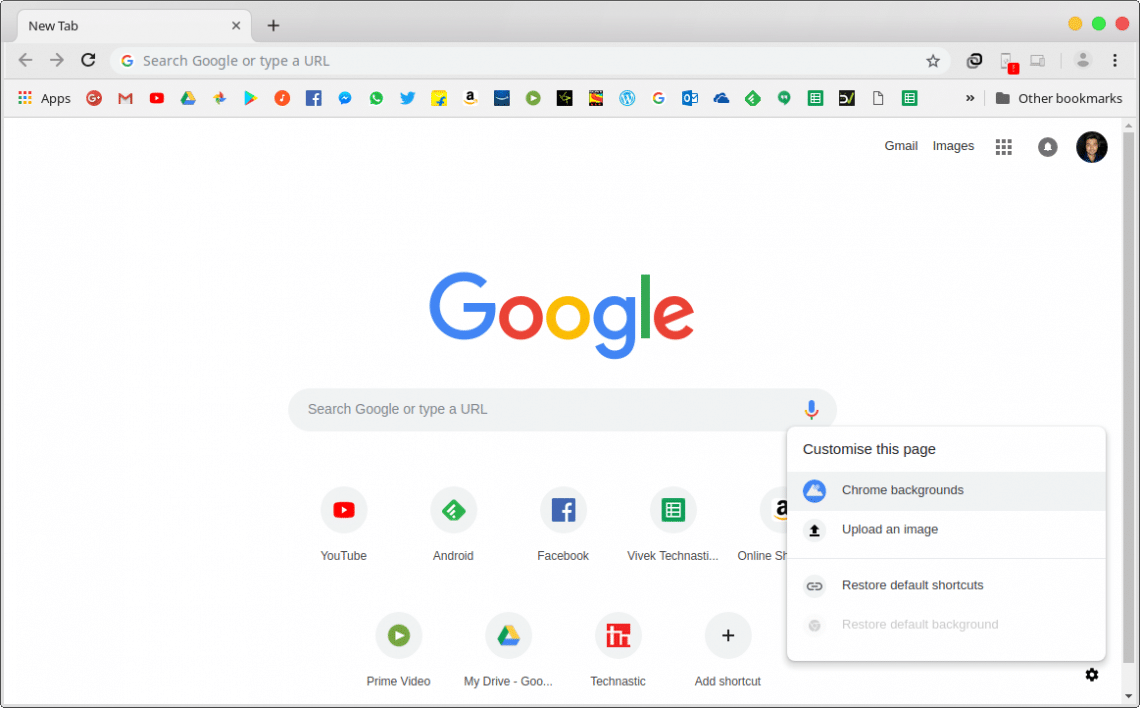 How to enable new tab page customization on Google Chrome
The new tab page customizations seem to have been enabled by default on Chrome dev, for me at least. It could be that Google is testing this new change with a select group of users as it normally does. There's also the possibility that this is enabled by default for all Chrome dev users. In any case, if for some reason it is not enabled by default for you, here's how you can manually enable it.
Regardless of your OS, the method to enable the touch-optimized Google Chrome is similar. But before you go ahead only to find the flag isn't there, make sure that you have a Chrome with build version 67 or above.  As mentioned previously, you can do this by clicking on the three-dot menu button in your Chrome. Then go to Help > About

G

oogle Chrome. 
Even though you should have Chrome 67 with both Chrome Beta or Chrome Dev, it's possible that some users may still get Chrome 66 with Chrome Beta. In that case, you have no other choice but to get Chrome Dev.
Now, to get to the magical flags there are two ways:

Enter 

chrome

:

//flags/ in the URL bar, hit Ctrl+F on the keyboard, and type #ntp. You'll now see all the four flags that you have to enable. 
Alternatively, you can just copy and paste the following into the URL bar and hit enter. You'll then have to enable each of the flags one by one.

chrome://flags/#ntp-ui-md
chrome://flags/#ntp-icons
chrome://flags/#ntp-custom-links
chrome://flags/#ntp-backgrounds

When you have enabled all the four flags, click on the big blue RELAUNCH NOW button at the bottom.
Upon relaunch, when you open a new tab you'll notice you have all the customization options we've discussed above.
You may also like: How to Remove Article Suggestions on Chrome for Android