Nobody can call oneself an avid Android user without being familiar with ADB and Fastboot. They are very useful command-line tools that can be used to perform countless developer-level tasks on Android devices. You can use ADB and Fastboot commands on Windows, macOS, or Linux to control and customize your Android phone or tablet. Before you can do that, however, you must download and install the ADB drivers on your computer. The SDK Platform Tools pack together all required files to execute ADB and Fastboot commands. Below, you can download the latest SDK platform tools Zip for Windows, Linux, and macOS X directly from the Google servers.
Using ADB and Fastboot commands, you can install, uninstall, debug, and emulate apps, customize your Android device, enable and disable hidden settings, back up your data, push and full files, and remotely control your device from your computer. Moreover, you can also flash factory images, custom recovery, sideload APK, and so on. If you want to learn about the possibilities you can explore after installing the Android SDK platform tools, please refer check out the following lists of commands.
What are SDK Platform Tools?
SDK is an abbreviation for Software Development Kit. The SDK platform tools contain the ADB and Fastboot drivers for Android. These drivers are very essential because they let a computer establish a connection with an Android phone, tablet, or smartwatch connected over a USB cable or WiFi. Originally, the Android SDK platform tools were a part of the Android SDK Manager and Android Studio. Later, Google decided to release the Platform-tools separately in a compact easy-to-download Zip package for operating systems like Windows, Linux, and Mac.
Download ADB and Fastboot SDK Platform-Tools
Below you can download the Android SDK Tools for all three major operating systems for computers.
Android SDK Tools (Windows)
Having downloaded the latest version of Android SDK platform tools for Windows, you can follow the steps given below to set it up.
platform-tools-latest-windows.zip
Android SDK Platform Tools (Mac OS X)
platform-tools-latest-darwin.zip
(Learn, how to install and use ADB and Fastboot on Mac)
ADB Platform Tools (Linux & Ubuntu)
platform-tools-latest-linux.zip
I wrote a detailed guide on installing ADB and Fastboot on Linux to help you with using ADB commands easily.
Don't Miss: How to Install Use ADB Commands on Android Phones
How to Set up SDK Platform Tools
Now that you have already downloaded the SDK platform tools, you need to install or set them up on your computer. If you don't know what to do with the zip file you just downloaded and how to execute the ADB and Fastboot commands, I am going to explain everything you need to know.
First of all, you need to unzip the "platform-tools-latest.zip". You can extract it anywhere on your computer but I prefer saving the files to a folder created as "Android" on the C drive on my Windows PC. Having extracted the zip file, you need to launch a command prompt window before you can execute an ADB or Fastboot command.
Launching a Command Window with ADB/Fastboot Path
It's very easy to launch a command prompt window on a Windows PC. Click the Search icon next to the Windows menu icon on the taskbar and hit the Enter key. In case you need to launch the Command or CMD window from inside the Platform-tools folder, there are 2 ways to do that.
Method 1
Open the folder in which you extracted the content of the Platform-tool.zip file.
While pressing the Shift key on the keyboard, perform a right-click on your mouse at an empty place inside the folder window.
You can now execute any ADB or Fastboot command.
Method 2
Well, this method is far easier than the one I described above. You can simply launch a command window from inside the platform-tools folder by typing "cmd" or "powershell"  in the Windows file explorer address bar as shown below and hitting the Enter key on your PC's keyboard.

Note: Make sure to enable the USB debugging option on your Android device. You can find it under Settings> Developer options. In case you don't see Developer Options listed under device Settings, open About device> Software Information and tap the Build number 7 times to unlock the hidden Developer options on your Android device.
You need to allow the debugging option so that your devices and computer can communicate and interact with each other. When you execute a command in the command window, you'll get a pop-up on your Android phone's screen asking you to Allow USB debugging.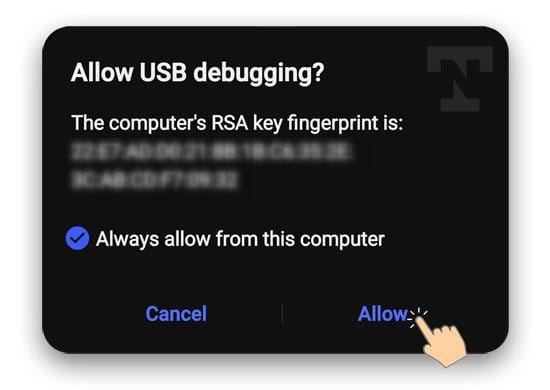 Verify ADB Connection
Note: Make sure you have already installed the proper Android USB Driver from your device's manufacturer on your computer.
Having enabled USB Debugging from Developer options, connect your phone or tablet to the computer using a compatible USB cable.
Now launch a command window and type the following command and click the Enter key on the keyboard.

adb devices

You'll see the list of the IDs of attached devices in the Command Prompt window represented by a string of alphanumeric values as shown below.
Please note that to sideload an APK on your Android phone via ADB or to flash a system image (.img) file using Fastboot commands, you need to place those files inside the "platform-tools" folder first. You can also enable system-wide ADB and fastboot so that you can execute commands without navigating to the "platform-tools" directory every time. If you encounter any problem while running commands, read my tutorial on fixing ADB or Fastboot is not recognized error.
That's all for now! I've also prepared a very exhaustive list of useful ADB, ADB Shell, and Fastboot commands in a dedicated tutorial. Don't forget to check that.
Now that you have set up SDK Platform tools on your computer, here are a few things that you should start with.