Many times we enjoy the look and feel of particular software, but we don't want to switch. This is where themes really help out but themes can only do so much. For instance, I totally love Android and I don't see myself switching to iOS ever. Although, sometimes I'd make my Android look exactly like an iPhone until I get bored of the look. So you love Linux but that doesn't mean you can't secretly have a crush on Windows right? We've previously seen the magic of Linux and how it can turn into a Mac if you so choose. But MacOS is hardly the most used operating system, it's Windows. To be more specific, despite Windows 10, Windows 7 is the most popular OS. But Windows is not free, Windows 7 is outdated, out of support, and there are many other reasons why you'd not want to switch. In that case, you can simply make Ubuntu 17.04 look like Windows 7 by installing the UKUI desktop environment.
As you may know, Ubuntu comes in a variety of official flavors. Some of these even have their very own desktop environments and themes. We've already seen MATE and KDE Plasma and today we'll take a look at the UKUI desktop environment that ships with Ubuntu Kylin. Kylin is an official Chinese language spin of Ubuntu. Their UKUI desktop environment is not something entirely new though and is rather based on the MATE desktop environment. Ubuntu Kylin used to have Unity as the default desktop much like stock Ubuntu. When Canonical announced that they'll be ditching Unity in favor of GNOME, Kylin made a last-minute switch from Unity to its own MATE-based UKUI desktop, for 17.04.
UKUI had already been in development and was out in preview form alongside Unity on Ubuntu Kylin 16.10. It features a Windows Explorer-style file manager called Peony. Peony is a customized fork of Caja which is the default file manager for Ubuntu MATE. The UKUI desktop has a single MATE panel with a custom set of applets and indicators that replicate the Windows taskbar. The panel contains a Windows-like date/time indicator, a simple volume slider, and a Start button. Apart from the Ubuntu logo on the start button, instead of a copyrighted Windows logo, UKUI pretty much nails it. It even has a Settings app that resembles the Windows 7 Control Panel.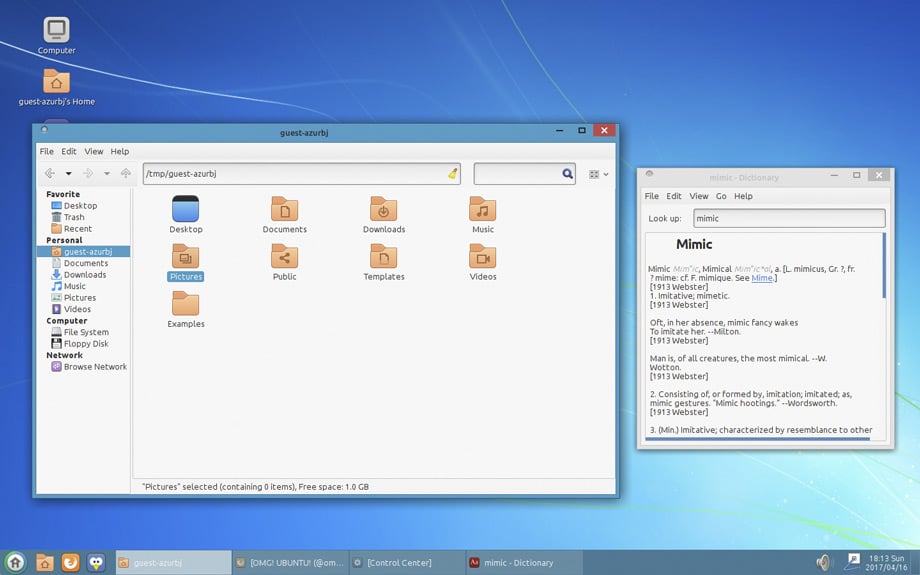 Combine all of that with various Kylin apps such as WPS Office, which itself is a replica of Microsoft Office, you've got yourself the best Windows 7 clone.
Note
Before you rush to the installation part you should know that it isn't all heavens and fairy tales with UKUI. Installing UKUI results in the installation of the Kylin Greeter (login and lock screen) and Ubuntu Kylin desktop settings. The desktop settings, in case you haven't guessed, will move the Unity launcher to the bottom and change the default Ubuntu language to Chinese among other things. Furthermore, the default UKUI GTK theme lacks proper GTK3 support. The problems don't end there either. In case you use the MATE desktop already, installing UKUI will cause a little bit of chaos on your computer with some MATE defaults applying to UKUI and vice versa.
But this is Linux we're talking about here so obviously if you have the will you can manually correct or revert these changes somehow or the other. If you're not planning on using Unity or MATE though you don't have to worry about these anyway.
Install UKUI on Ubuntu 17.04
UKUI has been included in the official Ubuntu repositories and is thus available for download via the Software Center. You can search for it or use the link below to launch it in the Software Center.
//ukui-desktop-environment
In case you tried it and now want to get rid of it you can once again use the Software Center, but it'd be better to just execute the following command in a Terminal window.
sudo apt purge ukui-desktop-environment ubuntukylin-default-settings peony-common
Also, make sure you remove the Ubuntu Kylin repositories in Software & Updates > Other Software.
If you want to try more DEs on your computer, check out our list of the best Linux desktop environments available now.