Windows 10 already has an AI assistant built-in and it's called Cortana. Thanks to its Echo devices through Amazon's Alexa has quickly become everyone's favorite AI assistant, leaving even Siri far behind. It already is available on your Android smartphones. Alexa can do many things, and it's understandable if you want Amazon's offering on your PC too. Amazon has managed to convince several device manufacturers to pre-install Amazon Alexa on their laptops. Refer to our guide if you want to enable and setup voice typing on your Windows 10 PC.
Warning
The dropbox link we have for the Amazon Alexa app is not an official version from Amazon. It's not even from any of Amazon's current or ex-employees and we cannot verify the source of this link. Therefore, proceed with the download and installation at your own risk. Rest assured, we have downloaded and installed the app and it works fine. We can also confirm it is not a harmful file. Although it is still recommended that you scan the file with your trusted Antivirus and Malware software before opening it. Technastic.com takes no responsibility if you do proceed with the installation and things don't go as well as expected.
Download
Alexa currently only works if your device language is set to US English.
How to install Amazon Alexa on Windows 10
Download version 1.2.9.115 of the Amazon Alexa Win32 app from the link provided above. You can install any program on external storage on Windows 10.
Scan the file with your preferred anti-virus software and then extract the zip if everything seems fine. 
Run the extracted exe file.
Click Options in the installer if you want to change the default install location. Click Install when you're ready. 
Accept the User Account Control Prompt. You'll need Microsoft Visual C++ 2015 installed on your computer but in case you don't have that, the installer will install it automatically.
There are no prompts or further instructions or having to click the Next button over and over like some other installers on Windows. It's seamless and when it's done, you'll have to reboot your PC.
Set up Amazon Alexa on your Windows 10 PC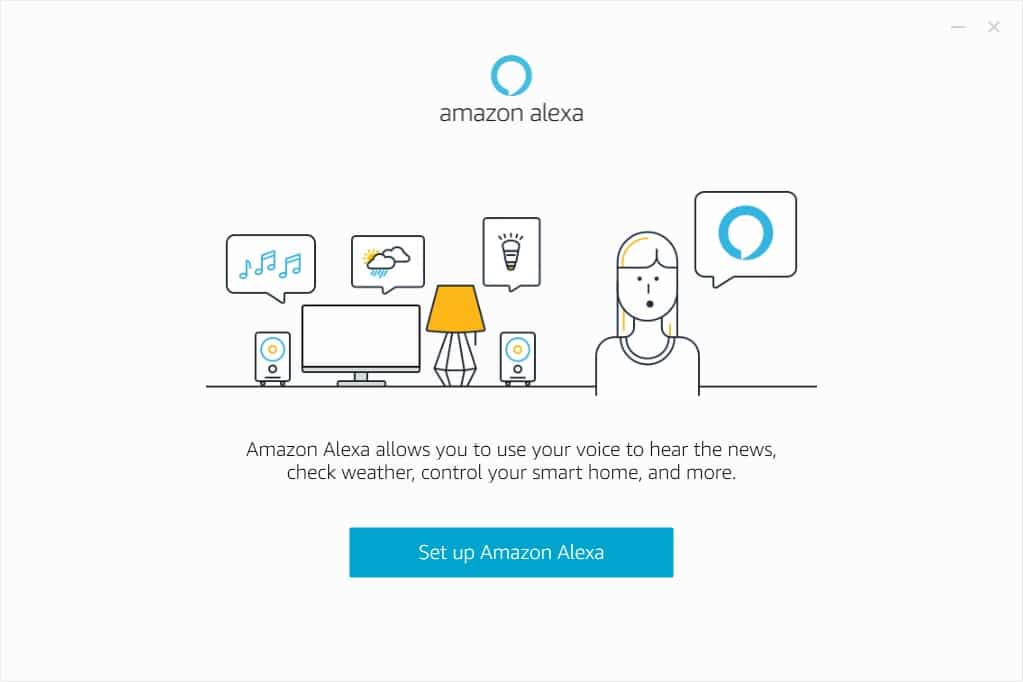 Once your PC reboots, you can find Alexa among other apps on the Start menu. Launch it and then click on the Set up Amazon Alexa button and follow on-screen instructions and finally click on the Finish Set up button. 
When you're finished with the setup, you'll be asked to sign in using your Amazon ID so do that. Alexa will further check for updates and automatically start downloading them if available. 
After the download is complete, click the Install update button to install it.
Using Amazon Alexa on Windows 10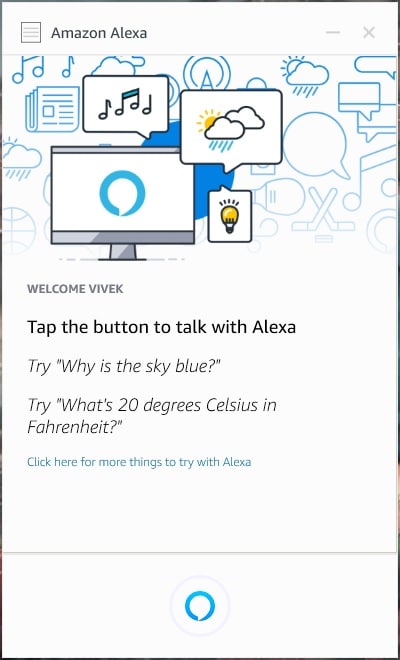 Once Alexa is ready, you'll see a window as seen in the screenshot above. It seems pretty much like a mobile interface ported to work on Windows. Alexa will run in the background because of course, it needs to. You'll see the Alexa icon in the system tray but if you don't, you can enable or disable it by going to the Windows 10 Settings > Personalization > Taskbar > Select which icons appear on the taskbar. A list of programs whose icons can be visible on the taskbar will be shown to you. In the list, enable Alexa.
Anytime you want to use Alexa though you'll have to click on that system tray icon and then on the Alexa button in the app to make it listen. The hands-free wake word for Alexa i.e. Alexa will not work without the custom firmware for Alexa which is only available if your manufacturer has pre-installed Alexa on the system. Other than that, Alexa works pretty much the same as it works everywhere else and it should be able to do most of the things it usually does on an Android or Echo. You can create custom to-do lists, ask for jokes, play briefing from popular broadcasters, etc. Alexa can also give you weather updates, and control your smart home accessories like lights, thermostats and your Amazon Echo speaker.
The most useful feature it has over Cortana though is integration with Amazon. Though on the other hand, Cortana has much better integration with Windows.
Read Next: How to Enable Hibernation on Windows 10