Out of all the available smart assistants, Cortana is sadly the least useful in most aspects. Moreover, if you've got the 'Hey Cortana' hotword function enabled, it would consume a little more battery. Therefore, we'd suggest disabling the feature if you do not use Cortana on your PC. Additionally, for those concerned about privacy, turning off the always-listening feature might be a top priority.
It's worth mentioning that having the feature turned on does not drastically increase battery usage. Hence for those who actually use Cortana daily, there's no incentive to gain by disabling Cortana from listening for the hotword. With the recent updates, Cortana has become a lot more useful and does not hog system resources. You might also want to check out 10 things you can do with Cortana on Windows 10. Nonetheless, if you aren't a big fan of Microsoft's smart assistant, follow the guide below to toggle off the always-listening feature.
Disable Hey Cortana always-listening feature
Check out the steps below to prevent Cortana from always listening.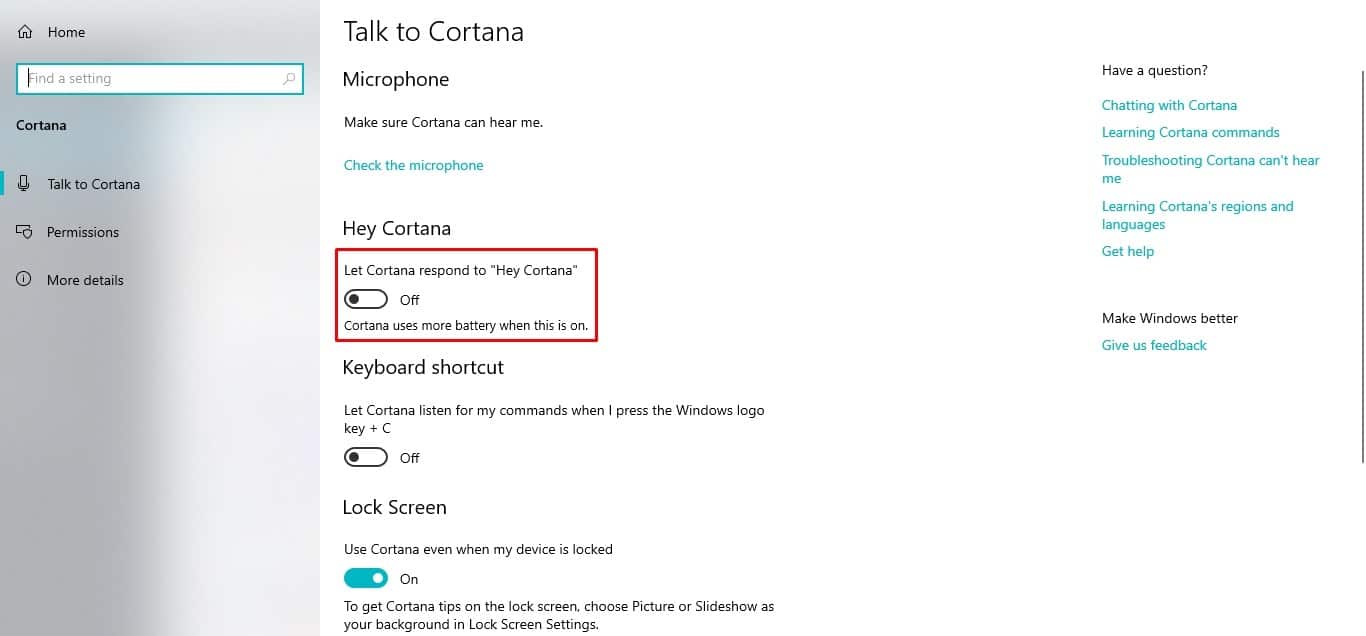 Launch Windows 10 Settings by clicking on the start menu and then clicking on Settings.
You would see a bunch of system settings appear, select Cortana.
Under the Hey Cortana category, disable the option that says — Let Cortana respond to "Hey Cortana".
Check out: Activate 'OK Google' Hotword from Any Screen on Android
Once you toggle off the feature, Cortana will no longer be triggered by saying the 'Hey Cortana' hotword. This would help save a bit of battery life on your PC. This is because of the fact that the mic on your PC will no longer be working at all times.
Additionally, you also have the option to enable the keyboard shortcut to make Cortana listen for commands. This shortcut is a lot more convenient and practical. It avoids the privacy concerns of having the always-listening feature on at all times. And you can bring up Cortana only when needed without sacrificing battery life as well. To enable the keyboard shortcut simply toggle on the Keyboard shortcut feature within the Cortana settings. Use Windows key + C to bring up Cortana when needed.
If you've checked out the guide but still want to use the 'Hey Cortana' hotword, we've got a tip for you too. You can enable the always-listening feature when plugged into a power source. This will enable you to give commands to Cortana even when the device is locked. To use this feature, toggle on the 'Hey Cortana' option and then check the box under it. You'll now be able to activate Cortana at all times until you manually turn off your PC. We hope the tutorial helped you disable the 'Hey Cortana' always-listening feature on your PC running Windows 10.
Read next: Stop Background Apps from Running on Windows 10