If you're someone who still listens to locally stored music, in this day and age of several streaming music services, you deserve a good music player app. I use Google Play Music because it also lets me upload my local music files. Yet, I can never really fully switch over because I just don't like the silly-looking interface. Google Play Music just has the worst interface of all music streaming services. Thus, I still prefer using a nice, beautiful local music player app more often when I can. As such, I'm always on the lookout. Elisa Music Player was just released by the KDE team and is kind of available for every Windows, openSUSE, and Arch Linux user.
Elisa is a new music player from KDE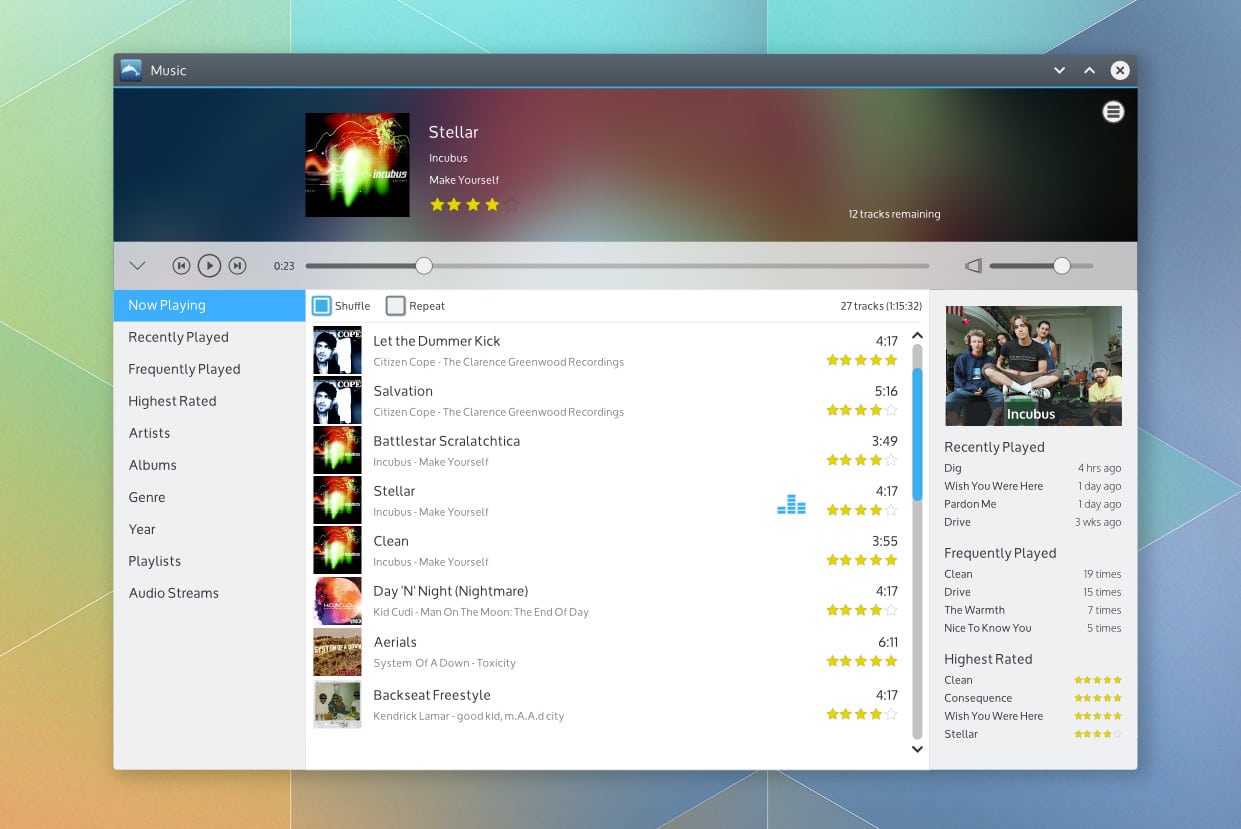 It is a Qt-based Qt-based application designed by the KDE team that looks great in the Plasma desktop. If you don't use the Plasma desktop, you have nothing to worry about. It looks and works just as great in any other desktop environment. Granted, it is a KDE app so if you don't have the KDE Plasma desktop, you'll need to download various other dependencies first.
"Elisa is a music player developed by the KDE community that strives to be simple and nice to use. We also recognize that we need a flexible product to account for the different workflows and use-cases of our users," the project page reads.
Interface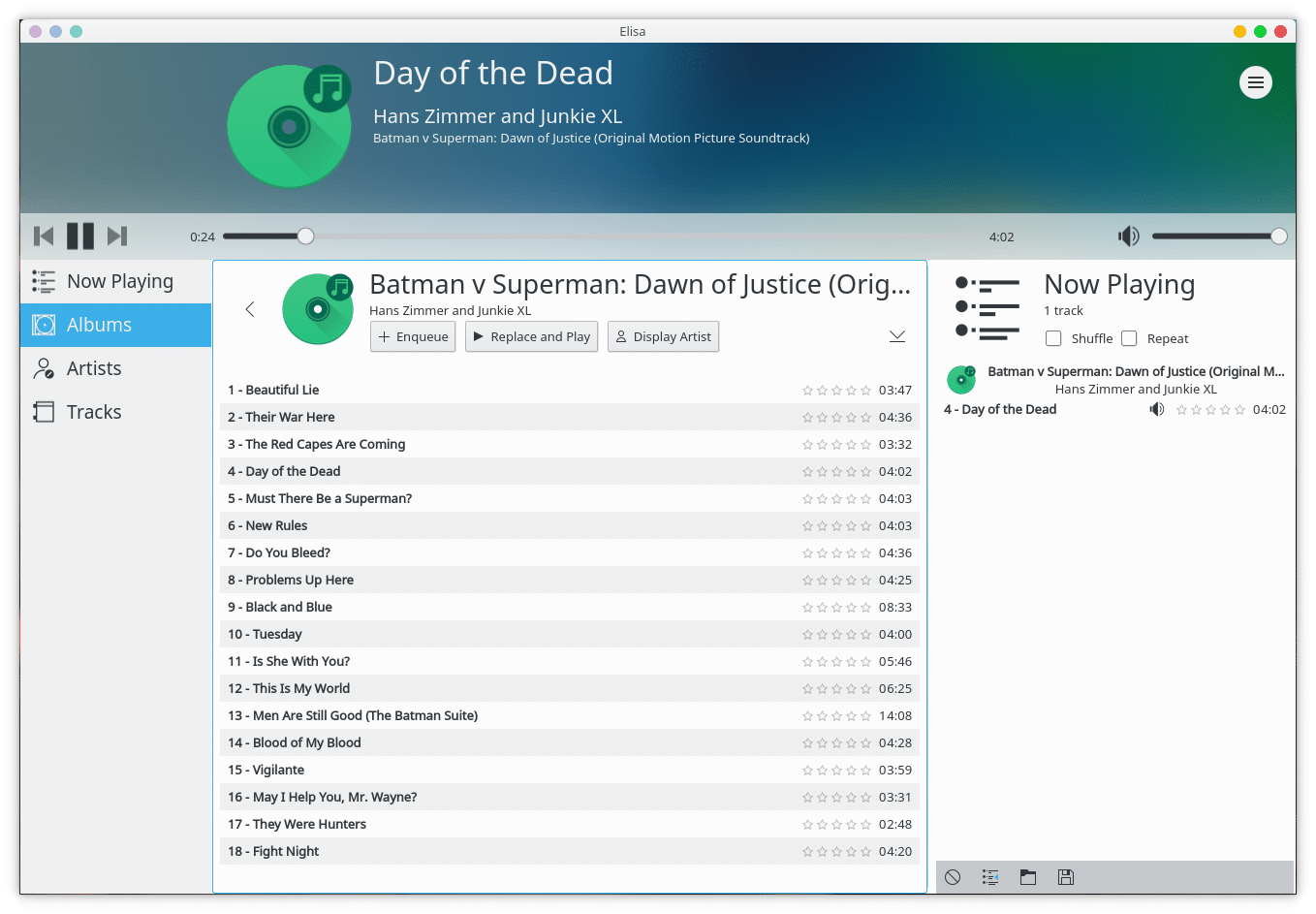 The interface is probably what you will like the most about Elisa. I certainly do. It doesn't try to mimic iTunes or any other existing music player and does its own thing. The very top of part of Elisa is reserved as a showpiece and it looks amazing. It is supposed to display the currently playing song's album art on a background made of the same album art but blurred. Right below that is what I would call the control bar. It houses the player controls, the seek bar and the volume slider. This bar is slightly translucent which is again a nice touch.
It automatically looks in your music folder for music files, the icons are all pulled out of your current KDE theme, all in all, the set up is pretty easy. Your currently playing playlist is shown on the right, with the options to load and save playlists. The left column has various viewing options: Now Playing, Albums, Artists, and Tracks.  For some reason, Elisa can't pull up any album arts right now, not for me at least. Still, the interface has won me over. It's different, it's simple, and it's not boring. That checks about all the right boxes. The user interface of the app reminds me of Lollypop Music Player.
Features of Elisa Music Player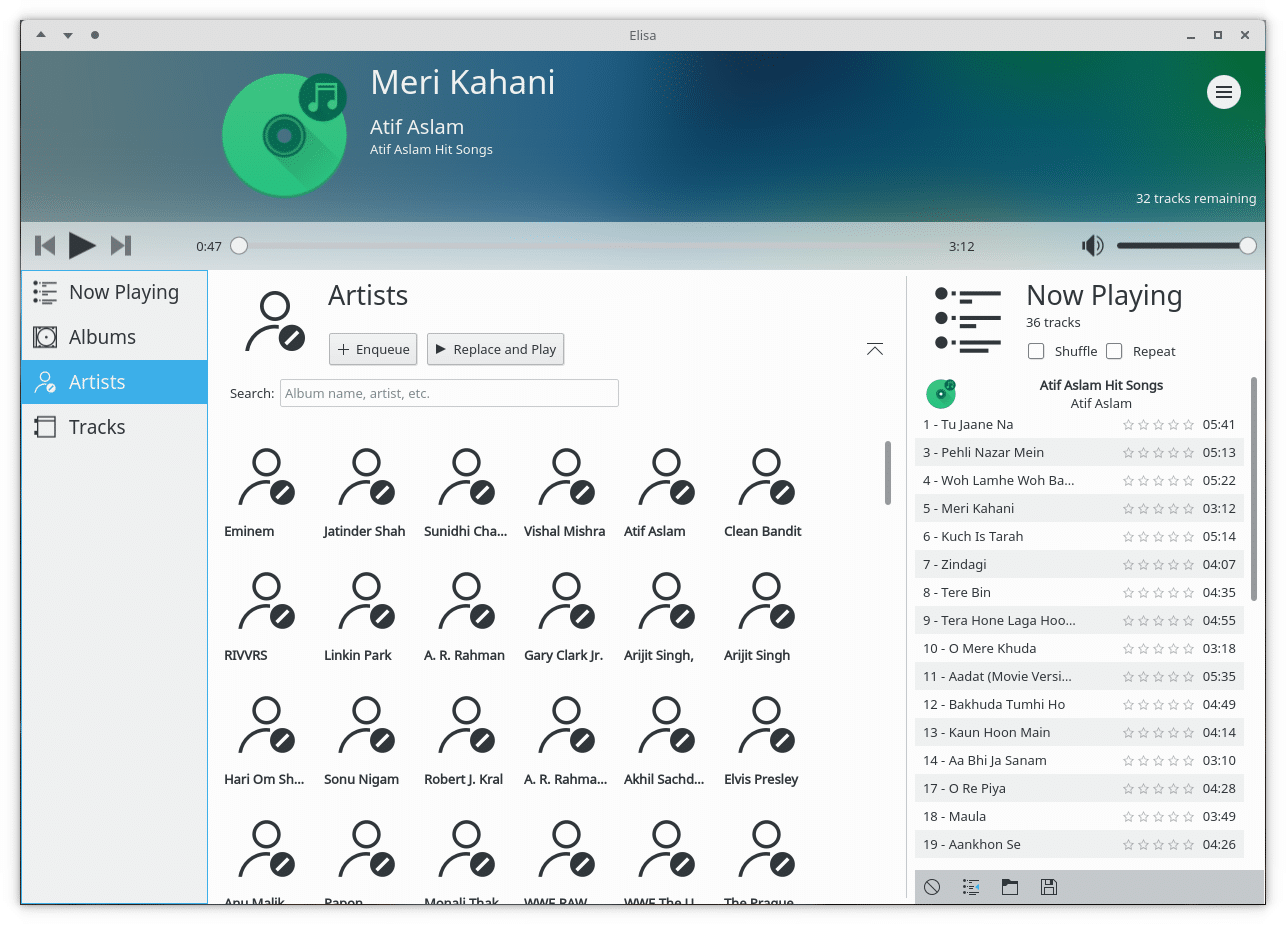 If you read the title, you already know what's coming. We've already discussed the "refreshing" part in quite a detail. The reason Elisa probably won't be replacing whichever music player you use right now would be the lack of features. Forget advanced features such as pulling the Album art off the internet, you can't even sort. It helps that the Albums and Tracks are alphabetically sorted, but if you wanted you couldn't sort it by date for instance. This realization hits hard once you head over to the Artists view. I don't know what sorting it uses if it uses any and there's no way to sort it alphabetically.
Luckily, only a few songs in my collection are numbered. But in case the track names in your collection start with numbers… well, good luck. In that case, the only meaningful view would be the Albums view. There is a search feature at least. Still, one should be able to easily browse through his collection instead of relying on search every time. So it does not have this basic feature but it does have a few others. We've already mentioned that you can create, load, and save playlists, and Elisa makes this pretty easy. While Elisa organizes your music files pretty well, you can try Dolphine file manager to manage all files on your computer.
Other than that, you can click on the hamburger menu icon on the top and select Configure Elisa to add multiple music collections to the player. Here's a list of the working features:
Browse music by album, artist or tracks
Working search
Create and manage playlists
View track metadata
Support for HiDPI displays
How to install
This is only very early for Elisa and that shows in its feature sets and the version number which is 0.1. As such, the application is only available in the KDE Neon repositories. So unless you use KDE Neon you'll most likely have to compile it all by yourself. KDE Neon users can simply run this command in a terminal to install Elisa:
sudo apt install elisa
Download Elisa for Windows, openSUSE &

Arch Linux
Windows: Microsoft Store
Arch Linux: sudo pacman -S elisa
Other users can head over to the KDE community page for Elisa which has further information about the player's future and instructions on compiling the app.
Read Next: How to Give Your KDE Plasma Desktop a macOS Makeover