Whenever someone asks for my WiFi password, it becomes extremely difficult to narrate it at first go. Owing to the combination of upper and lowercase, special and numeric characters, it is really a painful task dictating the password. And if you echo my thoughts as well, then here is a handy trick to overcome this issue. This guide provides steps to share your Wi-Fi passwords via QR Code on any Android device running 9.0 or earlier versions. As a result, you could then easily connect to the said WiFi network just by scanning that QR Code. Also, have a look at our guide on how to Recover WiFi Password Using Android Device.
Connect to WiFi Passwords via QR Code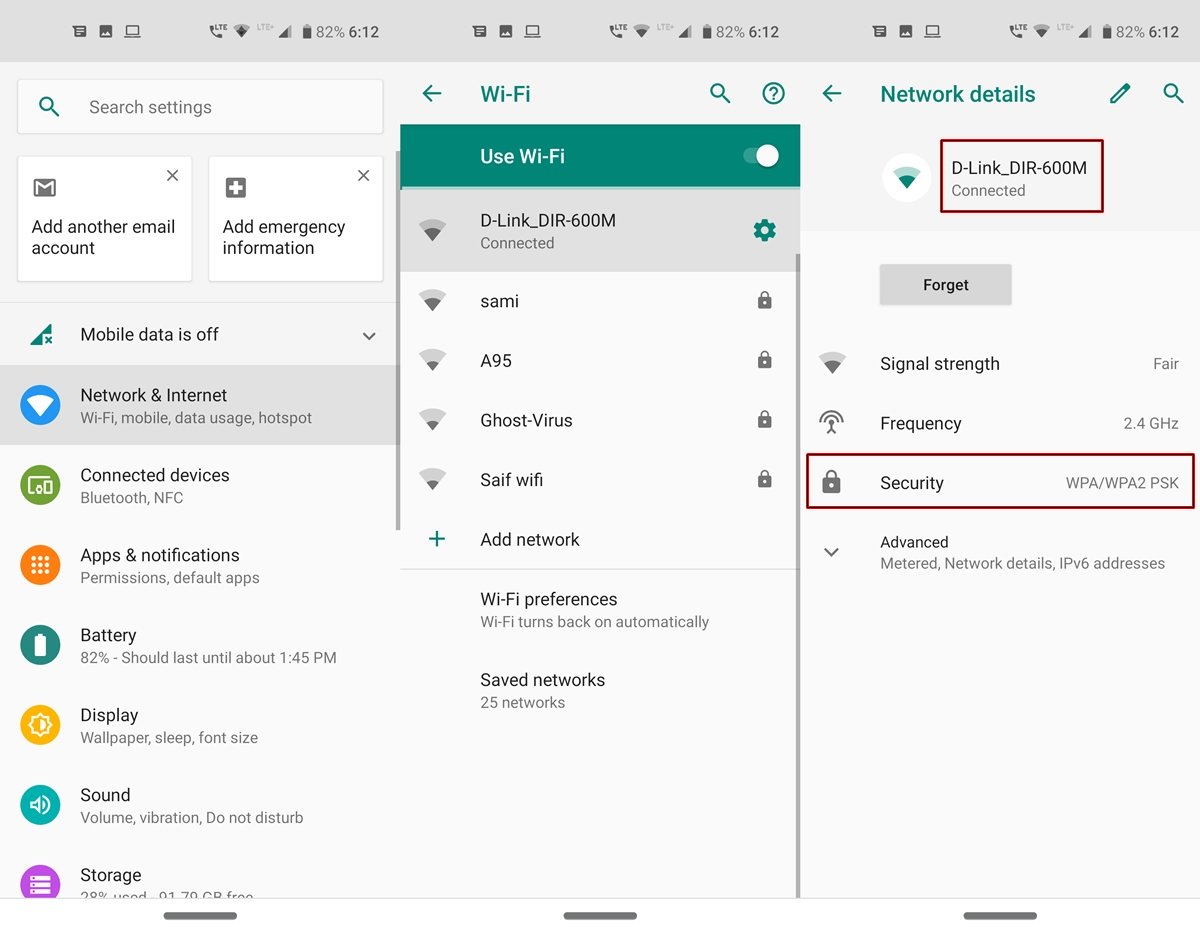 The first step in connecting to a WiFi network via QR code involves getting yourself acquainted with your WiFi Network's SSID and it's Security Type. SSID stands for Service Set Identifier. In general terms, it refers to your Wi-Fi name. The Network SSID is case sensitive. So make sure you remember the network name exactly as it is. However, if you aren't sure, head over to your device's Settings > Network and Internet > Wi-Fi and have a look at its name.
WiFi security is also an important aspect to consider while connecting to a WiFi network via QR code. To check out the WiFi's security, tap on your WiFi name under Network and Internet and see the Security section. More often than not, it should be WPA/WPA2 PSK. Once you have noted down both the WiFi name and security, head over to the Play Store and download the QR Code Generator app. Now refer to the instructions in the next section to connect to a WiFi network via QR Code. On the other hand, if you're planning to buy a new router, here are the 7 Things to Look for While Buying a WiFi Router.
Setting up the App
Open the QR Code Generator app on your Android device.
By default, it will be in the text mode. To change it, tap on the TEXT button and select WiFi from the Content-Type menu.
Enter the WiFi name under the SSID field and Password in the said field.
Similarly, under Network type, choose the Security that you had earlier noted.
Finally, click on the GENERATE button situated at the top right. this will generate a QR Code for your WiFi.
That's it. You have successfully generated the desired QR Code. now see the below steps to save it onto your device. This will then help in easily connecting to a WiFi network just by scanning the QR Code.
Saving the QR Code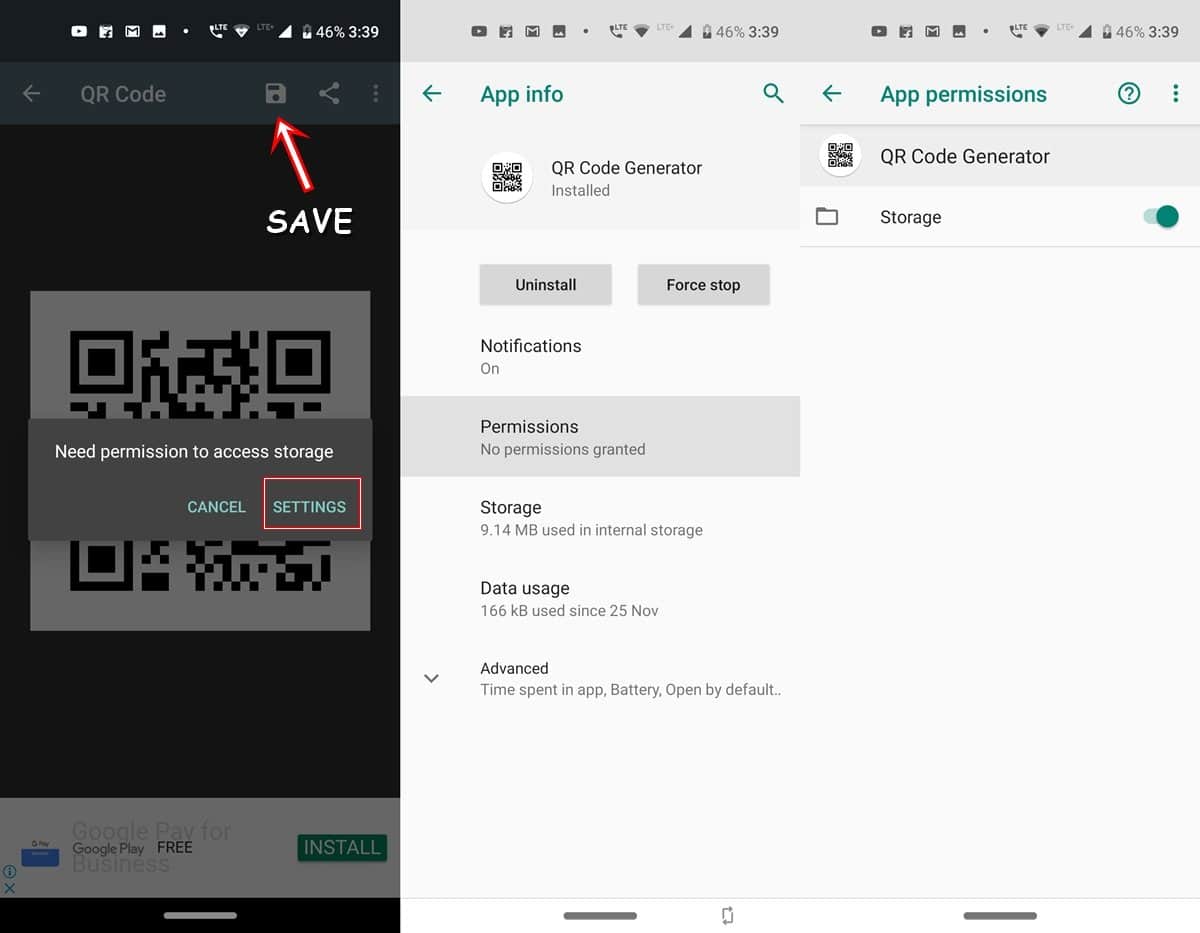 Now that the QR Code has been generated, you may save it onto your device. To do so, tap on the Save (floppy) icon.
It will now ask for Storage permission. Tap Settings in the subsequent dialog box that appears. You will then be taken to the App Info page. Tap on Permissions and enable the toggle next to Storage.
Go back and tap on the Save icon. The QR code will now be saved on your device in the QRCode folder.
Now to connect to a WiFi network, all you have to do is scan this QR code. This is how it could be done. Also, here's why you should stop using a free VPN.
Connecting to a WiFi Network via QR Code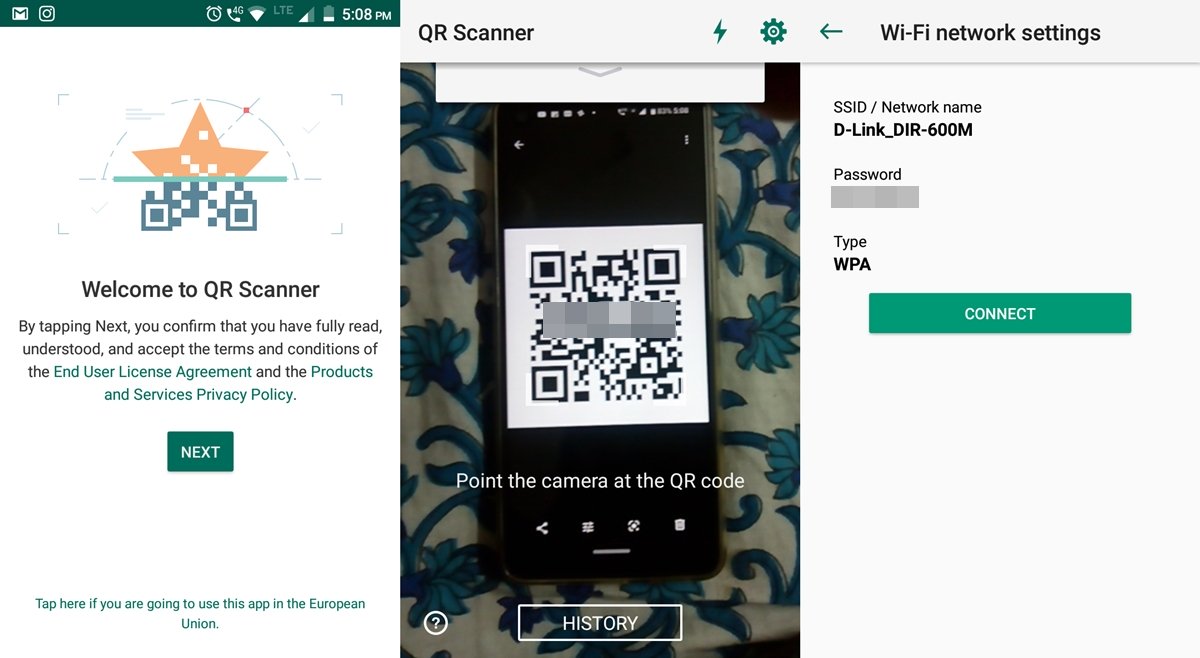 On the second device, that needs to connect to your Wifi network, simply show them this QR Code.
All they have to do is download a QR Code scanner from Play Store. In this guide, we have used the QR Code Reader and Scanner. This app is provided by Kaspersky and support the job of connecting to a WiFi network via QR Code pretty well.
Open the app and just scan the generated QR Code present on the other device.
Within seconds, you will get all the related information related to that WiFi. You may then simply tap on Connect to get connected to that WiFi network.
So this was all about the steps to connect to a WiFi network via QR Code. If you are regularly into the sharing of WiFi passwords with your friends and family, you may take this guide a step further. Go ahead and take a printout of this QR Code. Stick it to your router and the next time anyone want's to connect to your WiFi, simply point him towards this auto-generated QR Code, rather than pointing to your phone's screen every time.