Devices like MacBook, Mac Minis, and Mac desktops are phenomenal computing devices manufactured by Apple. But they are no special; they also require cleaning as other personal computers do. Indeed, these Mac devices demand a disk cleaner to remove the stack of junk and unimportant files. Using Disk Analyzer Pro we can not only manage all files and folders but can also clean it.
Mac devices need timely disk cleanup to remove gigabytes of junk otherwise, the performance of Mac devices starts degrading. However, to clean a Mac device manually, especially an old one would be a tedious task and still, it won't give you a satisfactory result. That's why we have got an app for your Mac, Disk Analyzer Pro so that you can recover space in your device and definitely keep something more useful in it!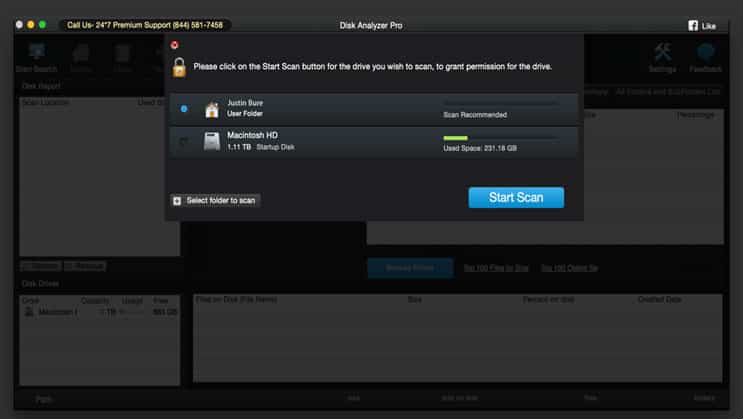 Have a look, how Disk Analyzer Pro can help you in disk management on your Mac.
Easy scanning process
It gives you easy options to scan the disk of your Mac. It will provide you both detailed as well as graphical overview after the scanning process is completed. This will enable you to find out the total space occupied by each type of file, such as images, documents, video, audio and other files in terms of file count, size and percentage of the storage occupied.
On double-clicking the file category in the overview section, it will open the file viewer window from where you can delete, copy, move, zip files, and can also apply other search filters.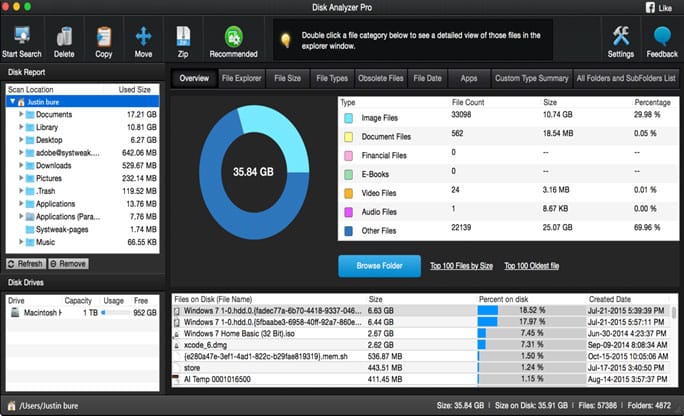 List files and folders at one place
Disk Analyzer Pro lists all the folders and subfolders on the drive on the basis of file size in a sorted manner. The option, "All Folders and Subfolders List", enables you to figure out the files and folders present on the system. The list comprises of folders with other relevant information such as its name, path, size, and the number of subfolders present within it. Besides this information, last modified date and time are also mentioned for the user's convenience.
However, if you want to manage files and folders, you can double click the folder and it will take you to File Explorer window from where you can organize the files.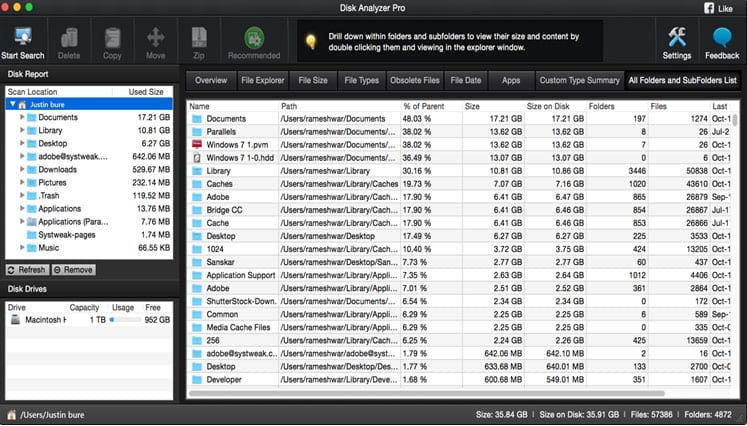 Categorize the result- find the biggest and oldest files easily
Disk Analyzer Pro facilitates you by providing result into different categories, such as big sized files, oldest files, source code files, and compressed files with the help of "Custom Type Summary" option. On double-clicking the listed categories, Disk Analyzer Pro will give you an account of information about the files listed and space occupied by them on the disk.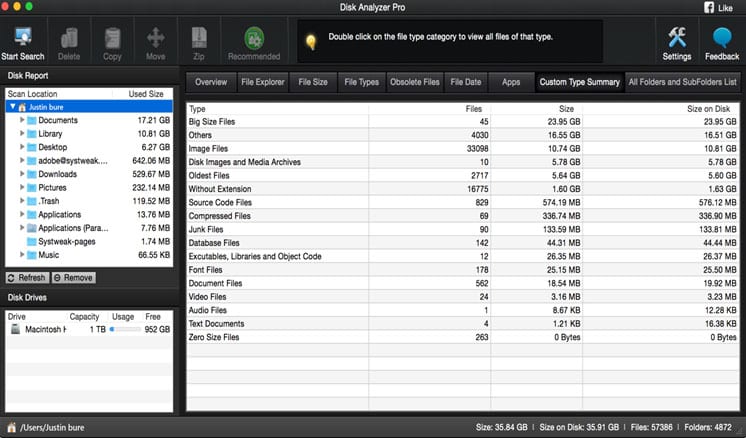 Obsolete files- Section to list junk files
Obsolete files is a section in Disk Analyzer Pro which will list the junk files, temporary files, and log files along with their size, accumulated in your Macintosh for over a long time. You can retrieve gigabytes of space and increase disk utility on your Mac by cleaning up these junk files.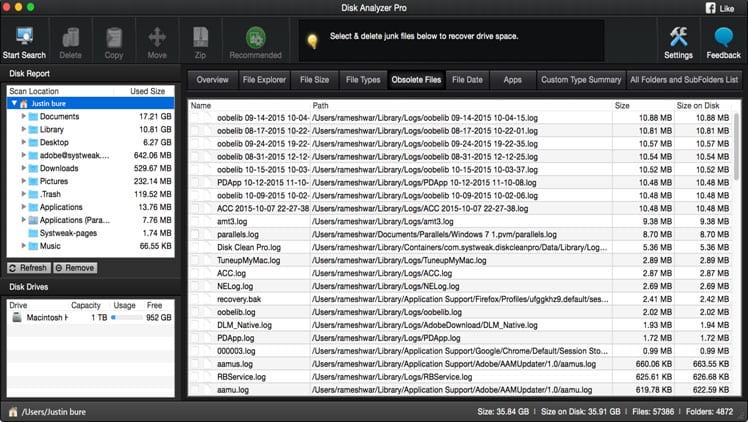 Manage files and folders effectively with File Explorer
Disk Analyzer Pro consists of an implicit File Explorer by which you can search the files and perform multiple operations such as delete, copy and move.  You can also see the brief information of the current folder, such as size, sub-folders, the number of files, date of creation, and last modified date.
You can open these files, and preview them before deleting them finally from the system.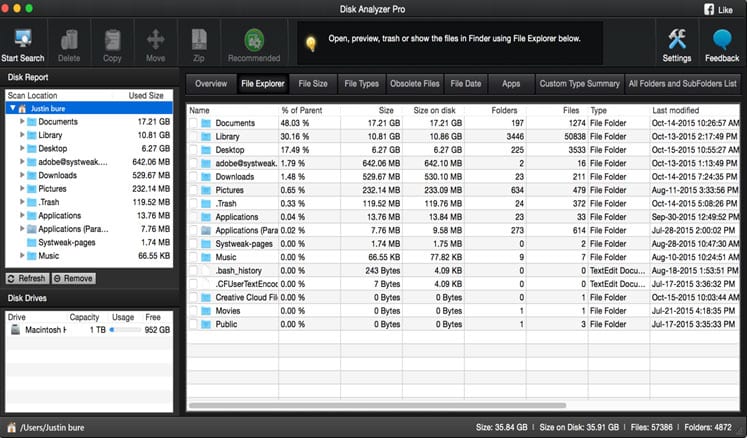 Miscellaneous settings
Disk Analyzer Pro permits you to customize settings and define filters like the unit for file size (KB, MB, and GB), exclude folders and drives from scanning by adding their location in the exclusion list, and size and time filters for large and old files respectively.
Download the Disk Analyser app for your Mac and start analyzing its storage to keep things managed and tidy.
Read Next: 3 Best Windows File Explorer Alternatives