I've often mentioned how Ubuntu, or Linux in general, is great because there is so much choice. Not only choice between different versions of it, but also the ability to choose how they look. There is something that has gone by rather unnoticed though. If you've been trying out a lot of themes you may have noticed how most of them look pretty similar. Many of them are just based on each other. They're still different enough to pass as different themes. Canta theme for GNOME manages to stand out though and it does so in style, might I add.
I've never been much a fan of light themes except for the MacOS theme. That too actually looks better in dark but I've yet to find a dark implementation I like. If your Ubuntu desktop has been looking rather dull lately with the same dark and light themes in different color accents, you'll love Canta. This theme is developed by Vince Liuice who's known for his Vimix theme. Vimix is a nice theme but it is quite the same as everything else.
Canta is based on Google's Material design, it uses the same Mac style Window buttons that almost every other theme uses, and it is a flat theme with color accents. Those aren't the features that should be defining a theme someone calls unique. Yet, those are the features that define Canta. Especially when a Linux theme is based on Google's Material Design, it is usually the same as other themes based on Material Design. If you've seen one, you've seen them all.
Screenshots
Canta is based on the Materia GTK theme used by many Material Design inspired theme as a base. Still, it manages to look different. And if you've seen the picture above it isn't hard to see why. It makes your desktop look more like a work of art than a desktop. I love the green art used as the window background. It gives Canta a unique look without being too intrusive that it makes things difficult to read.
There are a total of 6 different combinations of Canta theme with light, dark and compact styles:
Canta – Dark header bar, light background.
Canta compact – Dark but slightly smaller header bar, better for laptops and smaller screens
Canta Light – Full light version with a light header bar and light background.
Canta Light compact – Full light version with slightly smaller header bar, better for laptops and smaller screens
Canta Dark – Full dark version with a dark header bar and dark background.
Canta Dark compact – Full dark version with slightly smaller header bar, better for laptops and smaller screens
The theme also includes a Canta icon theme which uses the Numix-circle theme. Hence, it might be better to install the Numix Circle icon theme first. While it does work with other desktop environments, it works best with GNOME. This is because Canta includes a Gnome shell theme as well. You can download it from either of the sources linked below.
Download Canta theme
How to install Canta theme
You can download the various theme combinations from Gnome look, or just the ones you'd like. To install them, simply unpack the contents of the downloaded archive files into a .themes folder inside your home folder. That will be a tedious process, however. I'd recommend that you download the Canta theme .zip from Github instead. Extract the archive and then run the install script inside the folder. Here's how you can do this.
Launch a Terminal window and use the cd command to open the extracted Canta theme folder. For instance, I extracted the folder on my desktop. So I used the following command:
cd /home/vivek/Desktop/Canta-theme-master/
Once in the folder, make the install script file executable using the following command.
chmod +x install.sh
Now run the script with this command.
./install.sh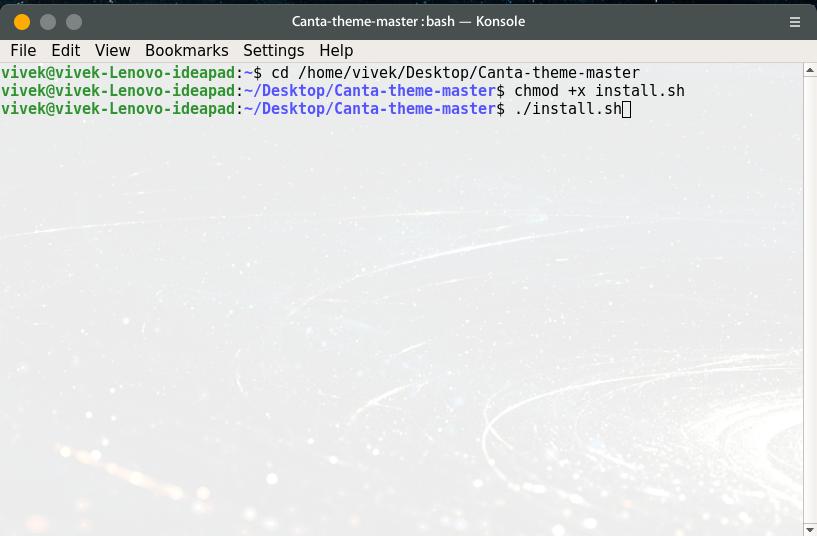 This will move all the theme and icon files in the respective folders, thus installing all the different combinations and it only took three commands.
Read Next: How to Schedule Automatic Dark Mode on Windows 10