There's no other website in the world that would we'd call the 'Front Page of the Internet' instead of Reddit. It is the most popular platform to catch up on the news, hobbies, memes… and more memes. Browsing Reddit is something millions of individuals do each day. Therefore, if you're a fellow Reddit user and are looking for the best Reddit apps, you've come to the right place.
We've tried and tested dozens of third-party Reddit apps for Android and have picked only the 8 best apps. There's no "best Reddit app," hence going with either of the apps mentioned below should work out great for you. It's only the UI that makes elevates your experience.
Reddit app (Official)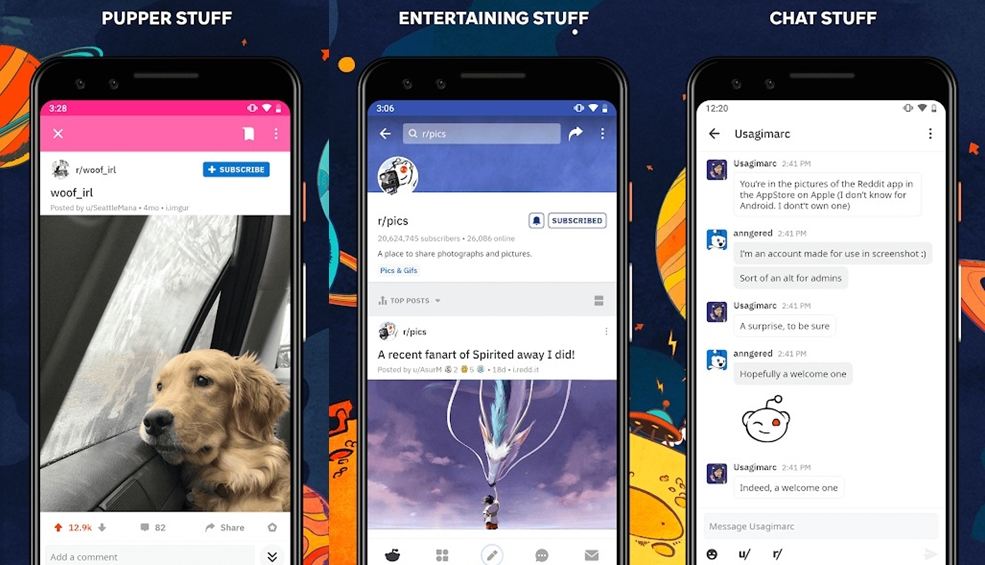 Of course, the official Reddit app had to be on our best Reddit apps list as it offers all the basics you'd need from an app to browse Reddit. You could even opt to purchase Reddit Gold right from within the app. The app does support most features such as posting comments, managing subreddits, and a few other useful options. It's worth mentioning that the app is fairly bug-free runs perfect for the most part. While it is a great Reddit app, if you're looking for a host of features and customization options, you might have to take a look at the other apps on the list.
Relay for Reddit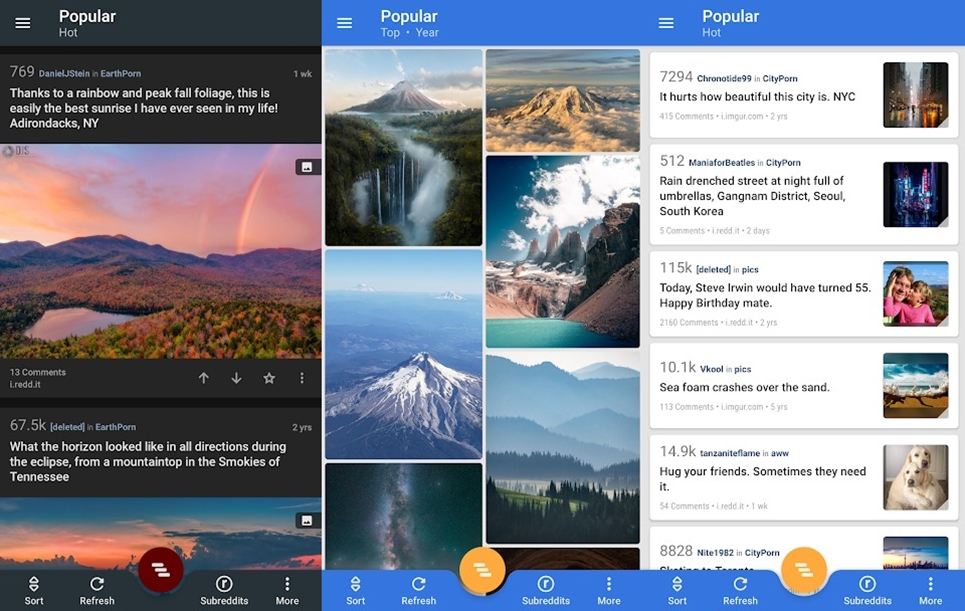 Relay for Reddit can comfortably land itself in the top 3 best Reddit apps for Android. It has a boatload of features and is easy to setup. The app makes use of a clean material design theme with a card-based layout. Moreover, you can access just about any feature including subreddit filters, spoiler support, hi-res thumbnails, and a lot more. Additionally, you even have the option to customize the app to your liking. Relay is free to download and install, however, the pro version lets you access a few extra features
Sync for Reddit
Well, Sync for Reddit is one of the most popular third-party Reddit apps for Android. This cool app offers just about all the features you will need from an app to browse Reddit. You can use the advanced submission editor with in-built editing options, log in with multiple accounts, have spoiler support for tags, and many more cool features. Sync even has a great AMOLED-black theme which would let you browse Reddit at night with ease. The developers claim that the app runs 99.9% crash-free. This is somewhat true although, with any app on the list you are bound to run into a few issues.
Must read: Track Your Smartphone Usage on Android
Joey for Reddit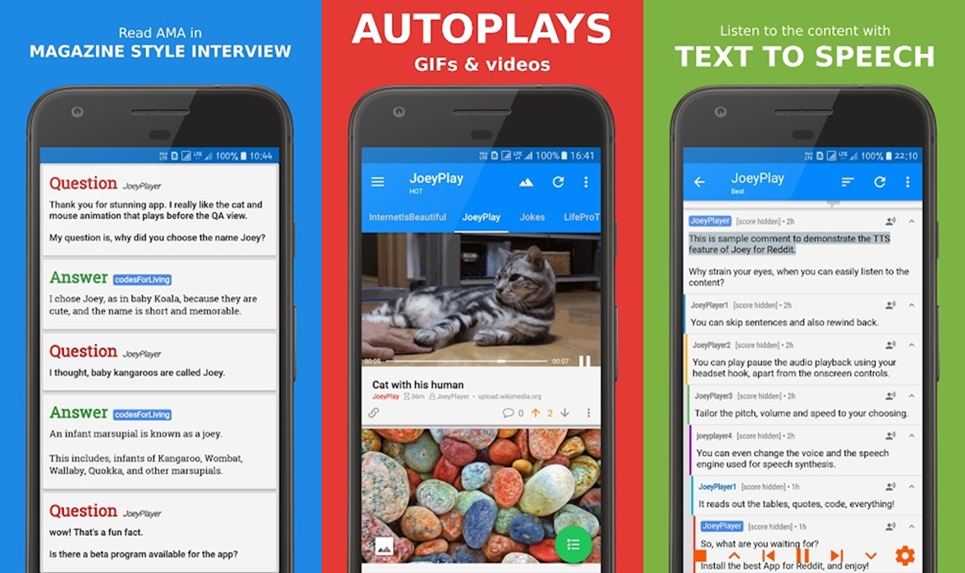 Joey for Reddit is a third-party Reddit app that offers a fairly unique user experience. This improves the way you interact with content by Reddit by automatically hiding posts you've seen previously each time you refresh the app. It helps you save time and see only the latest posts. Of course, you could view a previous post if you choose to. Moreover, the app is optimized for r/science and even lets you read Ask Me Anything posts. You could even tweak things such as the thumbnail size and font size. Additionally, you can customize the color of the app as well.
Boost for Reddit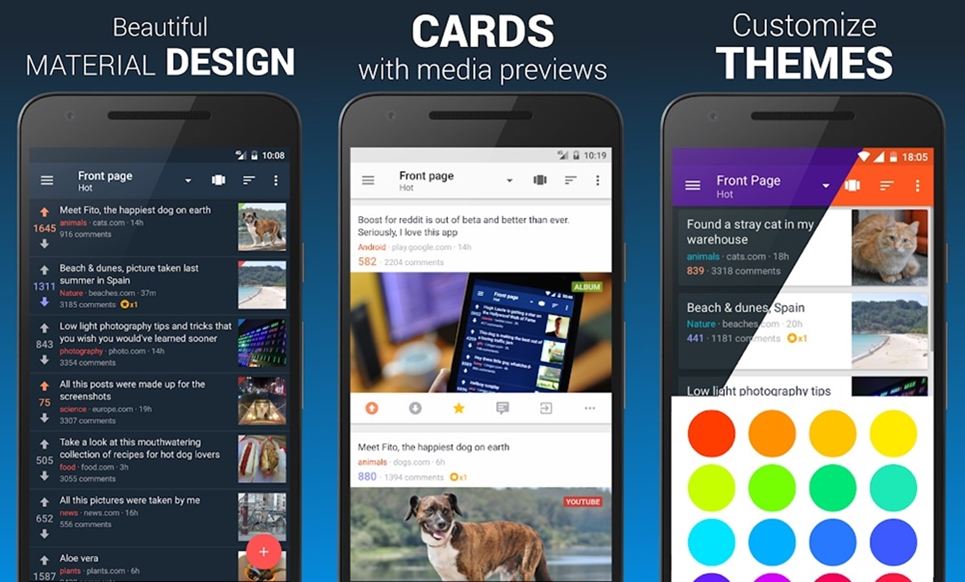 Boost for Reddit is inarguably one of the fastest and best Reddit apps currently available. The app features an intuitive material design UI and displays posts in a card-based format. You could even customize the app's theme and create your own custom color combination. Apart from the basic features, the app lets you access moderation tools. There's even a cool widget for the homescreen. Moreover, you can change the layout/viewing style as well.
Now for Reddit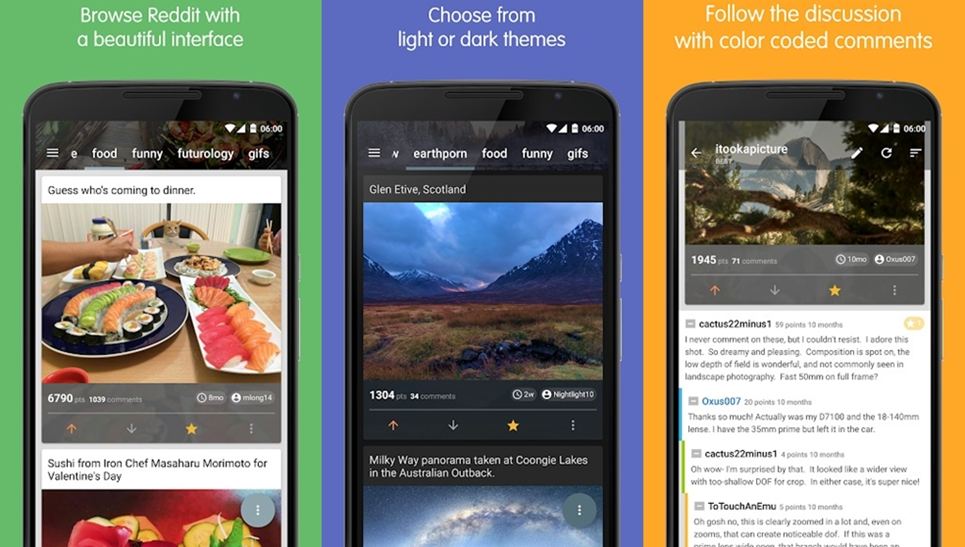 Now for Reddit lets you browse Reddit and has a great user interface. The app is fairly intuitive and lets you easily swipe left or right to quickly change the subreddit. Now for Reddit does allow you to do the most basic things as you might expect. And the app lets you download images and gifs for offline viewing. It also supports Reddit Gold features. You can even watch the latest videos on Reddit TV from within the app itself.
BaconReader for Reddit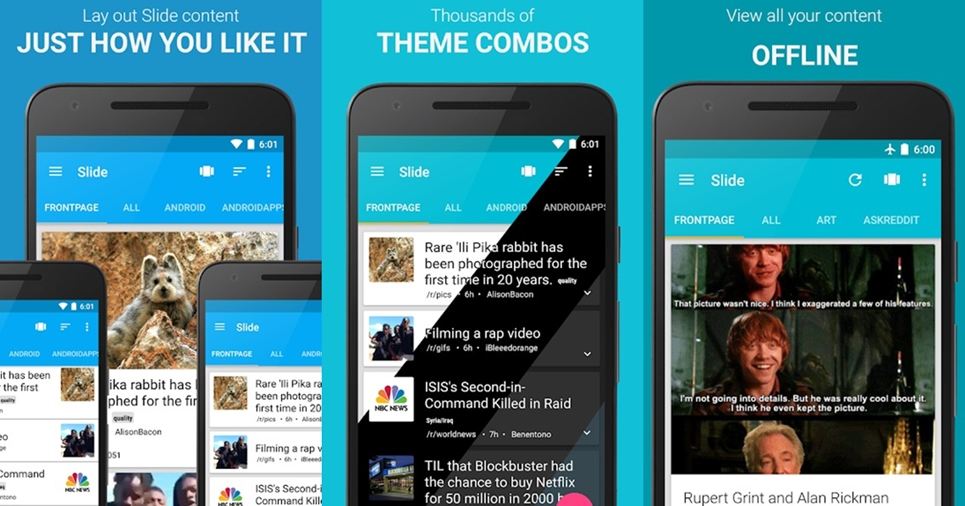 If you're looking for easy-to-use and feature-packed best Reddit apps, then you might want to check out BaconReader. The app has a ton of customization features and offers over 12,000 theme combinations. Furthermore, it supports several content sites such as — Imgur, Tumblr, Gfycat, and Vid.me. You can color-code your subreddits as well in the app. The app even lets you filter out content you don't wish to view within just a few taps. You could even save your precious mobile data by turning on the data saving option within the app.
Infinity for Reddit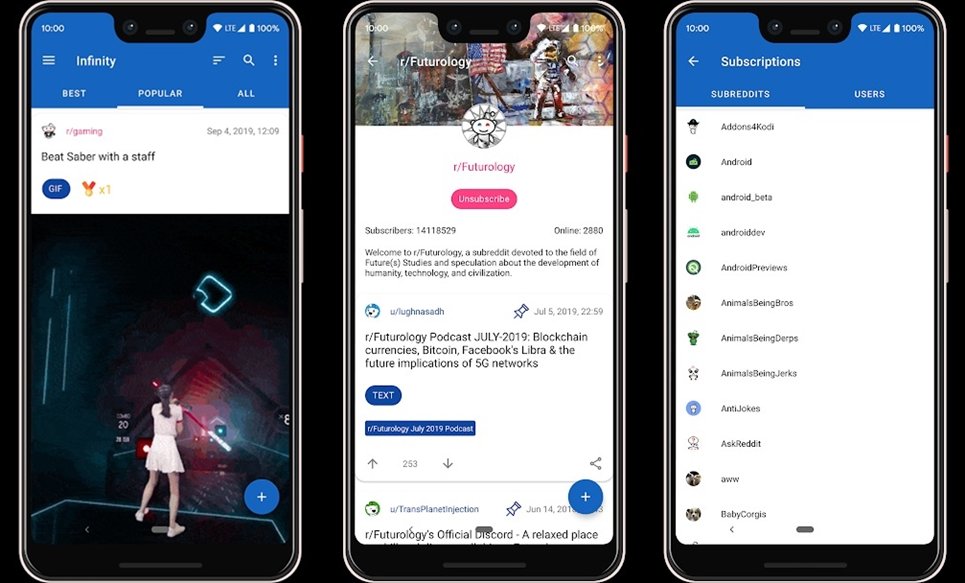 While searching for the best Reddit apps, we came across this not-so-popular app that's just as good as other apps on the list. Infinity is completely free and does not serve ads as well. Therefore, you could enjoy browsing through Reddit without being interrupted by ads. Fortunately, Infinity for Reddit does have a good user interface as well. Another interesting feature present in the app is called 'Lazy mode'. This enables automatic scrolling, therefore, you could simply go through posts without having to move a finger. Like most other apps on the list, Infinity does support multiple accounts.
Well, these are the 8 best Reddit apps available for Android. You might also want to check out 5 websites every Android user should be aware of. What app are you currently using to browse Reddit? Let us know in the comments below.
Read Next: 10 Best Apps for Couples for Android