There are a bunch of apps targeted towards couples on the Google Play Store. However, not all these apps are worth spending your time on. If you've been scouring the web to find the best apps for couples on Android, then you've come to the right place. We've gone through dozens of apps for couples and have picked 10 of the best apps you must check out. Without much further ado, let's check out the best apps for couples on Android.
Between – Private Couples App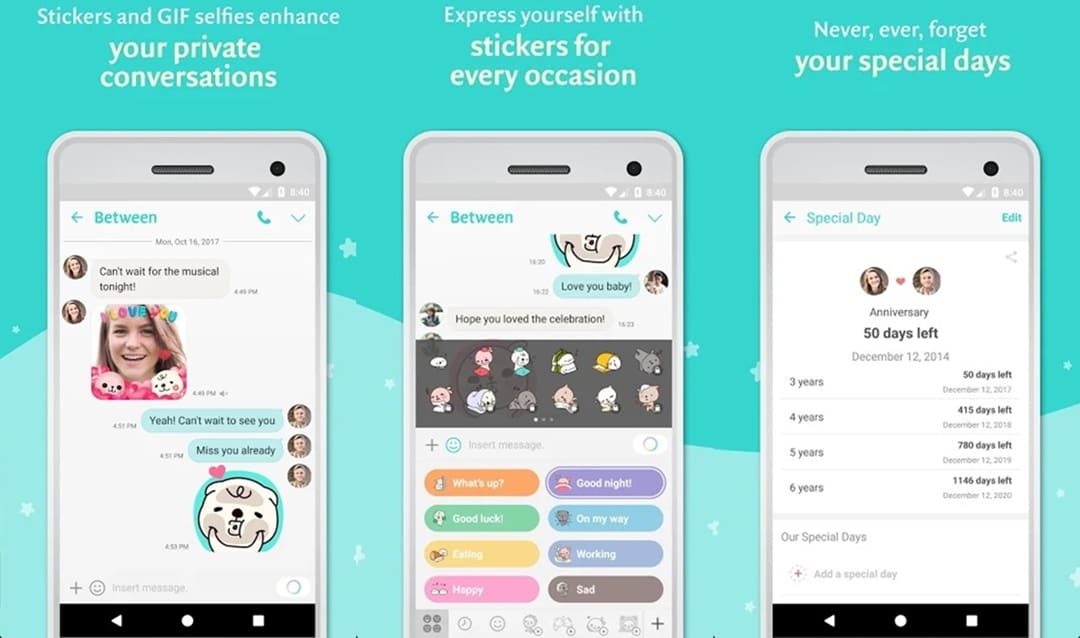 Between is one of the most popular messaging apps for couples. It offers a bunch of useful features targeted towards couples. The app lets you store all your videos, messages, and images to the cloud thus allowing you to access your account when you change your phone. Between is a secure messaging platform which means you shouldn't really have to worry about privacy.
To enhance the chatting experience, you could send cute romantic stickers. There's also an option to share notes or add important dates to the calendar within the application.
THE COUPLE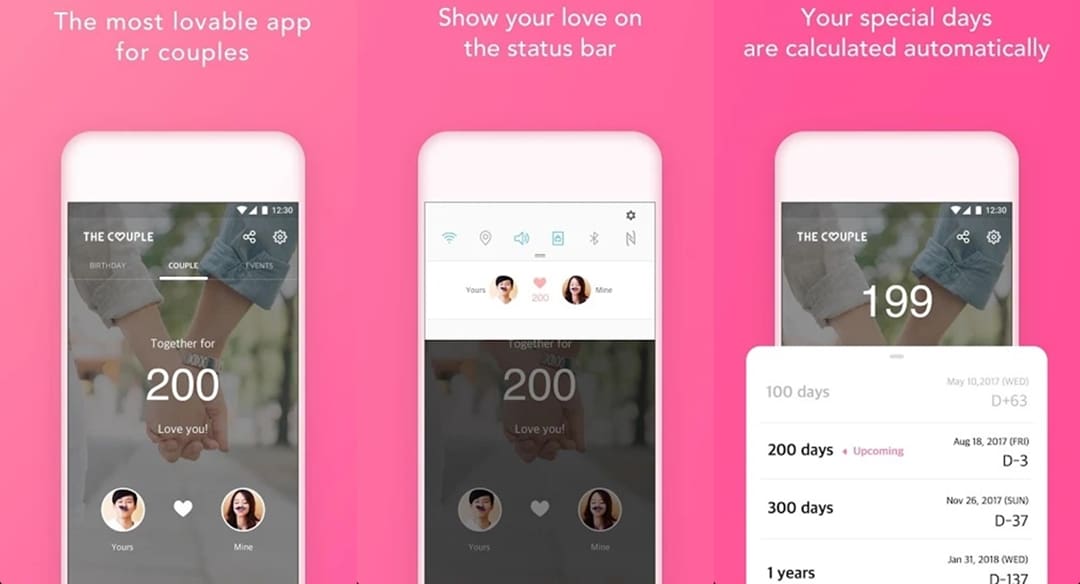 Here's a beautiful and minimalistic application for you and your partner. The Couple automatically counts the days you've been in a relationship with your partner. It also lets you add in a few other important dates as reminders. The app also lets you set your partner's and your own photo to the notification panel. You can pick between different backgrounds and shapes as well.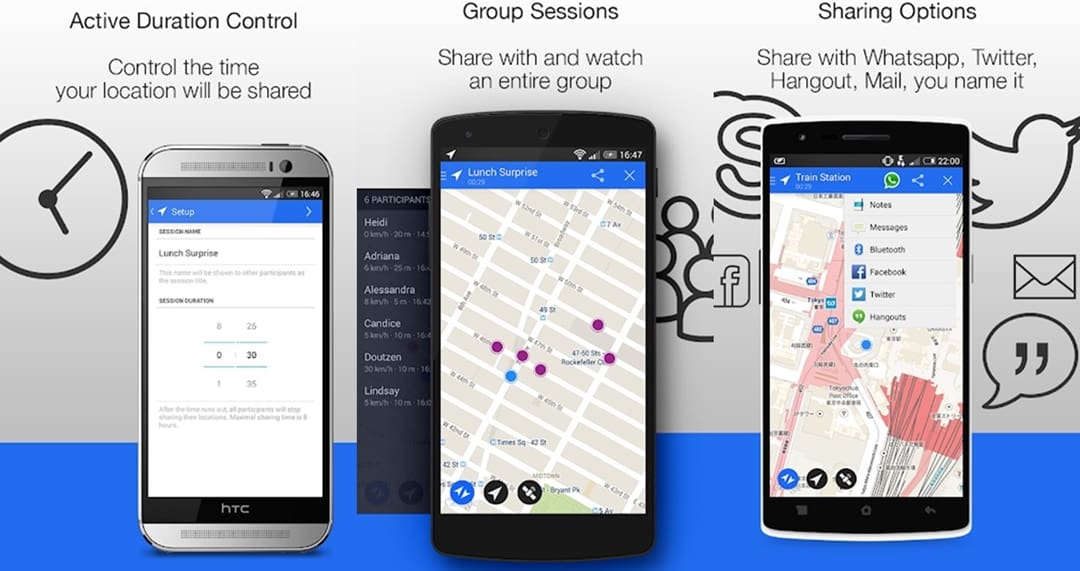 Pathshare is an excellent application for couples, although it's great for anyone who travels daily. The application allows you to share your real-time location with your partner. Of course, you are in total control of your location and can end the real-time location sharing feature anytime. With Pathshare you can share your location via Twitter, WhatsApp, Facebook, Email, and several other applications.
Happy Couple – love quiz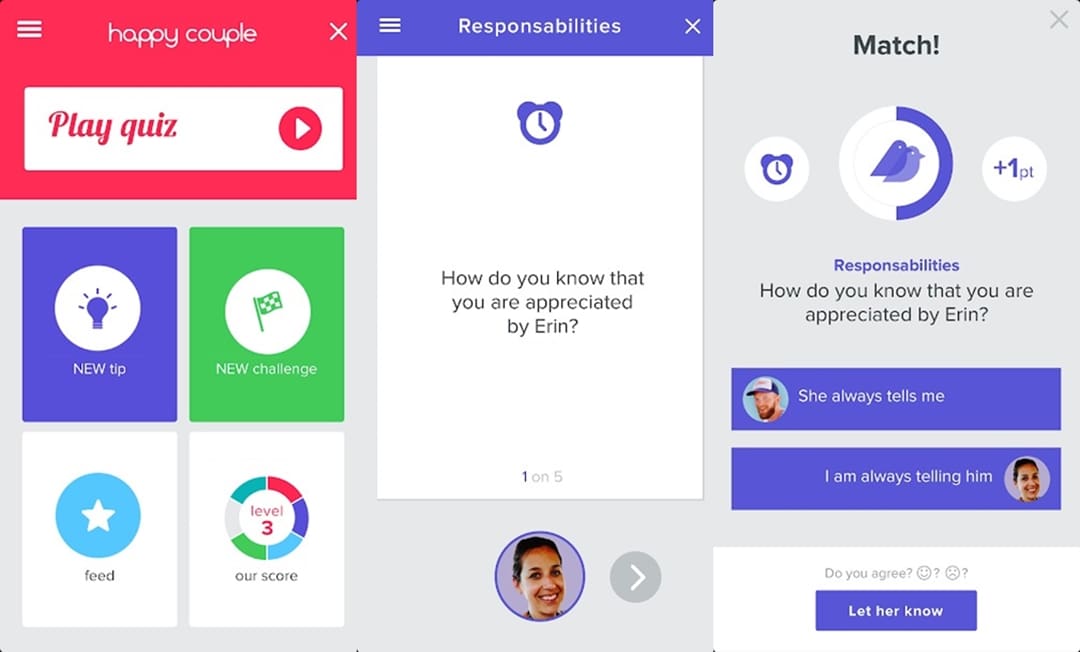 Happy Couple is an app that lets couples answer quizzes daily on each other. The app claims that this helps both partners understand each other better and allows couples to share their feelings in a better way. You get 10 questions daily to answer. 5 questions would be about your partner and 5 questions about yourself. The questions you answer about yourself would be used as questions for your partner. You can even respond to the answers by your partner with text or cool GIFs that are based on emotions.
Love Nudge for Couples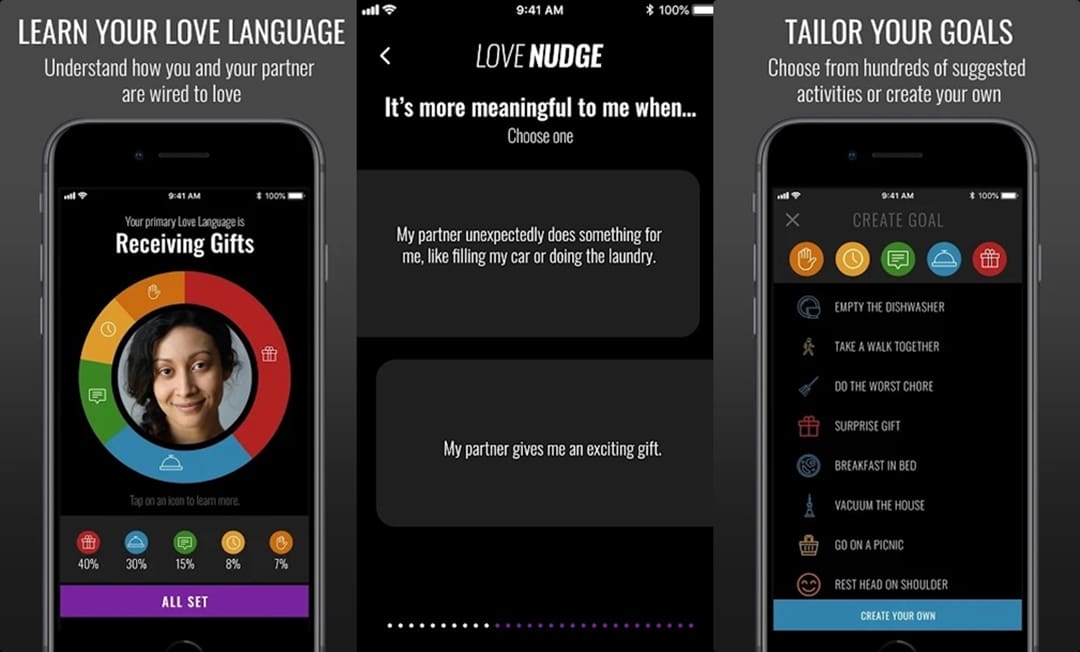 Love Nudge is an app that will help you build better habits and have a more meaningful relationship with your partner. The application lets you set goals to achieve with your partner. Moreover, you get to understand your partner better by getting to know their 'Love Language'. You could even use the Nudge feature to get romantic date ideas. As you and your partner complete goals and discover each other's Love Language, your Love Tank fills up too.
Lasting: Marriage Counseling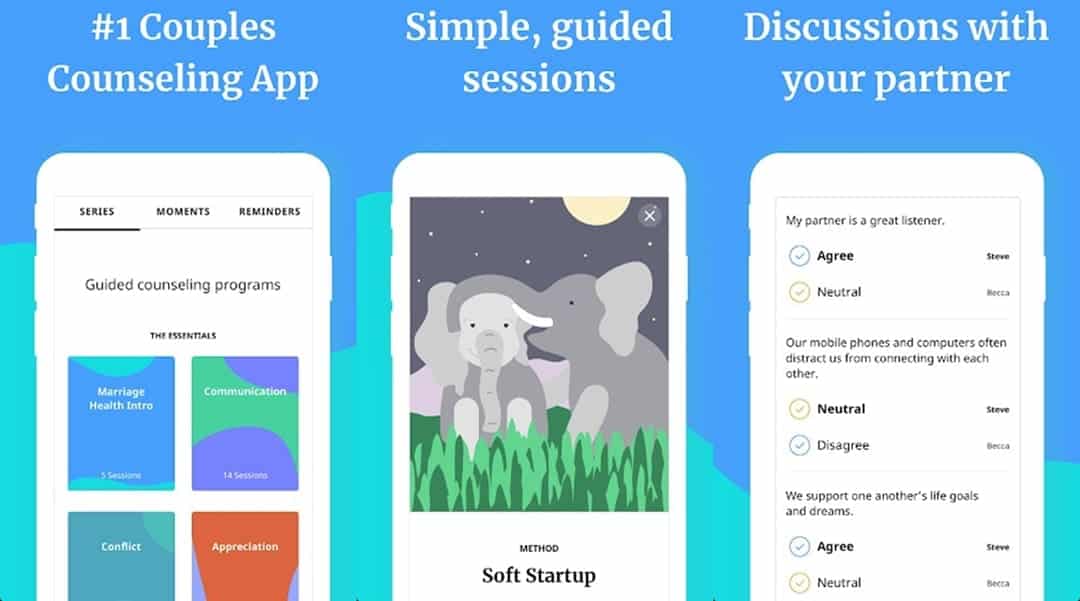 No relationship is perfect and no relationship is free from a few problems. Fortunately, apps such as Lasting helps partners strengthen their bond with counseling. The app lets you and your partner answer a few questions about your relationship and understanding of each others' opinions and views. There are hundreds of sessions available in the application on various topics including ⁠— Emotional Connection, Sex, Money, and others. However, to access most of the applications' contents you would have to pay a monthly subscription.
Check out: Easily Track Your Smartphone Usage on Android and iOS
Kindu – Romantic Ideas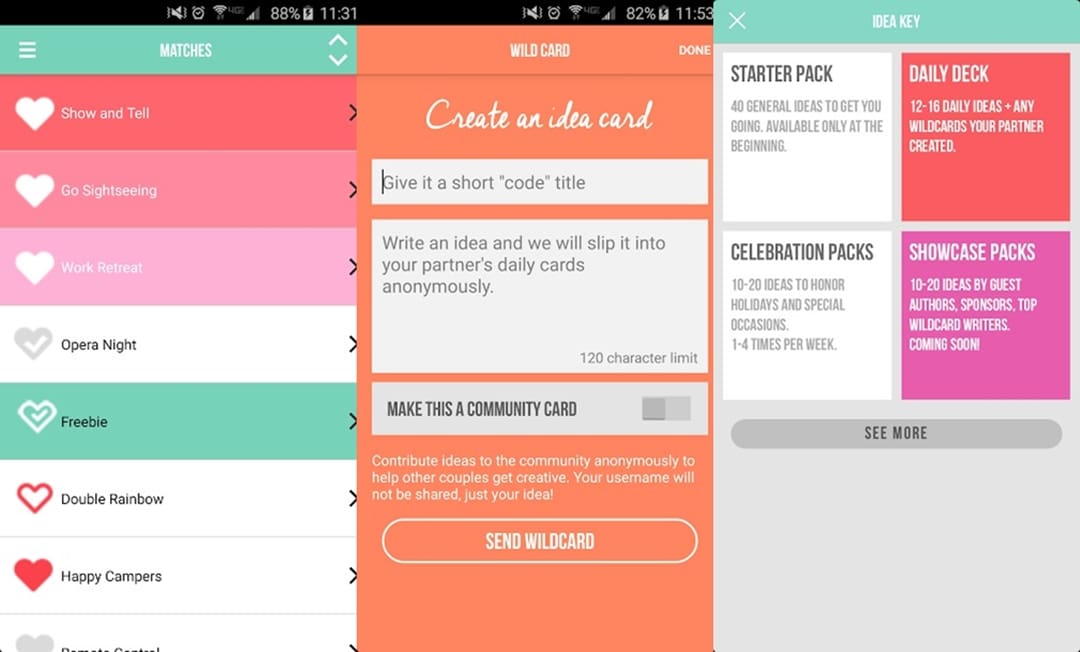 Kindu is an excellent application for couples looking to add some spice to their relationship. As the name implies, the application offers tons of different romantic ideas for couples. The suggestions can range from a surprise date to other more taboo topics. You and your partner could choose to agree, disagree, or select maybe if you've got an open mind about the idea. The app works like Tinder, however, it matches your answers to your partner. You would then be able to view the suggestions you and your partner agreed on.
Rave – Netflix & YouTube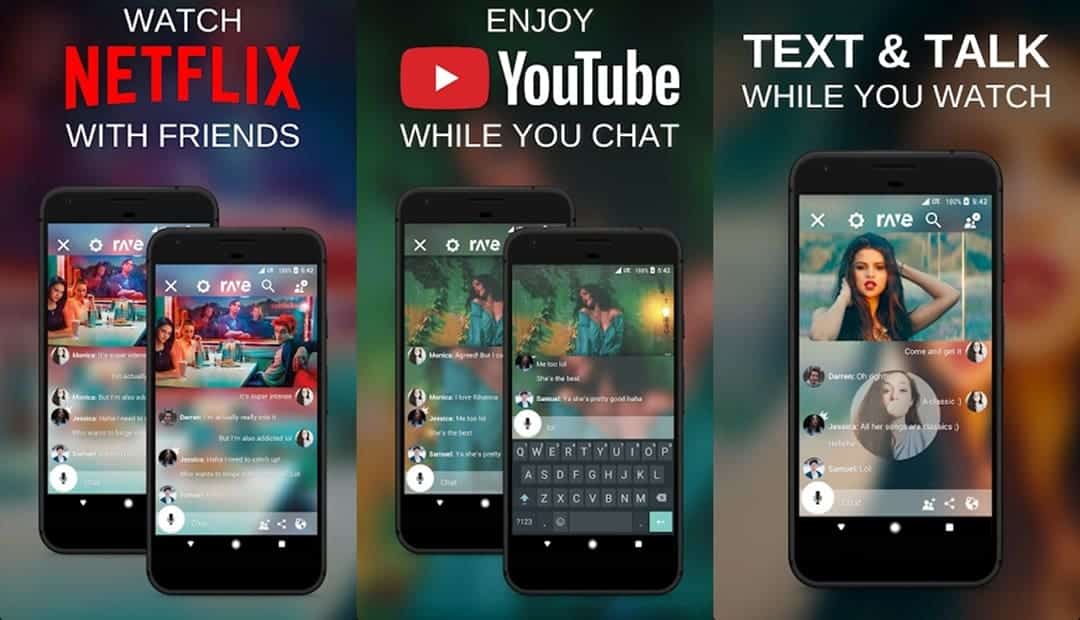 If you're in a long-distance relationship, then you might want to check out Rave. The app allows you to watch videos on YouTube, Netflix, and a few other services along with your partner. You could even jam out to your favorite music at the same time since the app syncs the media on both devices. Rave also lets you chat with your partner or friends right from within the app thus you wouldn't have to leave the app to chat.
LokLok: Draw on a Lock Screen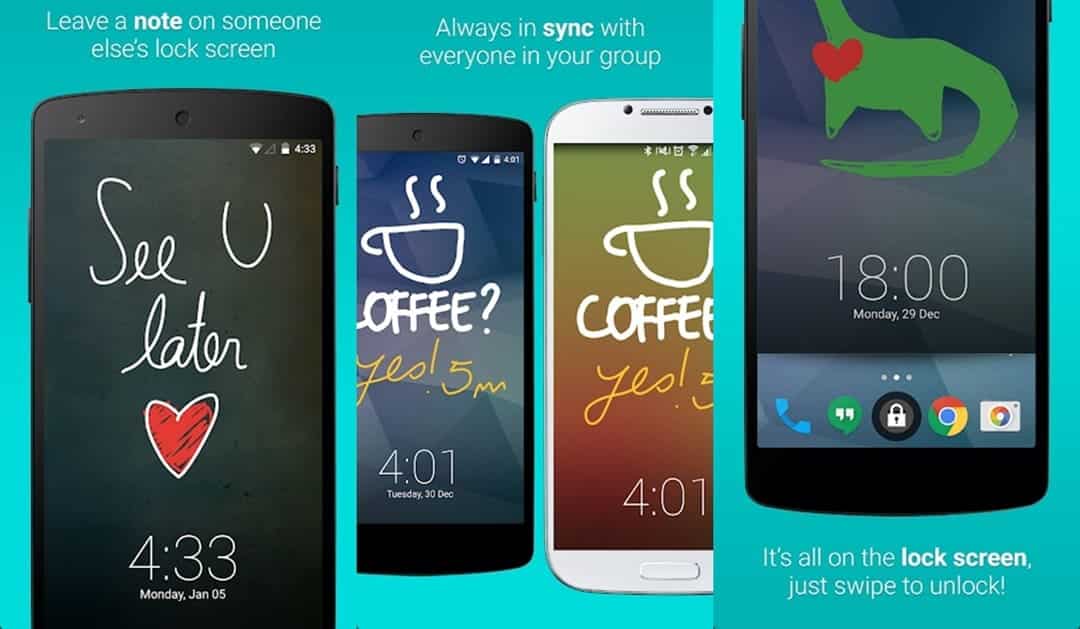 LokLok lets you quickly add notes or drawings to your partner's phone lockscreen and vice versa. This means you wouldn't have to open up any apps to communicate or remind each other about upcoming events. LokLok is fairly simple and easy to use. Simply connect the app to your partner's phone and you would be good to go. The app was last updated a couple of years ago. However, it still serves its purpose fairly well.
Spendee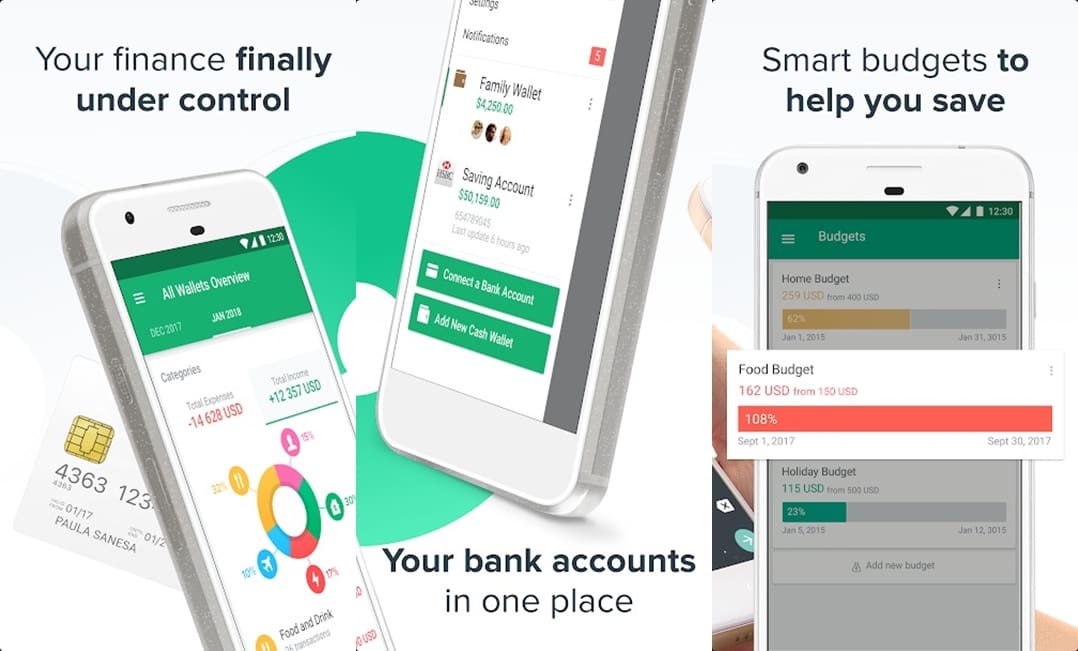 Managing your money effectively is a great way to keep the financial stress away from a relationship. Spendee allows you to keep track of your monthly expenses. You could securely connect your bank account to enable automatic tracking of expenses. We've recommended Spendee here since you could share your budget with your partner as well. This allows you both to keep track of the expenses and would help you save a good sum of money in the long run. Needless to say, the money saved could be used for those lovely dates.
These are the 10 best apps for couples for Android devices. Do you use any of the apps mentioned on our list? Let us know in the comments below.
Read next: 10 Best Apps for Chromecast