Not long ago, times were simpler when you only had to worry about how much RAM to get for your PC. I'm not complaining though but it does seem that the industry is pushing the limits a little too hard. For example, TVs don't need RAM and an entire OS of themselves to be "smart". Look at your smartphones, most of those get slow over time and you're forced to buy another. TVs are much more expensive, you can't change them often. If only there was something that you could plug into a normal TV and just turn it into a smart TV. After all, what is a TV but a big display? Oh wait, we do have something similar and it's called Chromecast. If you've bought one recently, you might be looking for some apps that support Chromecast, so here are 10 best free Chromecast apps for you to start with.
1. Google Home
Even though it is named Google Home now, it started out as Google cast. Its sole purpose was to help you set up Chromecast and find supported apps. Unless you own any of the other Google Home devices it is still pretty much the same app. You will need this app to complete a one-time set up of your Chromecast so it's an obvious entry onto this list. The fact that it helps you find additional Chromecast content and mirror your entire phone screen on your TV only helps its case.
2. YouTube
What can anyone possibly say about YouTube that you don't already know? Did you know if YouTube was a search engine, it would be the largest search engine besides Google itself? It's pretty much the synonym of video streaming. Plus it is owned by Google itself so Chromecast support was never really a question. With the YouTube app, you can stream the billions of hours of online video right onto your TV screen.
3. Netflix
Over the years Netflix has gone through many changes for better or worse. It is also the most popular service of its kind currently so there is a good chance you have a subscription. If you do, you must have the app. Everyone knows what it is how much it costs and how to use it etc. Not much to say here. On Chromecast, it includes some decent features. You can have subtitles, audio dubbing, and Surround Sound.
4. Hulu
Hulu is another, quite popular, subscription-based TV shows and movie streaming service. It boasts of popular titles such as Family Guy, Sons of Anarchy, and Gotham. According to its Play Store page, "If you're new to Hulu, your base Hulu subscription fee will be $7.99/month for the Limited Commercials plan or $11.99/month for the No Commercials plan, or starting at $39.99/month for a Hulu with Live TV (Beta) plan as a recurring transaction starting the end of your free trial (unless you cancel during the free trial)."
5. Spotify
While we are talking about streaming services, let's not forget the most popular music streaming service. The music streaming app took its time coming up with support for Chromecast but it finally did at least. Although you won't want to have Spotify unless you have invested in it, just like the two other streaming apps mentioned above. The streaming service though itself has over 30 million tracks along with various radio stations, video content, podcasts, and more. Spotify is definitely one of the best free apps for Chromecast.
6. Google Play Music
While not as popular as Spotify or some other music streaming services despite Google's name, Google Play Music is not a bad service. It has managed to create a niche user base for itself. It boasts of over 40 million tracks and the best part is it lets you upload your own music for streaming anywhere. That means you can stream songs from your computer or anywhere to your TV using Chromecast once you have uploaded them to Google Play Music.
7. Pandora
Pandora is one of the most popular apps with Chromecast support out there. People have been using it to stream not only new music but listen to random radio stations based on their tastes, and more. The app is simple, works well and is compatible with almost any device. It is ad-supported but you can get rid of ads for $4.99 per month. For $9.99 per month you can have that and a subscription to Pandora Premium. A premium subscription will let you stream any song in their library whenever you want.
8. LocalCast
We're down 8 apps and yet not a single app that will let you stream locally stored content on your TV via Chromecast. How rude! Well, LocalCast lets you do that and it makes that abundantly clear with the name. It supports streaming locally stored Music, Images, Videos (clips, movies, tv shows, anything) and even PDF files to Chromecast or any other DLNA supported device. It also has cloud-storage support so you can cast your cloud-saved media as well. It's an ad-supported free app but you can make a one-time payment to get rid of them. The cost depends on your location.
9. Solid Explorer
Solid Explorer is one of many file explorers out there and it does what most awesome file explorers can do. There are a lot of apps, including file explorers with material design on the Play Store now. But I remember Solid Explorer is one of the first file explorers to come up with a UI based on material design. The interface has dual pane support and all of the basic features you'd expect from a file manager. It even supports FTP, SFPT, WebDAV, and SMB/CIFS protocols along with cloud storage support. Most of all, it is probably the only file manager with Chromecast support. So you can stream your local content on your TV as well. This makes it a must-have and one of the best free Chromecast apps in my book.
The only downside is that unlike several others, it's not free. But I'd take a reasonably priced app over an app that collects user data and is owned by a Chinese adware firm anytime. You can pick up a 14-day free trial by downloading the app. The app is currently on sale so hurry.
10. Cast Dashboard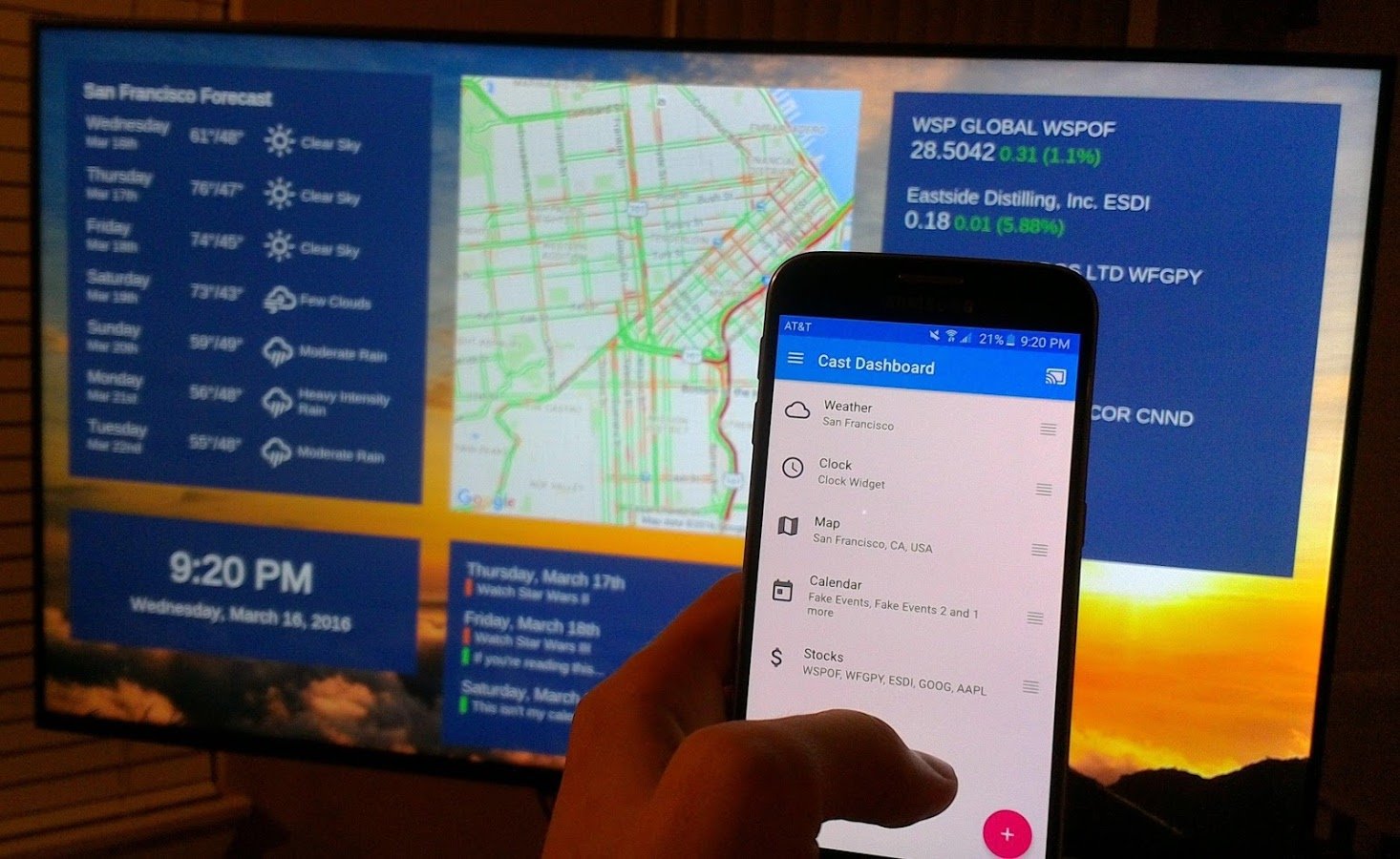 Cast Dashboard is a little but a lot different from all the apps above and even the ones not included above. It lets you "create a customized dashboard for your Chromecast or Android TV." Why? Well, it looks fancier than an image slideshow that's why. You can add several widgets as floating cards on your TV. It lets you customize the look and feel to an extent. There aren't a lot many widgets in here either but if you have a Chromecast, it's one of the best free apps should definitely give it a try.
Read Next: How to Change the Device Name on Android Devices