Suppose a situation arises that one of your friends needs to try out a game that you have purchased before. You can't simply create the backup of your purchased app and send it over to him. And don't even think of sharing your Google ID and password with him so that he could just log in and install your purchased games from the Play Store. This is because all your personal information, including contacts, messages, etc would get automatically synced to his device.
So this is neither a logical nor a sensible decision. But what you could do is add him or her to your Play Store Family Library. Now, if you carry out any Play Store purchases, the added member would be able to enjoy its benefits as well. Let us see how it could be done. Also, don't forget to check out the steps to buy apps and games from Google Play Store.
Add Members to Play Store Family Library
In order to allow your friends and family members. enjoy your Play Store purchases, you simply need to add them to your Family Library group. You could add up to 5 members in your group. But that is not the major concern. The major issue with it is that all these five members if they have a supervised Google account and are above the age of 18, would be able to make a purchase with your saved payment methods.

You could, however, have full control over the Play Store purchases of any member if they are under the age of 18 (instructions given in the end). Therefore, it is advisable to add only your closest friends and family members to whom you have full faith in. If you are completely satisfied with all these, head over to the below instructions to begin the process.
Don't Miss: Play Windows Games on Linux with Steam
Steps to Add Members to Family Library
Open the Play Store app on your Android device.
Tap on  Sign up now. Again tap on Sign up. If you are using a computer, signup using the Google website.
It will now open your Google profile, and you will be mentioned as the family manager. Tap on Continue.

It will now mention that members added to your library could use your saved payment details to make purchases. If that is fine with you, click Continue.
Now, to carry out any Play Store purchases, you will need to set up a family payment method. Tap on SET UP for the same.

Enter all the required details and click ACCEPT.
Next, you will need to add up to 5 members to your library. Tap on CONTINUE.
Select up to 5 members from your Contacts and tap on SEND.
All the selected contacts will now get notified via an e-mail. they will just have to tap on ACCEPT INVITATION and sign in with their Google ID.
Also read: How To Play Google Assistant Games
That's it. Now just make any Play Store purchase and send them the link via the app's share page. But do note that not all apps are available for Family Library. If you want to check if an app is eligible, then tap on About this game and scroll all the way to the bottom. Under More info, look for the "Eligible for Family Library" tag. Any app having this tag could be added to the family library.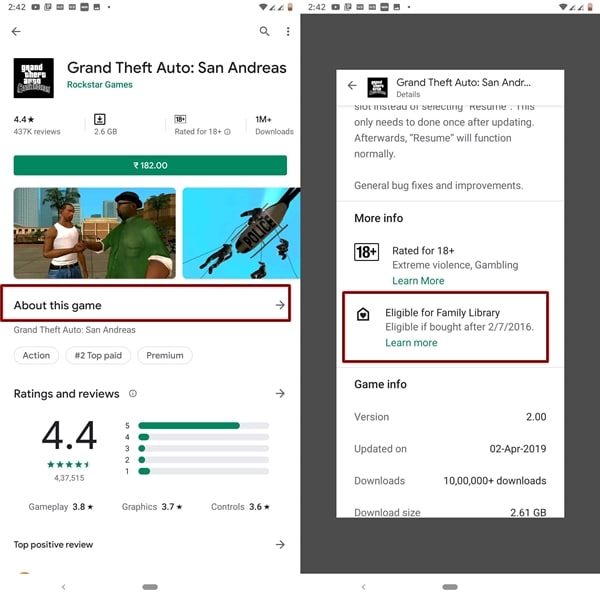 Change purchase approval settings
Although you cannot have control over Play Store purchases made by anyone over the age of 18, you could, however, place some restrictions on the purchases made by anyone under the age of 18. Open Play Store and go to Accounts > Family > Manage Family Members. Now select the member on whom you want to place restrictions. Tap on Purchase Approvals and select any one of the four available options. On that note, here are some of the best Windows 10 apps that you must be using.
All content, Only paid content, Only in-app purchases, or No approval required. For example, if you select All Contents, then the selected member will need to have your consent before downloading any app, whether free or paid. This will definitely come in handy, especially the circumstances we are dealing with right now.
With this, we conclude our guide on how to let family and friends enjoy your Play Store purchases. Do let us know if you need any assistance with any of the steps.
Read next: How to Create a New User Account in Windows 10