WhatsApp's dark mode has been available for Android devices for a couple of weeks now. It's now time for iOS users to rejoice since the dark theme is now available on iOS. But there's a catch. The feature still isn't available for users running the stable WhatsApp build. Those who have registered for the TestFlight beta program for WhatsApp are now receiving the update that brings along the much-awaited dark theme. If you're participating in the beta program, then make sure to update WhatsApp to the latest version. The version 2.20.30 is the build that brings forward dark mode for WhatsApp.
Unfortunately, the TestFlight beta program is currently full. Thus if you aren't participating in the beta program already, you will not be able to check out the dark mode feature yet. However, we do expect to see dark mode for WhatsApp on iOS to release soon for everyone. Nevertheless, if you're part of the beta program, install the latest update and then follow the steps below to toggle on dark mode for WhatsApp on your iOS device.
How to turn on WhatsApp dark mode
Make sure you have installed the latest update for WhatsApp before you being.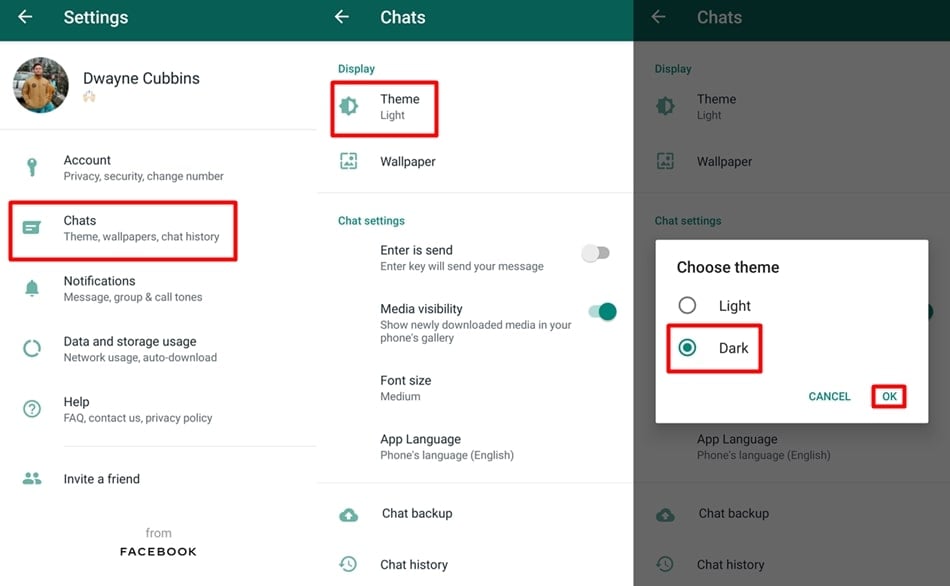 Launch WhatsApp on your iPhone.
Go to the app's Settings page.
Tap on the Chats option and then select the Theme option.
You should be able to see the following theme options — Light and Dark.
Of course, we're here to check out the dark mode so select Dark and then tap OK.
Also read: 13 WhatsApp Tips and Tricks Which You Should Know
That's it. You have successfully enabled dark mode for WhatsApp. One thing worth noting is that the dark mode for WhatsApp is way different from the dark mode available on other apps. Rather than implementing a dark grey or AMOLED black color, this dark theme isn't as dark as we expected it to be. Having an AMOLED black background would be a lot more useful. Since the pixels turn off completely on AMOLED displays, it would help save some battery. Moreover, it would look way better than the current dark mode on WhatsApp.
Facebook-owned WhatsApp has taken it's sweet time to release dark mode. Therefore, we expected it to be flawless but that isn't the case at present. Those who use the messaging app at night will have some relief from eye strain by using the dark theme. Additionally, WhatsApp now has a bunch of solid colors that are meant to be used with the dark theme. We do hope the company decided to release an AMOLED black theme in the future. Most new smartphones have ditched LCD displays in favor of AMOLED panels. Therefore, having an AMOLED black theme makes more sense now than ever.
Nevertheless, we'll have to wait and see when the feature makes its way over to the stable build for WhatsApp. What are your thoughts on the new dark mode for WhatsApp? Let us know in the comments below.
Read next: How to Schedule Automatic Dark Mode on Windows 10