WhatsApp is one of the most popular and reliable instant messengers across the globe. It is a cross-platform instant messaging client for smartphones, tablets, and PC. After the launch of the WhatsApp call and WhatsApp web feature, it's success has grown by leaps and bounds. Currently, WhatsApp has a user base of approximately 1 billion making it the most used instant messenger all over the world. WhatsApp currently works on iOS, Android, and Windows operating system along with its support for Ubuntu, Linux PC, and Android Wear devices.
In spite of the fact that WhatsApp is the most popular instant messaging service, there are some tips and tricks which even the geekiest users of WhatsApp don't know. Here we will share 12 WhatsApp tips and tricks which you should know.
1. Move your WhatsApp Chat History from One Device to Another
There are many times when you buy a new device or just switch your phone to some other device and you lose track of your chats if WhatsApp doesn't prompt for restoring backups. With the recent update of WhatsApp, this problem has been solved as the chat backups are now stored in your Google Drive account and you can easily restore these chats as and when you want. However, for those who have not yet updated to the new version, there is a simple solution. All you need is an SD Card and time to follow the below steps:
Insert the SD card in the device from which you want to move chats.

Remove your SD card and place it on your new device.

Now install and open WhatsApp on the new device.

WhatsApp will detect backup and prompt you to restore it.

Restore it.
The process will take some time to complete and your chats will be restored.
Note: Before removing your SD card from the old device, make sure that the WhatsApp folder is on the SD card and not in the phone memory. You can check it by searching '/sdcard/WhatsApp' in your file explorer and if it's not on the memory card, move it from the internal storage to the memory card. The backup folder will be named "WhatsApp".
2. Hide WhatsApp Images From Gallery
Many times your friends send you some stupid pictures and it gets mixed with amazing pictures in your gallery which is not so pleasant. So if you want to hide WhatsApp images from the gallery, follow the below steps:
Download

CX File Explorer

or any other file explorer.

Here, the folder you want to hide is "WhatsApp images".

In the folder, click the plus button at the bottom of the screen.

Create a new folder named ".nomedia".
This will hide WhatsApp images from the gallery.
3. Send Private Message in Bulk using Broadcast
You must have been in a situation when you want to send same messages to many people without each of them knowing who else received the message. Well, that's what the Broadcast feature do. Using Broadcast feature is quite simple if you follow the below steps:
Tap the 3 dots on the right-most side of WhatsApp.

Enter the names of all the contacts you want to send messages to.

Click Create.

Now, write your message and send it.
That's it! Your broadcast message will be sent successfully.
4. Mute WhatsApp Groups
Most of the time when you are busy or simply avoiding people, there comes a WhatsApp Group message. It feels annoying, doesn't it? Well, there is an option to mute WhatsApp groups. You can mute groups for 8 hours, 1 week, and 1 year. Follow the steps below to see how it actually works.
Open WhatsApp.

In the Chats tab, open the group you want to mute.

Tap the 3 dots on the top-right.

Click on it and it will ask the duration for which you want to mute the group.

Select duration and select whether you want to receive notifications or not.

Click "OK".
The WhatsApp group will now be muted.
5. Hide Profile Picture, Status and Last Seen
Nowadays, everyone is on WhatsApp, and it kind of works as a Truecaller. People just save your number and they can see your picture, status and last seen. But there is also a way to hide all these so that only your contacts get to see these private things. If you want to hide your profile picture, status, and last seen or any of these, follow the steps below:
Open WhatsApp.

Tap the 3 dots on the right-most side of WhatsApp.

Select Settings.
Go to Settings-> Account-> Privacy.

Open each of these options and select your preference from Nobody, My Contacts and Everyone depending on the privacy you need.
6. Enable Desktop Notifications via WhatsApp Web
To get desktop notifications of WhatsApp chat you need to follow below steps:
Install the WhatsApp Web on your PC.

Open WhatsApp Web.

Go to Options-> Notifications and then make sure "desktop alert is checked".

Now, install

WAToolkit

chrome extension.

You will see a new icon on the browser toolbar.

Right-click on the icon to see different options of WAToolkit.
You can also see WAToolit options on WhatsApp Web. Enable "Background Notifications" from the options to get desktop notifications.
7. Star Messages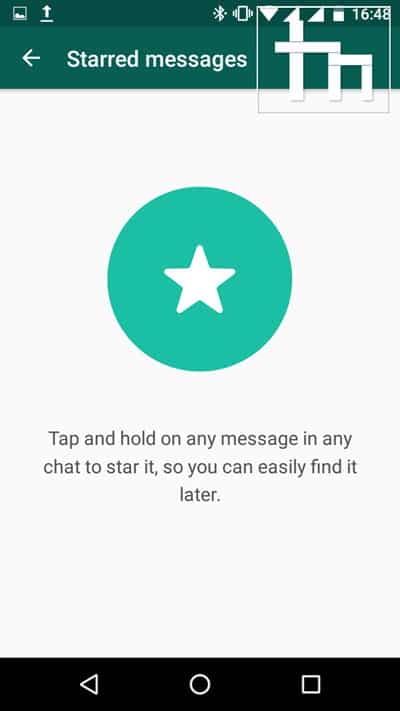 If you want to mark some message important or want to view the message later easily without having to search for the message then you can use this feature call Star Messages. Click and hold on the message you think is important and then on the top right side there will be a "Star". Click on it and the message will be marked as important. To view Starred messages, click on the 3 dots on the right side and select Starred messages.
8. Change WhatsApp Background
If you want to change the background of your WhatsApp chats, then follow the below steps:
Open WhatsApp.

On the top right side, you will see 3 dots.

Click on it.

Tap Settings.
In the settings menu, click on "Chats and Call".
Now select "wallpaper".

Click on WhatsApp if you want to download the WhatsApp wallpaper pack or else choose the wallpaper image from the gallery.

Then click on Set Wallpaper.
Now the WhatsApp background will be changed.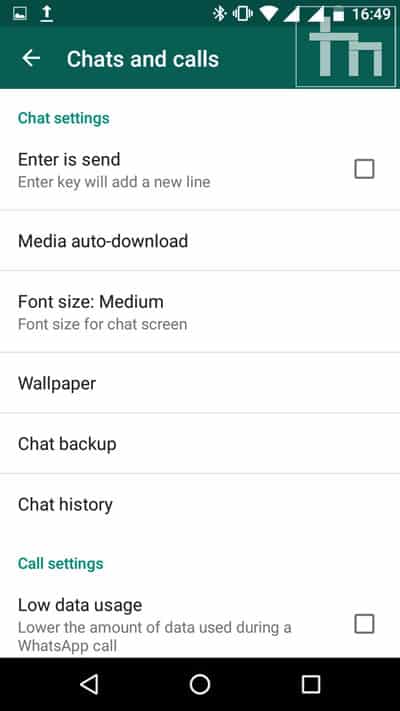 9. Change WhatsApp Font Size
You have an option for changing the font size of chat according to your convenience. You can make chats bigger to see fewer conversations or shrink to see more conversations. Just follow the below steps for doing so:
Open WhatsApp.

On the top right side, you will see 3 dots.

Click on it.

Tap Settings.
In the settings menu, click on "Chats and Call".
Tap on Font Size.

Select Font Size according to your convenience.
10. Make Home Screen Shortcuts for Favorite Chats
There are some favorite people in your life with whom you keep in touch constantly. For those special people, you can create home screen shortcuts so as to avoid the pain of opening WhatsApp each time you want to text them. To create home screen shortcuts, follow the below steps:
In WhatsApp, click and hold on the conversation you want to create home screen shortcuts for.

Now an options list will appear.

A shortcut will be created on your home screen and you just have to click on it to start chatting right away.
11. Restore Deleted Conversations
If by mistake you have deleted or some chats or some messages in chats then you can easily recover them by following the below steps:
Uninstall WhatsApp.

Reinstall WhatsApp.

Activate WhatsApp.

Now you will be prompted to restore the backup messages.

Click on Restore to get back the deleted conversations.
12. Hide Blue Ticks
There have been times when you don't want another person to know whether you read their texts or not. With the introduction of blue ticks, many people thought it was the breach of their privacy. So WhatsApp introduced a way to hide Blue Ticks but if you hide Blue Ticks then you will also not be able to see who read your texts and who doesn't. To hide blue ticks, follow the below steps:
Open WhatsApp.

Tap on the 3 dots on the right-hand side.

Select Settings-> Account-> Privacy.
Untick the "Read Receipts" option.
Now the blue ticks will be hidden and no one will be able to determine whether you read their messeges or not.
13. Use Google Now To Send WhatsApp Messages
This is a hands-free way of using WhatsApp. I guess everyone is using Google Now, so just follow some steps to use WhatsApp hands-free.
Click on the mic on the Google Toolbar.

Then say, "Send WhatsApp message to (name of the person you want to text)".

Dictate the message.

Google Now will send the message automatically.
This was our guide on 13 WhatsApp tips and tricks you should know. Share this article with your friends to help them master WhatsApp messaging.
Read Next: How to Recover WiFi Password Using Android Device