Developer Mode on Android is a hidden treasure of powerful tools and advanced functionalities. Designed primarily for app developers and power users, this feature provides access to an array of debugging and tuning options. However, tinkering with the developer options without proper knowledge can be troublesome. In this tutorial, we'll check out 4 ways to turn off the Developer Options or Developer Mode on Android devices from OEMs like Samsung, OnePlus, Xiaomi, Oppo, Vivo, Realme, etc.
What's Developer Mode or Developer Options in Android
Developer Options or Developer Mode on Android are a powerful set of tools that allow users to unleash the full potential of their devices.
Within the Developer Options lies an abundance of features geared towards optimizing performance and customizing your device's behavior. One notable example is USB debugging mode which allows direct communication between your Android device and a computer for tasks like app development or detailed system analysis. You won't be able to use ADB commands unless you enable the Developer options and authorize the ADB device. Additionally, developers can also utilize tools like ADB over a network to control an Android device remotely.
Other useful tools encompass OEM unlocking for some devices, enabling root access for more control over system files, tweaking background processes for smoother multitasking, altering animation scales to speed up or slow down transitions, enabling GPU rendering profiling overlays while running apps, simulating different network speeds or locations during testing, engaging strict power-saving modes during low battery situations, examining detailed system logs for troubleshooting purposes, enforcing strict visual rendering boundaries through GPU profiling tools, even simulating various hardware conditions for testing applications under different scenarios, and so on.
To turn on the Developer Mode on your Android device, follow the steps below.
Open device Settings.
Navigate to About phone or About device.
On the device info screen, look for Software information (Samsung), MIUI version (Xiaomi), Baseband & Kernel (Realme & Oppo), Software version (Vivo), and tap on it.
Look for Build number and tap on it 7 times.
Disadvantages Enabling the Developer Mode
Developer mode in Android can be a double-edged sword. While these options offer immense flexibility and functionality, they also come with inherent risks if misused or enabled without proper understanding. Therefore, caution must be exercised when exploring the options found under developer settings.
When users turn on the Developer mode on their devices, they are effectively granting themselves full access to the system's inner workings and settings. While this level of control can be beneficial for developers and tech-savvy individuals, it also opens a gateway for malicious activities if exploited by unauthorized parties. Hackers could exploit vulnerabilities within developer tools or gain unauthorized access to sensitive data stored on the device, leading to privacy breaches or even identity theft.
Moreover, enabling the Developer Mode may expose users to unstable software experiences. Developers typically utilize this feature when testing new applications and features before their official release. Consequently, certain options within developer mode may modify critical system settings that adversely affect the performance and stability of the device.
Users who lack technical expertise might inadvertently change essential configurations, resulting in crashes, app malfunctions, or even rendering the entire device unusable. Developer mode grants access to advanced options such as tweaking CPU usage limits or forcing GPU rendering, which if not understood properly can lead to unexpected crashes and system failures.
How to Turn off Developer Options
Personally, I prefer to keep the Developer options enabled on all my phones. However, if you're not an advanced user and are worried about the disadvantages listed above, it's better you keep the developer mode disabled.
Turning off the Developer mode on Android is easier than enabling it. Below, we'll check out 4 ways to disable the Developer Option on Android devices from OnePlus, Samsung, Xiaomi, Vivo, Oppo, Realme, etc.
Method 1: Turn off Developer Options via Settings
Open Settings on your phone.
Navigate to Developer options and tap on it. On some Android devices, you may have to go to System > Advanced or Additional Settings to find the Developer options.
Now, tap on the toggle button to turn off the Developer options.
Method 2: Turn off Developer Options using ADB Command
ADB is a command-line tool using which you can perform a lot of basic and advanced tasks on your Android device. Below, are the steps to disable the Developer Options using ADB Shell commands.
I tested this method on Samsung Galaxy S23 Ultra, Redmi K30 Pro, and OnePlus 11 successfully. It should work on all Android devices regardless of the manufacturer.
Download and set up the latest Android SDK Platform Tools on your computer.
Make sure that you have enabled USB debugging in the Developer options.
Navigate to Settings > Display > Screen timeout and change it to 5 minutes. The point is, the screen of your phone must remain unlocked while executing ADB commands.
Connect your Android device to your computer via a compatible USB cable.
Open the 'platform-tools' folder, right-click on an empty area, and select the Open in Terminal option from the context menu.
When the Command Prompt or PowerShell window is launched, type the following command and press Enter.

adb devices

At this point, you will be prompted to authorize the ADB device on your phone. Tap on Allow.
ADB will show a string of alphanumeric values under the list of attached devices. It shows that the Terminal has detected your device.
Now, execute the following command.

adb shell

Then type or paste the following command exactly as it is in the command window.

settings put global development_settings_enabled 0

Hit the Enter key. You won't get any output in the Terminal window as shown below.
That's it! You have successfully turned off the Developer Options on your Android phone.
Bonus Tip: If you want to turn off only USB debugging on your device, you can execute the following command in the Terminal.
settings put global adb_enabled 0
Method 3: Reset the Settings App on your Android Device
You can also turn off the Developer Options on your Android phone or tablet by clearing the data of the Settings app. Here is how to do this:
Open your device Settings and go to Apps or Applications.
Look for the Settings app in the list of apps and tap on it.
Then select Storage.
Doing so will reset the device settings and the Developer Mode will be deactivated.
You can also reset the device settings from Settings > General Management > Reset > Reset all settings. If you don't find the Reset option on your phone, use the Search feature in Settings.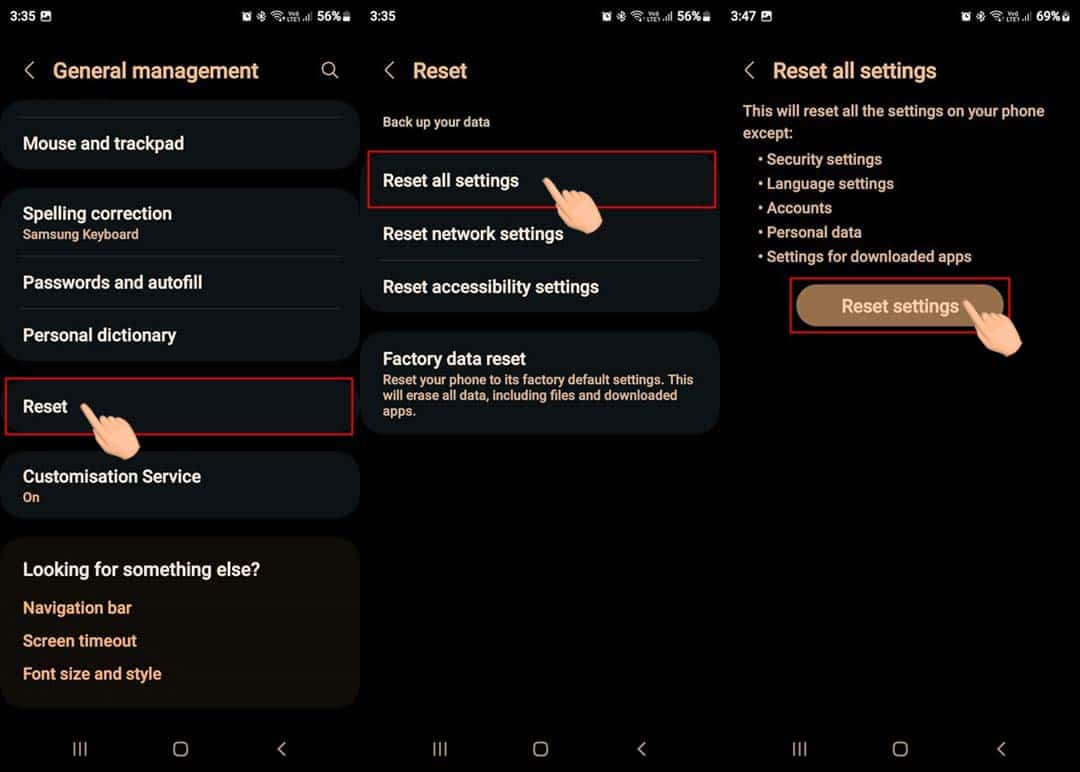 Method 4: Perform a Factory Reset
I already mentioned 3 simple methods to turn off the Developer Options on Android devices. However, I am doubtful that anybody would choose the next method because it'll wipe all data and settings on your device. I'm mentioning it only because it does disable the Developer Mode.
Open the Settings on your phone.
Go to General Management > Reset. Alternatively, tap on the Search icon in Settings and type "factory reset" in the search box.
I hope this tutorial helped you disable the Developer Mode on your Android phone.
Read Next: 350+ Most Useful and Amazing Websites on the Internet