There are many different ways of customizing your mouse's functionality. From changing the pointer speed to its UI, possibilities are endless. Today, we will be sharing another such tip. In this tutorial, we will be listing the instructions on how you could swap the left and right mouse buttons functionalities on your Windows 10 PC. We will be sharing three different methods for the same.
Swapping Mouse Buttons on Windows 10
The first one uses the Control Panel to get the work done. The second method involves swapping the mouse buttons from your PC's Settings. The third and final method is a slightly longer one and requires dealing with Windows Registry Editor file. Handling these registry editor files might prove to be dangerous for your laptop if not done in the correct manner. So if you aren't much into these technicalities, it's better to proceed with the first or second method only. On that note, also check out our guide on how to add 'Move to' and 'Copy to' to Windows 10 context menu.
Control Panel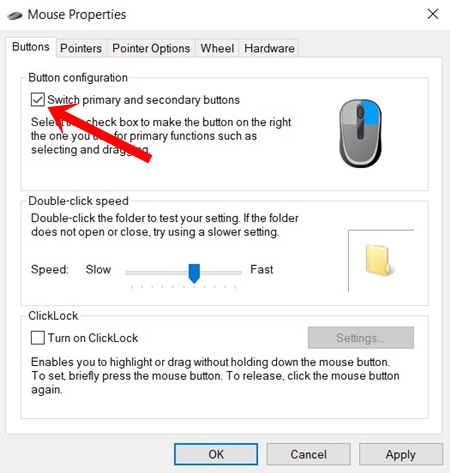 Head over to the Start Menu and search for Control Panel.
Next, click on Mouse and you will be taken to the Buttons tab
Just checkmark the 'Switch primary and secondary buttons' option.
Finally hit Apply > OK. That's it. You have successfully swapped the left and right mouse buttons using Command Prompt.
Let's now see how the same could be done from the Settings menu of your PC. Furthermore, you could even remap any key in Windows 10, 8, 7 or Vista as well. Refer to our guide to know more about it.
Via Settings Menu
Use the Windows+I shortcut key combination to launch the Settings menu.
Type Mouse in the search bar situated at the top left.
Select Mouse Settings from the drop-down.
Under the Select your primary button drop-down, select Right.
With that, you will have swapped the mouse buttons.  Now let's turn our attention towards achieving the same from Registry Editor. Also, check out some of the useful Windows File Explorer shortcuts.
Swapping Mouse Buttons via Registry Editor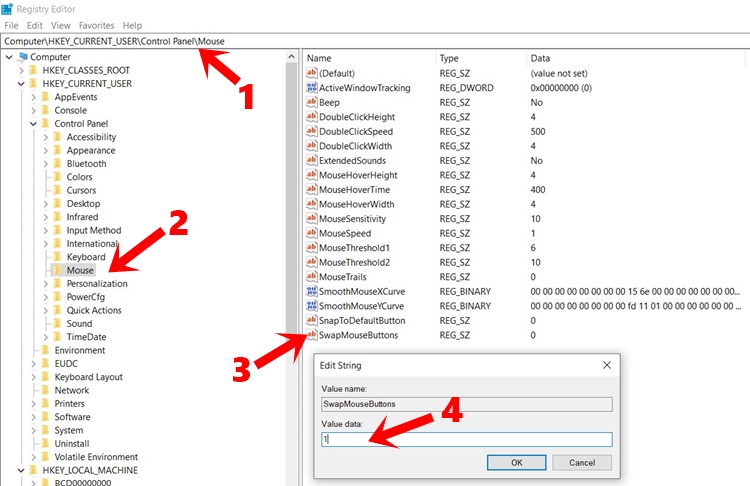 Launch the Run dialog box from the Start menu. Type regedit and hit Enter.
Paste the below location in the address bar of Registry Editor.

HKEY_CURRENT_USER\Control Panel\Mouse

Now scroll to the bottom and double click the SwapMouseButton file.
Enter 1 in the Value Data field and click OK to confirm.
Doing so will swap the mouse buttons' functionality. If at any point in time you wish to revert the changes, just replace 1 with 0 in the Value Data field. With that, we conclude this guide. Which method will you ultimately end up choosing? Do let us know the same in the comments section below.
Read next: 5 Windows 10 Tips to Make Your Windows Experience Better