Android is a highly customizable and developer-friendly OS. To facilitate system diagnosis and testing, it supports a range of hidden codes. While many of these codes work on all devices, some Android skins like One UI, Color OS, Oxygen OS, MIUI, FunTouch OS, etc. have their own set of secret codes. In this article, I will list all Samsung secret codes that work on the older TouchWiz Nature and Grace UX and the latest One UI. Using these codes, you can enter Samsung engineering mode, test the network, diagnose the hardware, and get key information about your Samsung phone to Galaxy Tab.
Whether you own a Samsung Galaxy S9, S10, S20, S21, S22, S23, Note 9, Note 10, Note 20, Galaxy A, J, or M series phone or a Galaxy Tab, the secret codes given below should work on all devices. However, you must keep in mind that the Samsung codes differ from device to device. Also, the code that works on one software version might not work on the other.
Don't Miss: Complete List of All Samsung CSC Codes
On most of the older Galaxy devices running TouchWiz, you can even use Samsung secret codes to unlock your SIM. I remember unlocking my AT&T Galaxy S5 using a secret hack. However, as soon as Samsung comes to know about such hacks, they take no time to path them with a new software update.
Samsung Secret Codes List
If you own a Samsung phone that was released after 2017, you can try the following secret codes on your device. Samsung Galaxy S8, S9, S10, S20, S21, S22, S23, Galaxy Note 9, Note 10, Note 20, Galaxy A and M series, Galaxy Tab S series, etc. come into this category. Using the secret code, serial number, and IMEI, you can even check the activation date of your Samsung device.
1. *#06# ➡ Check IMEI, MEID, & Serial Number
We'll begin our list of Samsung secret codes which is anything but secret. On most mobile devices, this code displays the IMEI number. However, on Samsung Galaxy devices, typing *#06# in the phone's dialer displays the IMEI (International Mobile Equipment Identity), MEID (Mobile Equipment Identifier), and serial number. Moreover, the code will also display the barcodes for the IMEI and MEID numbers as shown below.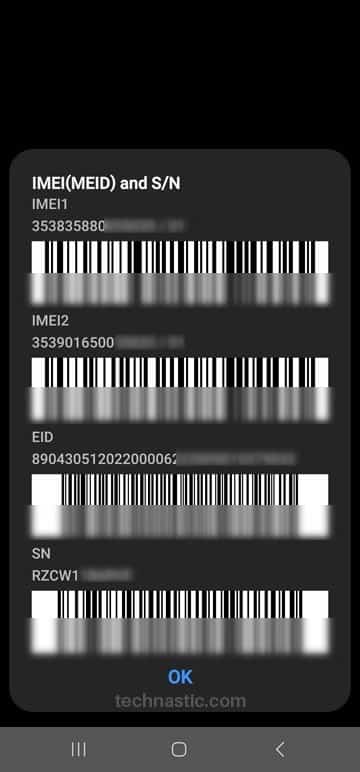 2. *#07* ➡ Check SAR Level
This again is not a Samsung-specific secret code as it works on all Android and iOS devices. By using *#07#, you can check your Samsung device's SAR (Specific Absorption Rate) level. As we all know, all wireless devices including smartphones that use radio frequency (RF) emit electromagnetic radiation. Exposure to strong RF waves may have harmful effects on the human body. SAR is a globally accepted mechanism of measuring power absorbed per mass of tissue in the human body.
Different countries approve different levels of SAR. For example, the US government uses FCC certification which approves 1.6 W/kg, and European countries use CE certification which approves 2.0 W/kg of SAR level. The maximum  SAR of a Samsung Galaxy S23 is 0.765 W/kg.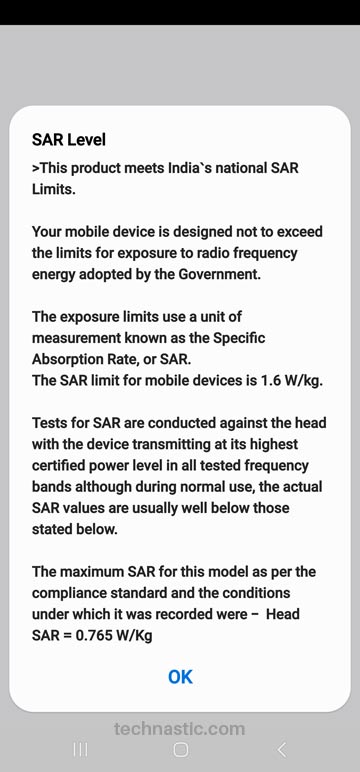 3. *#0*# ➡ Samsung Hardware Diagnostic Test Menu
This code opens up the hidden diagnostics and hardware test mode on Samsung Galaxy devices. It lets you perform screen color (RGB) test, touch screen test, vibration test, front and rear camera test, speaker and mic test, loopback test, sensor test, S-Pen, and other modules.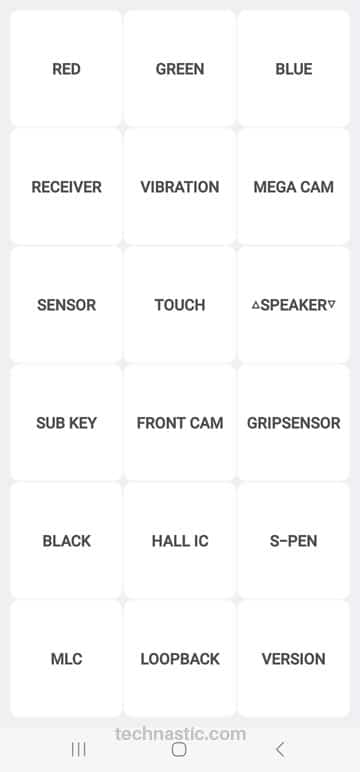 4. *#1234# ➡ Check AP, CP, CSC Version, & Model Number
This Samsung code can be used to check the version of the Samsung firmware components such as AP, CP, CSC, and the Model number. To download the AP, BL, CP, and CSC firmware files for your Samsung device, you can use firmware download tools like Frija, SamFirm, and Samloader.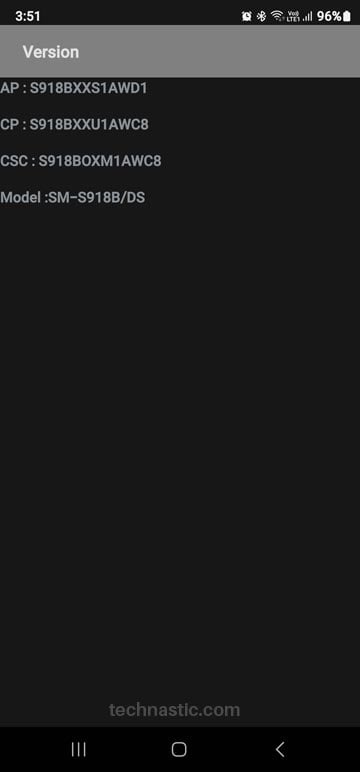 5. *#0808# ➡ Access Samsung USB Settings
By default, the USB settings of your Samsung Galaxy device are configured to connect to computers in MTP (Mobile Transfer Protocol) and ADB (Android Debug Bridge) modes. Typing *#0808# in your phone dialer will open the USB Settings page where you can change the USB connection behavior of your device. These settings are used to configure what drivers are enabled when connecting your Samsung phone to your PC via a USB cable. Moreover, they also let you determine what features to enable when the device is connected. The features include MTP, ADB, PTP (Picture Transfer Protocol), DM (Diagnostic Mode), MODEM (Modulator-Demodulator), RNDIS (Remote Network Driver Interface Specification), RMNET, etc.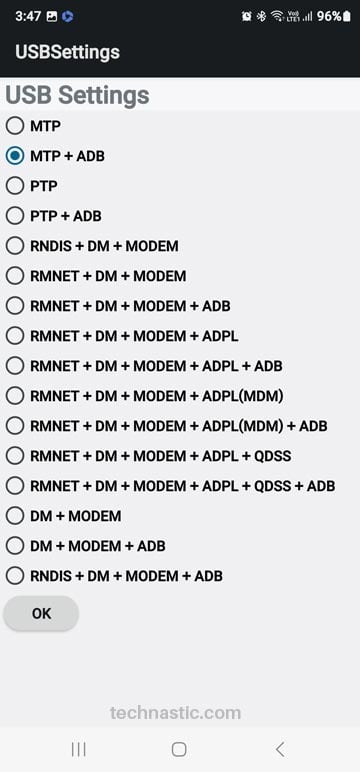 6. *#2683662# ➡ Access Samsung Service Mode
You can access the Advanced Service mode on Samsung devices using the *#2683662# secret code. It's supposed to be used by engineers.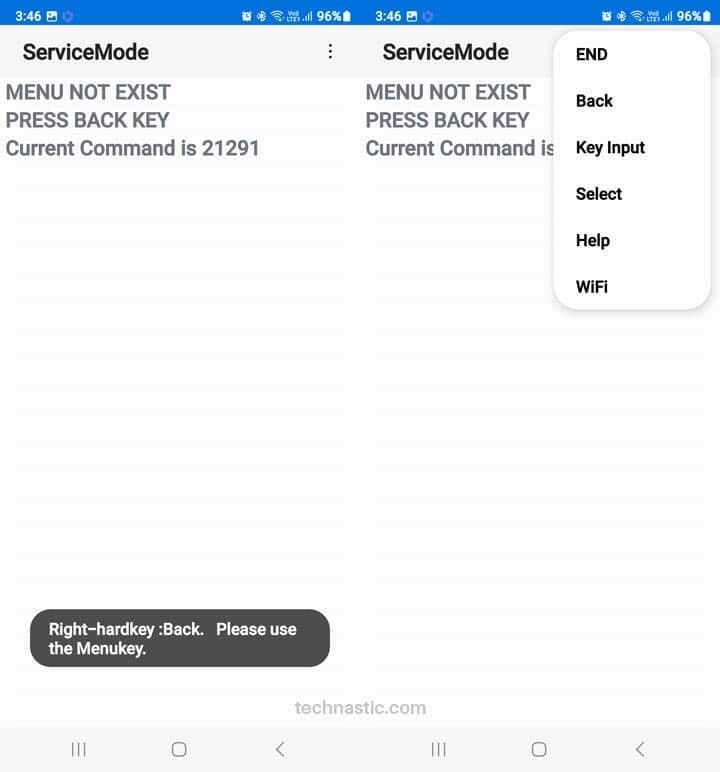 7. *#0011# ➡ Display SIM Information
Using this code on your Samsung device will open the section of the Service Mode which give you technical information about your SIM card and network signal strength and configuration.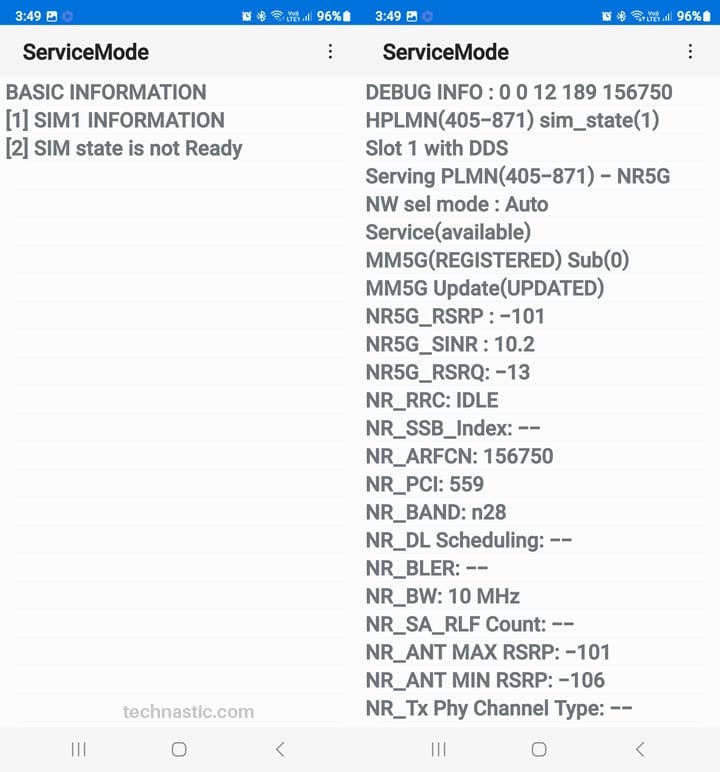 8. *#1111# ➡ Check FTA Software Version
*#1111# opens up another extension of the Service mode which lets you check the FTA software version of your Samsung device.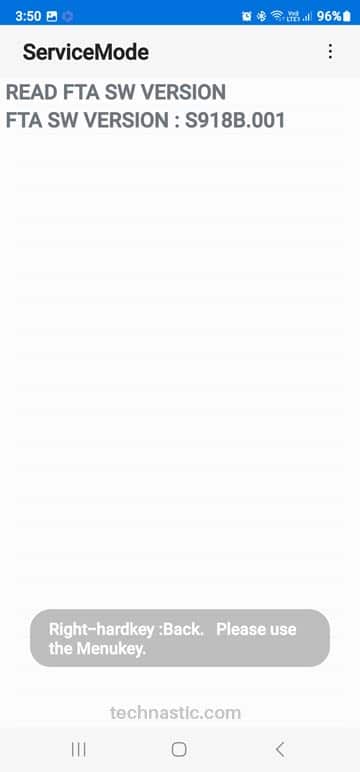 The FTA software version shows how many times your Samsung device has been flashed with firmware. If it has been flashed once (by the OEM), it will show 001 along with the model number of your device. For example, while the FTA SW version of my new Galaxy S23 Ultra (SM-S918B) is S918B.001, the value of changes to G998B.002 on my Galaxy S1 Ultra (SM-G998B) on which I have flashed Samsung firmware with Odin once.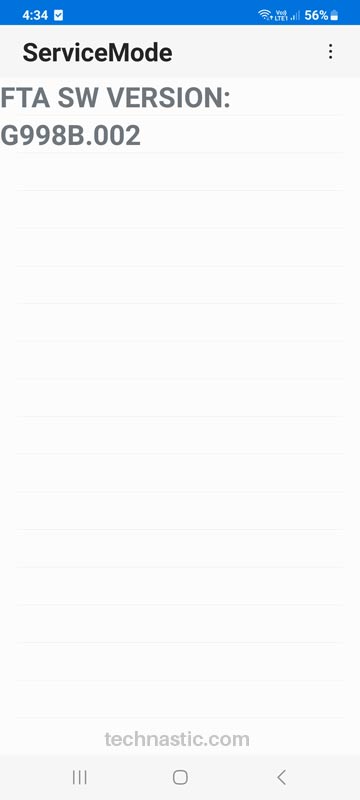 9. *#2222# ➡ Check FTA Hardware Revision Version
While *#1111# lets you display the FTA software version, typing *#2222# will show the FTA hardware version. You can use this secret code to check how many times or how many hardware components have been changed on a Samsung device.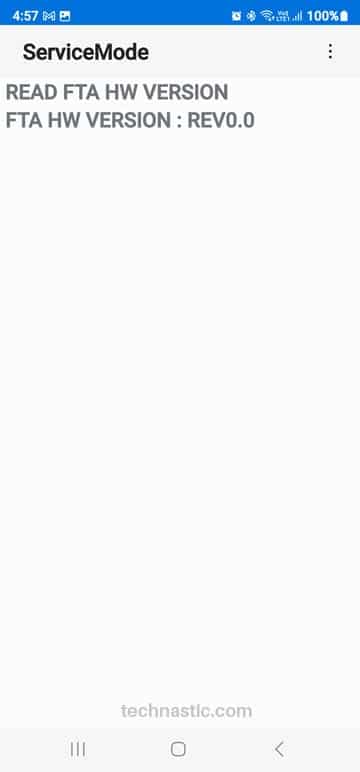 Since there has been no hardware change or replacement on my S23 Ultra, the FTA HW version is REV0.0. On the other hand, my S21 Ultra has visited the service center twice, the HW version revision value on it is 0.2.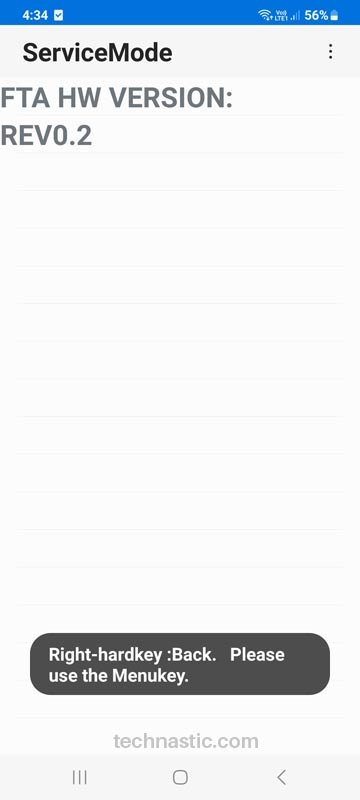 10. *#9090# ➡ Check Diagnostic Configuration
*#9090# displays the diagnostic configuration of your Samsung device. Engineers use this mode to change the internal MUX used for diagnostic debug output to or from USB and UART.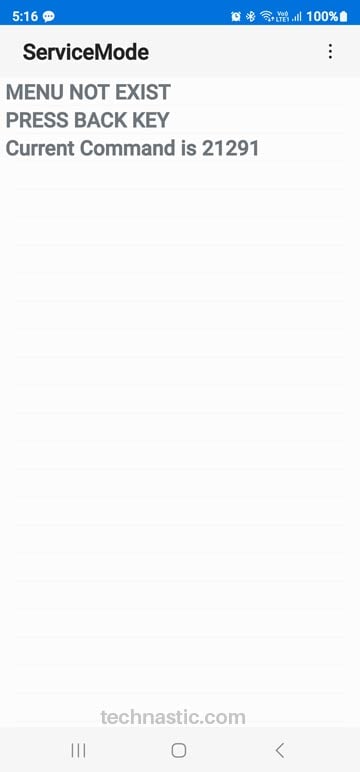 11. *#9900# ➡ Access Samsung SysDump Mode
*#9900# is a very important Samsung secret code that launches the SysDump or system dump mode. You can not only use the SysmDump mode to create a wide range of system dumps but also change various logging functions.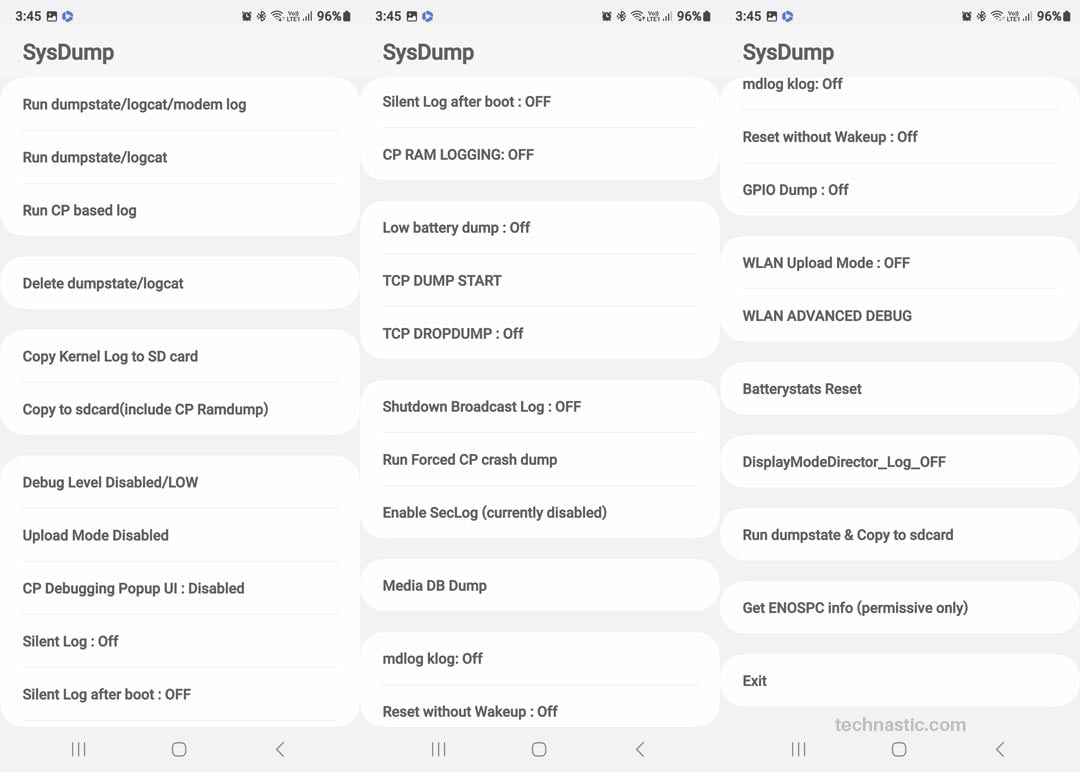 12. *#272*

IMEI

# ➡ Change the CSC of Samsung Devices
You can use this secret code to change the CSC of your Samsung phone. Just type this code, select the CSC of your choice from the available CSCs, and tap on the Install button. Please be warned that changing the CSC will reset your phone and wipe all data.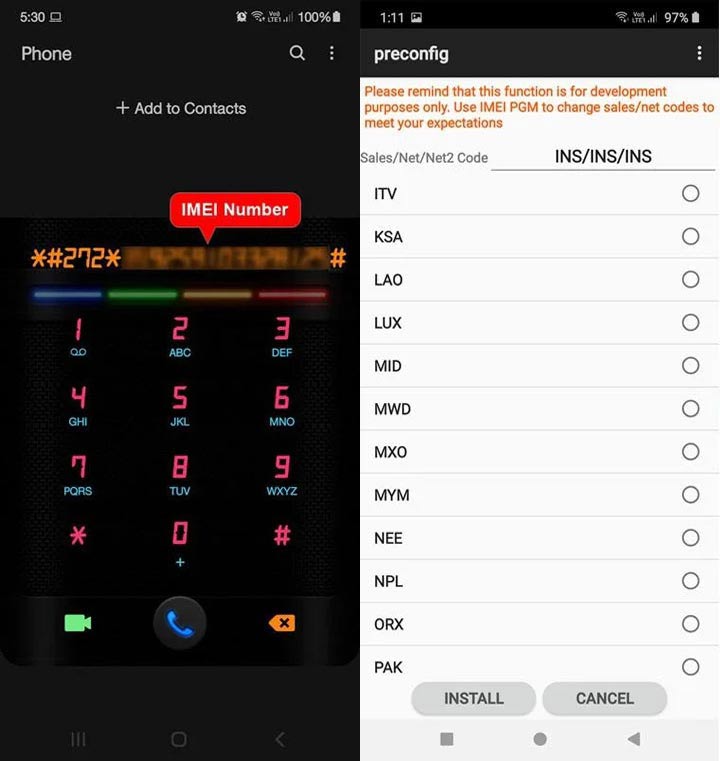 13. *#12580*369# ➡ Check Software and Hardware Information
This code displays the software version of your Samsung phone, such as the version of BL, AP, CP, and CSC. Moreover, you can also check the manufacturing date of your Samsung device. The date mentioned next to RF Cal is actually the manufacturing date of your phone.
RF Cal stands for Radio Frequency Calibration. When a smartphone is assembled several hardware components such as the gyro sensor, proximity sensor, magnetometer, antennae, radio chips, etc. are calibrated. Since this is done when the manufacturing process is complete, the RF Cal date usually denotes the date when the device was manufactured.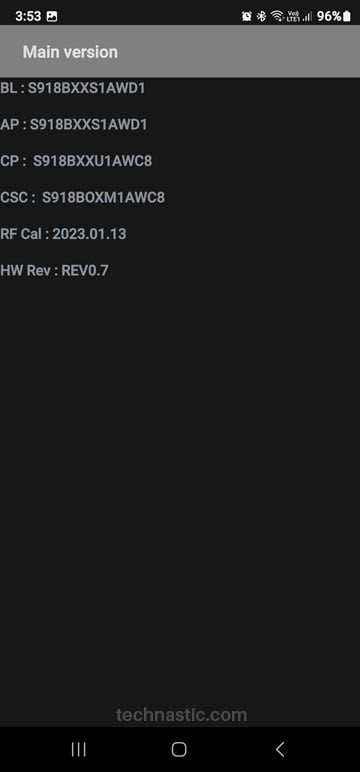 14. *#0283# ➡ Check the Audio Loopback Control
This code lets you check the speakers and mic of your phone as well as the speakers of connected earphones.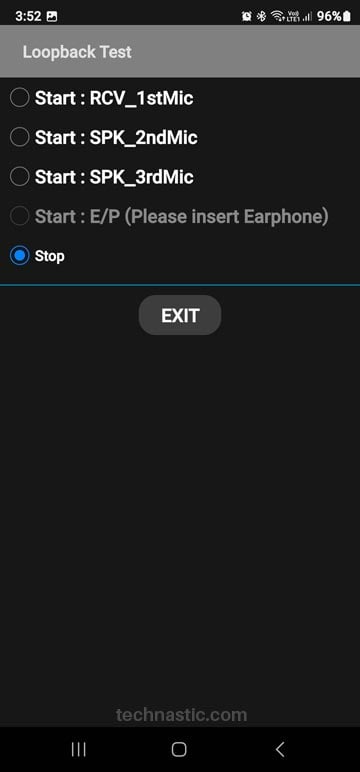 15. *#34971539# ➡ Check Camera Status and Firmware Version
You can use this Samsung code to check if all the modules of your phone's camera are working fine or not. Also, you can check the camera firmware version for each module.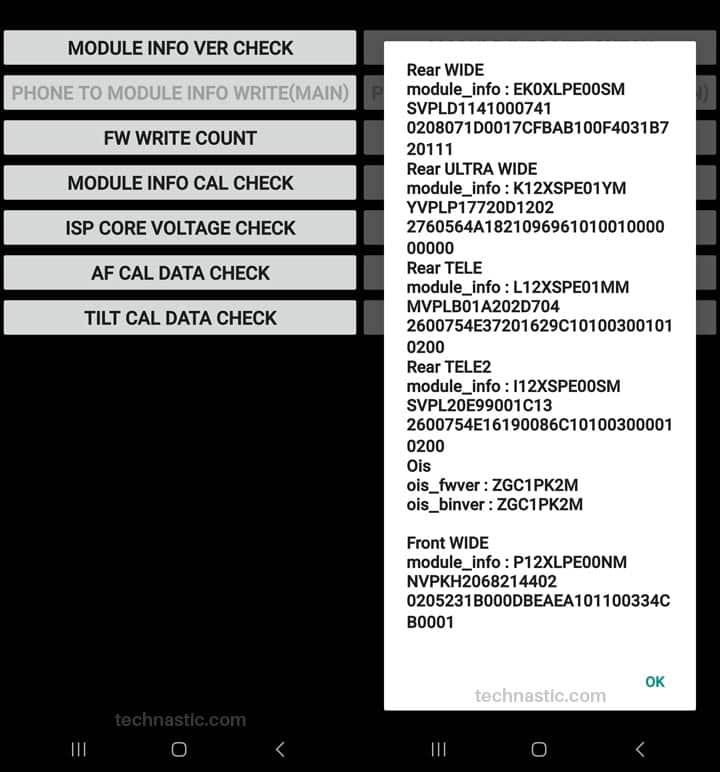 16. *#2663# ➡ Check TSP, WiFi, & Bluetooth Firmware Version
Using this code you can check and update the firmware version of the TSP (Touch Screen Panel). TSP firmware determines the behavior of the touchscreen of your Samsung phone or tablet. If you feel that the touch screen of your device is unresponsive, or there's some input delay, or it's not functioning properly, you can update the touch screen firmware by tapping on the TSP FW update (General) button. Don't use this option if your phone's touchscreen is working normally.
Besides, you can also view the WACOM, WiFi, and Bluetooth firmware versions of your Samsung phone.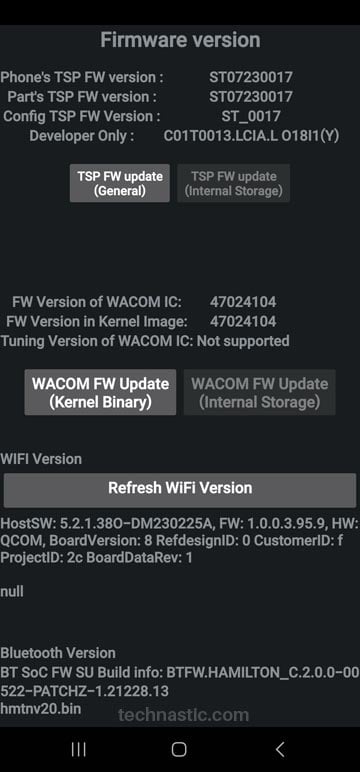 17. *#*#7780#*#* ➞ Reset or Format Your Device
You can use *#*#7780#*#* if you want to reset or format your Samsung device. The code resets Android devices to the factory state and deletes all settings, 3rd-party apps, app data, and media and document files.
18. *#22558463# ➞ Reset Total Call Time
You can easily reset the total call time counter on Samsung devices from the Phone app.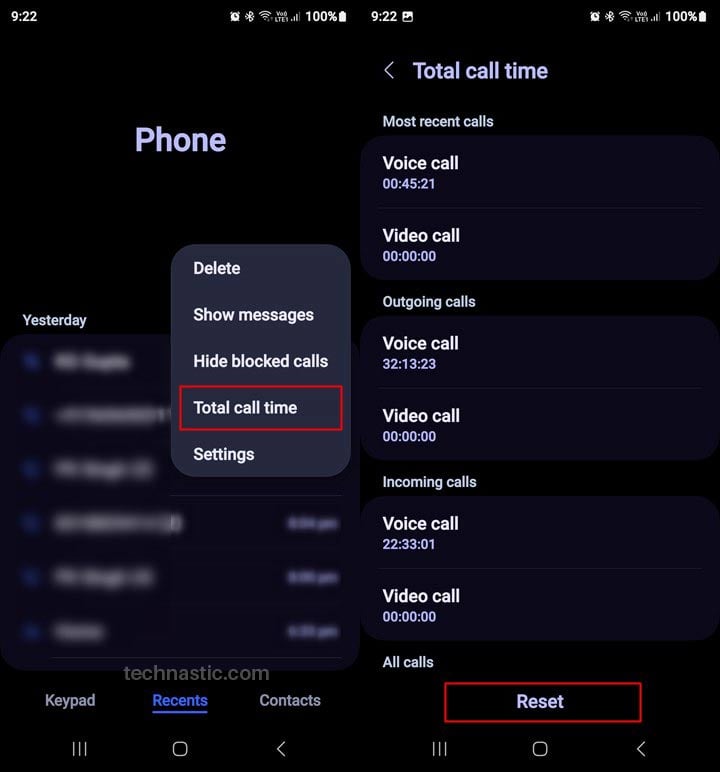 However, there is an alternate way to achieve the same if you use *#22558463# on your device.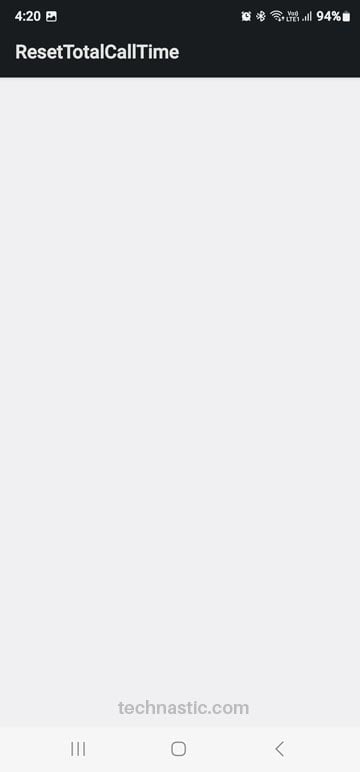 19. *135#[dial] ➞ Request Your Own Phone Number
Have you forgotten your own phone number? This MMI code will help you request your phone number. Please note that this code doesn't work sometimes so you may have to try it a couple of times.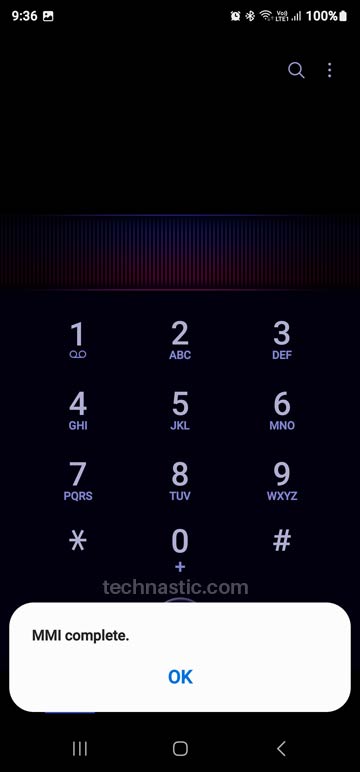 20. **04*[old Pin]*[new Pin]*[new Pin]# ➞ Change SIM Card PIN
You can easily set or change the SIM card lock PIN on your Samsung device from Settings > Security and privacy > Other security settings > Set up SIM card lock. However, there is a secret code that you can use to change the SIM card PIN. Please note that you must know about your old PIN or the default SIM card PIN to do that. Just use this code in the following format where '0000' is the old PIN, and '1234' is the new PIN: **04*0000*1234*1234#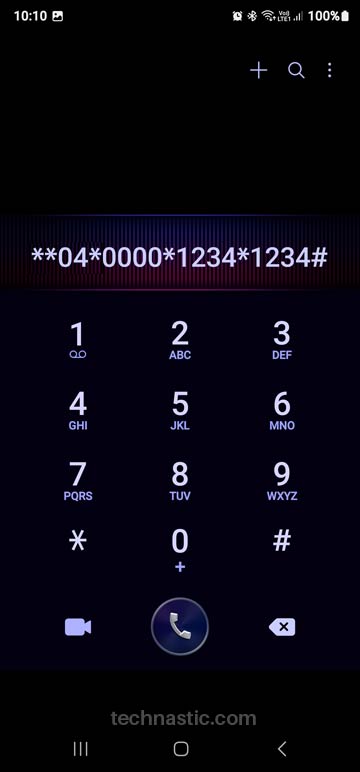 Don't Miss: Best Dark Themes for Samsung One UI
More Secret Codes for Samsung Phones Running One UI
Samsung Secret Code (One UI)

Secret Code Function

*#0228#
Check battery status ADC, RSSI reading, etc.
*#011#
Displays network connection and  cell-related information
 *#0283#
Check the audio loopback control
*#7465625*638*#
Check the network lock keycode
*#2663#
Check TSP and TSK firmware update
*43# [dial]
Enable call waiting
#43#[dial]
Turn off call waiting
*#43#[dial]
Show the status of call waiting
*135#[dial]
Request your own phone number (doesn't work sometimes)
*#004*

[number]

#
Divert call to a given number. Replace "

[number]

" with a phone number
*#004#
Request the status of call diversion
#004#
Deactivate call diversion
##004#
Erase call diversion
#*#4636#*#*
Diagnostic and general settings mode
*#*#1472365#*#*
GPS test settings
*#272886#
Auto answer selection
*#273283*255*3282*#
Data create menu
*#273283*255*663282*#
Data create SD card
*#3214789650#
LBS test mode
*#32489#
Ciphering info
*#44336#
Software version info
*#872564#
USB logging control
*2767*4387264636#
Display product code
List of Codes for Old Samsung TouchWiz Devices
In case you have an older Samsung phone or tablet such as Galaxy S4, S5, S6, S7, Note 4, Note 5, Note 6, Note 7, Galaxy J and C series, etc. and it runs on TouchWiz or Android 6.0 or below, you should try the codes described below.
*#0*# / *#*#0*# ➞ Test RGB (Red Blue Green), Receiver, Vibration, Touch sensitivity, Speakers, Camera Sensors, S-Pen, Audio loopback,  Software version, etc.
*#06# ➞ Show IMEI Number
*#03# ➞ NAND Flash the serial number
*#80# ➞ Touchscreen noise test (warning do not press the power button)
*#251# ➞ Wakelock OFF
*#251# ➞ Wakelock ON
*#526# ➞ WLAN Engineering Mode
*#528# ➞ WLAN Engineering Mode
*#745# ➞ RIL Dump Menu
*#746# ➞ Debug Dump Menu
*#0011# ➞ Service Mode
*#0283# ➞ Audio packet loopback test
*#0289# ➞ Audio/speaker test (Melody Test Mode)
*#0514# ➞ SysDump (System Dumps, logs, etc.)
*#0588# ➞ Proximity Sensor test
*#0589# ➞ Light Sensor Test Mode
*#0673# ➞ Audio/speaker-test (same as *#0289#)
*#0782# ➞ Real-time clock test
*#0842# ➞ Vibration test
*#1575# ➞ GPS Control Menu
*#2263# ➞ RF Band Selection
*#2663# ➞ Touchscreen FW and version
*#2664# ➞ HW touchscreen test
*#3264# ➞ RAM check (version number)
*#7769# ➞ Proximity sensor test
*#7284# ➞ Phone utility and USB driver and connectivity settings
*#7353# ➞ Performs 12 types of function tests
*#7594# ➞ Factory mode / Enable shutdown on long press
*#8888# ➞ Service Mode (Read FTA hardware version)
*#9900# ➞ System Dump Mode
*#9999# ➞ Software versions (AP, CP, CSC, FTA SW)
*#2222# ➞ Hardware version
*#1234# ➞ View SW Version PDA, CSC, MODEM
*#0228# ➞ Battery diagnostics
*#9090# ➞ Service Mode
*#301279# ➞ HSDPA/HSUPA Control Menu
*#4238378# ➞ GCF Configuration
*#*#197328640#*#* ➞Enabling test mode for service activity (also shows the manufacturing date of Samsung devices)
*#232331# ➞ Bluetooth test
*#232337# ➞ Bluetooth address
*#232338# ➞ WLAN MAC address & PS mode
*#232339# ➞ WLAN Engineering Mode test (TX & RX modes) (same as *#526*)
*#8736364# ➞ Opens OTA update menu
*#7412365# ➞ Camera firmware standard (Front/Rear camera firmware)
*#7465625# ➞ Personalization (lock status settings)
*#22558463# ➞ Reset Total Call Time
*#12580*369# ➞ Main Version (AP, CP, CSC, RF cal, HW revision)
*#3282*727336*# ➞ System and storage information, and Data usage statistics
* 2767 *3855# ➞ Wipes Samsung phone completely
*#*#7780#*#* ➞ Resets your phone to the factory state and deletes only apps and app data. You don't need to boot into the Samsung recovery mode to do that.
*#*#7594#*#* ➞ Enables direct power off without showing Power Menu when you hold the Power button
*#*#232338#*#* ➞ Displays Wi-Fi MAC address
*#*#4986*2650468#*#* ➞ PDA, Phone, Hardware, RF Call Date (or manufacturing date) firmware info
##778 [dial] ➞ View the EPST menu
Whether you want to check the manufacturing date of your Samsung device, get into the Samsung engineering mode, test the network, or unlock your SIM, the Samsung secret codes can help you with diagnosing your device. Also, if these codes work on your phone or tablet, you can be sure that it's original.
Download Samsung Secret Codes List PDF
You can download the list of Samsung secret codes PDF file for future reference if you want: Samsung-Secret-Codes-List.pdf
Read Next: How to Uninstall Samsung System Apps without Root