Many of the programs you install on Windows do not offer to select a location for the installation. Such programs directly install on the C: drive. Sometimes in the haste to install that new game, you may forget to change the install location and end up installing it on the C: drive. If you have less storage space on your C: drive, you'd want to relocate such a program to a drive which has more space. If you have ever tried moving the folder of an installed app or game, you'd know this breaks the program, especially games. FolderMove lets you do just that, without breaking the app or game.
FolderMove
Windows 10 already lets you move apps installed from the Windows store. This is, however, not true for the classic desktop apps. To move these apps manually, you'll be required to create symbolic links for the said folder. This isn't an easy task without the use of third-party programs such as FolderMove. It is a new software designed to allow Windows users to relocate folders of installed apps and games without having to reinstall them. FolderMove is a portable program and requires no installation of any sort. The download size is merely 502kb.
Download FolderMove
Move the installation folder of a Program or Game to other drive, without breaking it or reinstalling. A symbolic link will be created from the old directory to the new one.
Read also: How to Customize Notifications and Action Center in Windows 10
Relocate installed apps and games in Windows 10
Before starting anything, make sure the program you want to move is not running in the foreground and not running in the background either.
Right-click on the downloaded FolderMove.exe file and select Run as administrator.  This is necessary in order to let the program create symbolic links for your folder. 
Click the Browse button next to the Move From field to select the program or game's folder that you want to move.
Now select the new location of the installation folder by clicking on the Browse button next to the Move To field.
You can check the box next to Set Symbolic Link to hidden to make sure you don't see it in the file explorer. 
When you're ready, click on the Move and set Symbolic Link button to start the process of moving the folder and creating a symbolic link.
The only two sources of possible errors are:
the program you're trying to move is currently running.
FolderMove was not run as an administrator.
Make sure you avoid those.
Don't miss: How to Manage App Permissions in Windows 10
Similar apps
While impressive, FolderMove is not the only app of its kind. There are a couple of other apps that can also help relocate folders of installed apps and games. We still prefer FolderMove.
Steam Mover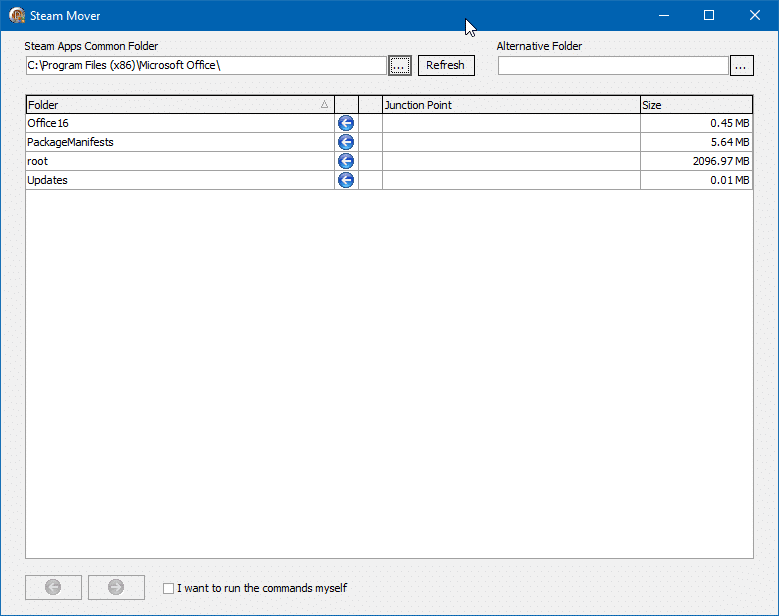 Have you run out of space on your C:\ drive?

Or do you have a super-fast SSD that is too small to hold all your steam games at the same time?

Then try Steam Mover.
Steam Mover is a popular program for relocating the installation folders of games. Contrary to what the name suggests, it can be used to move non-steam games as well as other programs. It has been around for a while and has an easy to use interface. This too is a portable app like FolderMove and requires to be run as administrator in order to create symbolic links.
Application Mover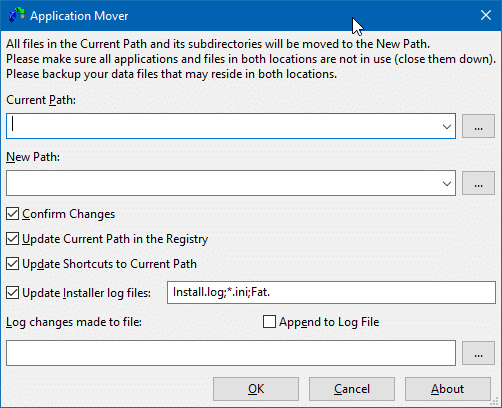 Application Mover is a tool that relocates installed programs from one path to another on your hard disk.
Application Mover is also a free program like the two above, and it also does pretty much the same thing.  The interface is a little more like FolderMove. You just need to select the folder you want to move, select a new location for the folder and click OK. The difference is that Application Mover needs to be installed unlike the other two. This enables it to add entries to the folder context menu making it a little easier to launch the app and move folders. The installer files are available in both 32-bit and 64-bit versions.
You may also like: 5 Ways to Take Screenshots in Windows 10