macOS Mojave isn't yet out but Apple did announce the next macOS update at their WWDC event. The OS is pretty much a 'bugs and fixes' update though it does bring some new eye candy and a few helpful features. One of the few features was the introduction of a dark mode which is basically a system-wide dark theme. Now we've had dark themes on Linux since forever but if you dig that macOS look there is also the macOS Mojave GTK theme which includes both light and dark themes. The other eye-candy feature introduced is the macOS Mojave Dynamic Wallpaper.
This is basically a wallpaper of the Mojave desert, or more accurately several wallpapers. They change ever so gradually throughout the day such that it gives the impression that you're staring out into the desert for real. A bright and sunny day in the Mojave desert when you turn your PC on but by the time you're finished with your work in the evening the wallpaper changes to reflect the time of the day. This is purely a visual feature but if you're someone who easily loses track of time, it might even be helpful.
We've already shown you how you can get macOS Mojave dynamic wallpaper feature on your Windows PC. Today it is Linux that we'll try to bring this feature on. This is possible due to Twitter user Thanh Trần who shared a bespoke GTK background slideshow that he created. It borrows the macOS Mojave wallpapers and matches them to the time of the day. Your desktop wallpaper will change once every few hours to reflect the time of the day. Time-based wallpapers aren't exactly new on Linux but Apple has taken the idea to a whole new level.
Download and place macOS Mojave Wallpapers
We've already shared some macOS Mojave wallpapers before. However, since the script that will be changing the wallpapers has to be fed specific file names from a specific location, it becomes important that when it tries to find a certain wallpaper by name it gets that very wallpaper. This is why you'll need the wallpaper zip linked below, also created byThanh Trần. The zip contains 16 macOS Mojave wallpapers. in a numbered fashion. While it downloads, create a folder named wallpapers (all small letters) in your Pictures directory.
Do not play with the file names. Simply download the zip, extract the contents into a folder and name the folder mojave-background. Now place it in the wallpapers folder. Once you do, the location path for each of the 16 wallpapers would be something like this: Pictures/wallpapers/mojave-background/mojave_dynamic_*.jpg where * is any number between 1 to 16.
Get the XML script
Getting and placing the wallpapers was easy but it is the script that will change them from time to time. Since there are only 16 wallpapers and not 24, you cannot exactly have a slideshow which changes wallpapers every hour throughout the day. Hence, the need for this script. Download it from the link below.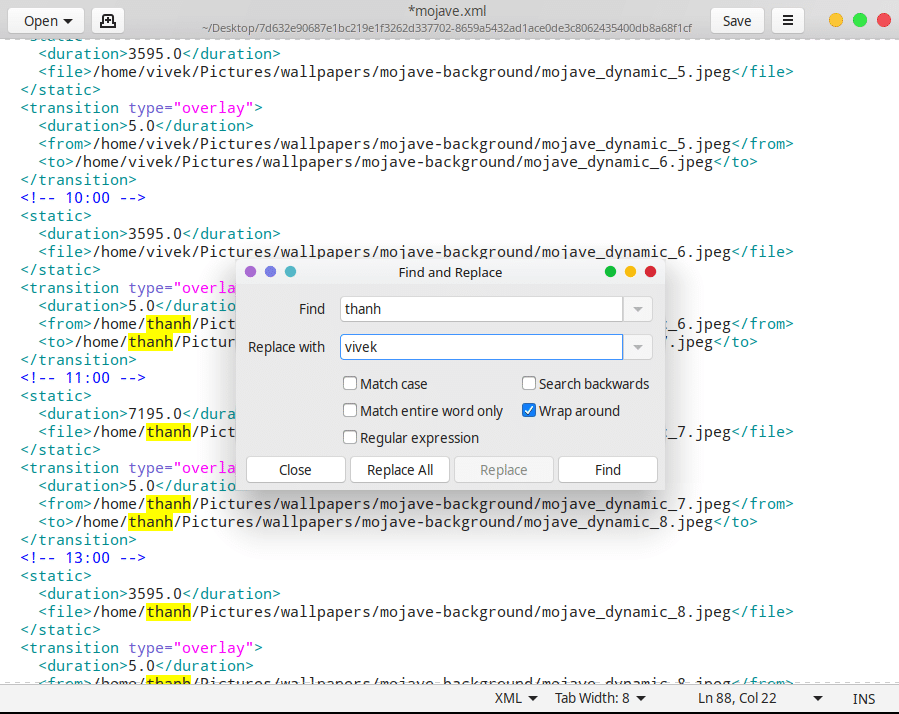 Before you can make use of the script though you'll need to make a couple of changes here. Open the xml file in a text editor of your choice. It'll help if your text editor can search keywords because you'll need to find and replace thanh in the script with your username. For instance, the username that I use on my system is vivek, so everywhere in the script, I'll need to replace thanh with vivek. Save and then close the file when you're done.
Set up macOS Mojave Dynamic Wallpaper
Now that everything's in place and the script has been tweaked, your macOS Mojave Dynamic Wallpaper is all ready to be set up and applied to your desktop. All you have to do is use the mojave.xml file as your wallpaper instead of an image. GNOME doesn't allow you to do this natively, and probably no other desktop environment will. However, you can do this quite easily with the GNOME Tweak Tool. It can be found in the software center after enabling the universe repository. You can do both these tasks with a couple of quick commands instead of navigating around different apps with the GUI.
sudo add-apt-repository universe
sudo apt install gnome-tweak-tool
The above commands are only meant for Ubuntu users. Since this is not a GNOME Tweak Tool installation tutorial we're not going to mention steps to do this on every Linux distro out there. In any case, once you have the Tweak Tool, launch it and select mojave.xml as the wallpaper. You'll find this option in the Appearance section.