For those unaware, Linux Mint is one of the many Linux distributions like Ubuntu, except Linux Mint is based on Ubuntu. Ubuntu itself is based on another Linux distribution called Debian. This may seem a little weird coming from Windows or macOS but Android users who are into flashing custom ROMs will some similarities. Linux Mint is perhaps the most popular Linux distro barring Ubuntu. It's widely considered the best Linux distro among its users too. The popular Linux distro has now received another update in the form of Linux Mint 19.
Linux Mint is based on an LTS release of Ubuntu and is usually released around a month later. True to tradition, Linux Mint 19 was released a month after Ubuntu 18.04 LTS was made available. Since it is based on the Ubuntu 18.04 LTS release, Linux Mint 19 will continue to receive support until 2023.
Features
The new version of Linux Mint brings refinements and many new features to make your desktop experience more comfortable. Some of the new Linux Mint 19 features are as follows.
Welcome screen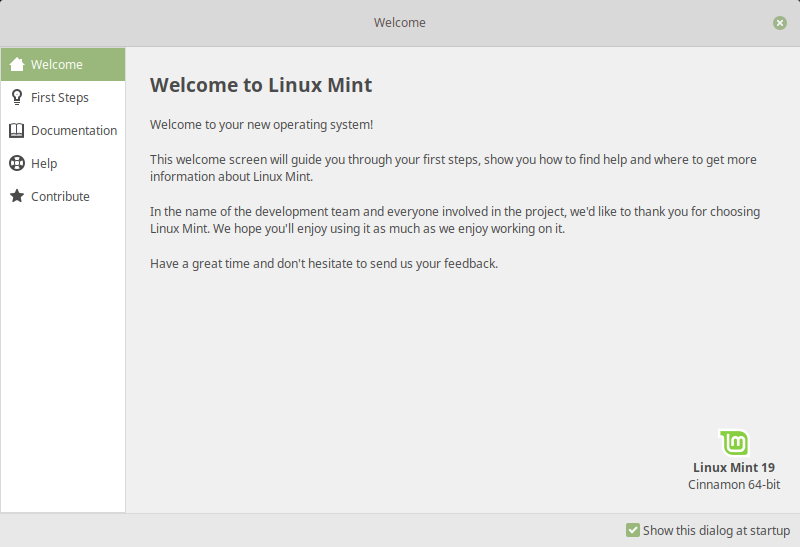 The first thing you see after installing Linux Mint 19 is the Welcome screen. Linux Mint 19 arrives with a brand new welcome screen. It has a new layout which makes it easier to add more information and to guide you through your first steps.
Timeshift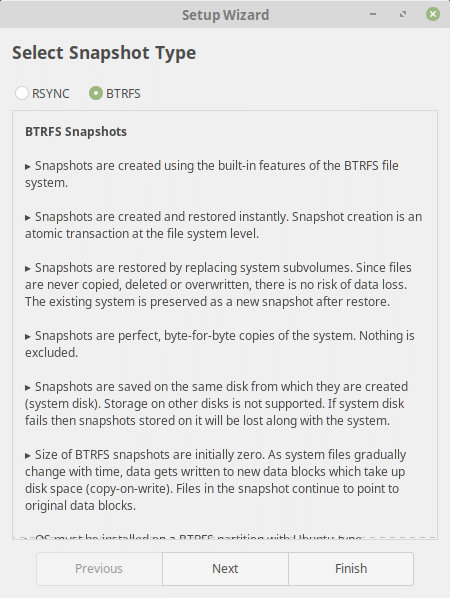 Timeshift was originally introduced in Linux Mint 18.3 and backported to work with all older Mint releases. Although, it is with Linux Mint 19 that Timeshift has taken the central position in Linux Mint's update strategy and communication. It works quite similar to the System Restore in Windows. The system restore points here are called snapshots.
If anything breaks, you can go back to the previous snapshot and it's as if the problem never happened. This greatly simplifies the maintenance of your system since you now don't have to worry about regressions.
Update Manager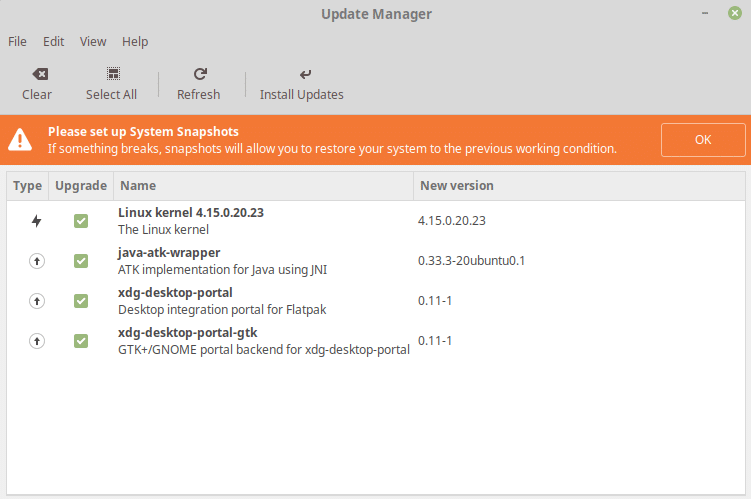 Linux Mint used to allow users to be selective in the updates they want to install. With Linux Mint 19, that changes since the Update Manager now makes use of Timeshift to deliver updates and guarantee the stability of your system. Updates are sorted by type, with security and kernel updates at the top. Updates from third-party repositories and PPAs are categorized in a separate category. The reliance on Timeshift also means Linux Mint 19 can now deliver automatic updates without the user having to worry about something breaking.
Software Manager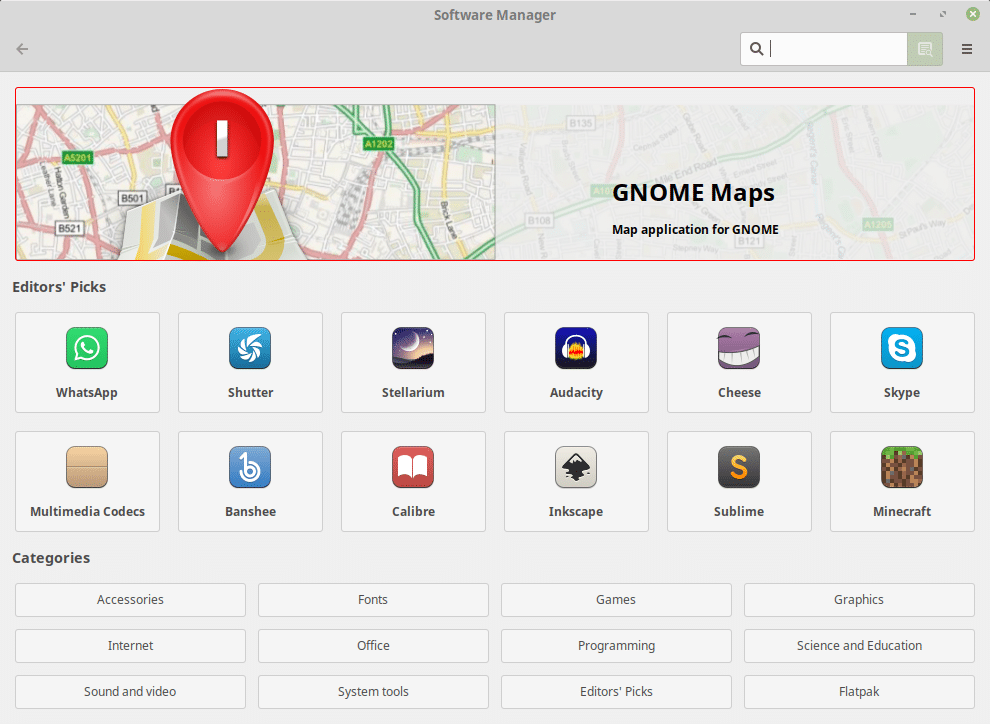 Like Timeshift was actually a part of Linux Mint 18.3, the revamped Software Manager was a part of Linux Mint 18.3 too. However, with the new update, the Software Manager has received many improvements. The interface now has transition animations that improve the user experience. Keyboard navigation has been improved and the search is not faster and asynchronous. The Software Manager on Linux Mint already supported Flatpak installation but with the new update, it can install both APT and Flatpak packages the same way despite their differences.
Related article: How to Install Unity Desktop on Ubuntu 18.04
Cinnamon 3.8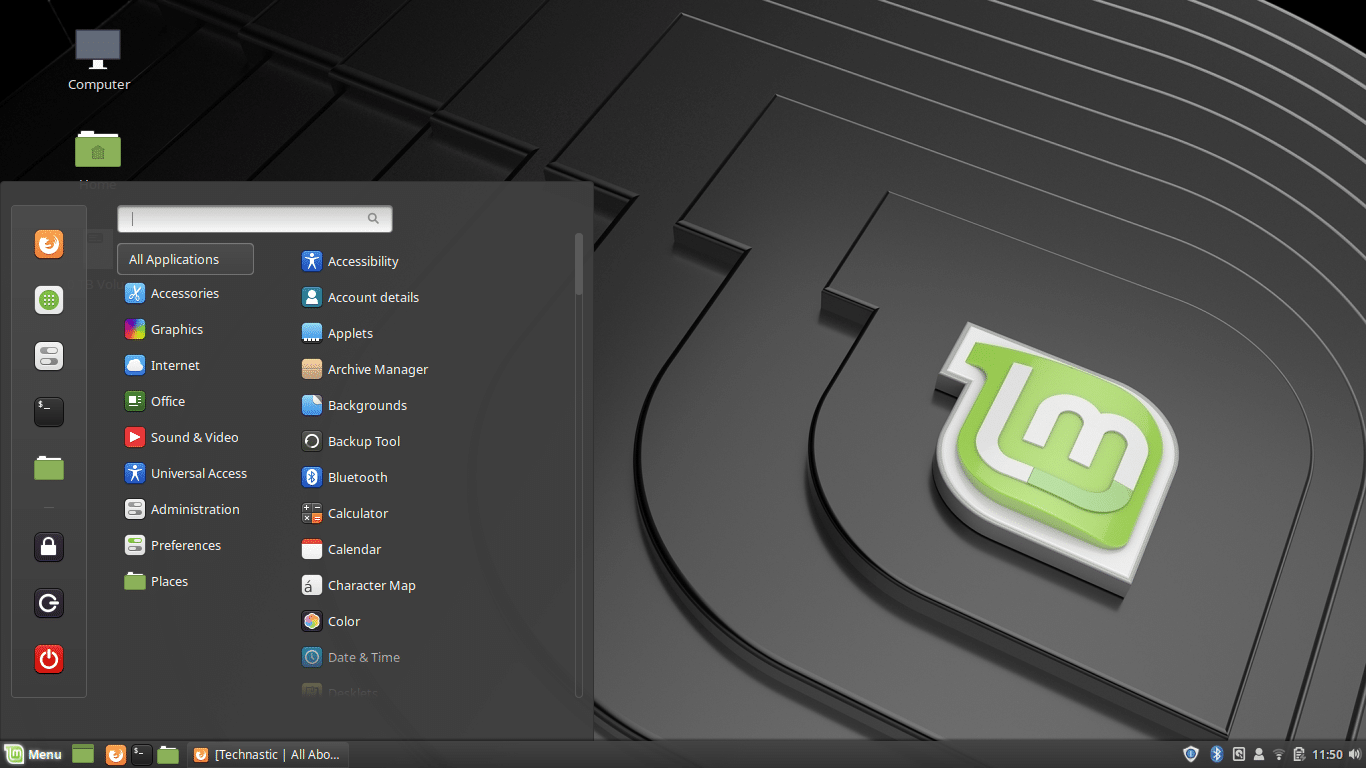 Cinnamon is the official desktop environment of Linux Mint although, like Ubuntu, a couple of other flavors are available. Linux Mint 19 brings Cinnamon 3.8 which has its own set of new features and updates. One of these is faster app launching and improved performance in general. It now also allows defining the maximum sound level which will affect all volume controls. Cinnamon 3.8 brings improved notifications, file search and a host of other improvements.
Download Linux Mint 19
As Ubuntu 18.04 dropped support for 32-bit systems, Linux Mint remains one of the few Linux distros to still support it. As such, every Linux Mint edition is available in both 32-bit and 64-bit versions. The default edition is the one with the Cinnamon desktop but Mint 19 can also be downloaded with MATE or the Xfce desktop.
There is no official GNOME or KDE version but you can very much install either of those after installation if you want. Since Linux Mint is based on Ubuntu, the same terminal commands will work for installing any desktop environment or software as well.