Spotify is the largest music streaming platform if you go by the number of monthly users. Even though competitors such as Apple Music have caught up, it was Spotify that made music streaming popular. These days it is the preferred way of listening to music for many. Moreover, Spotify, unlike competitors, has its apps available on pretty much every platform that would let them build apps for it. Unlike Apple Music or YouTube Music, you can install Spotify on Ubuntu and other Linux distributions. If you love music. you must not miss these best music players for Ubuntu or other Linux distros.
Spotify recently announced a brand-new design for their desktop apps in March. The revamp brings many improvements to the app including the search functionality. The design rejig has also found its way onto the Linux desktop. If you have a Spotify account, you can use the native Spotify client for Ubuntu and Linux. Spotify offers the app as a Debian package specifically for Ubuntu and Debian. But if you use another Linux distro, Spotify is also available in the universal Snap package format.
Therefore, you can install Spotify on any Linux distro you want, including Ubuntu and its flavors and derivatives.
Install Spotify on Linux via Snap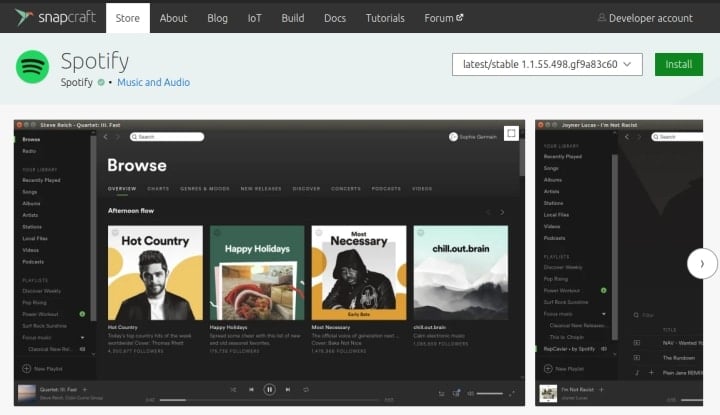 Snap is a universal package distribution method for Linux distributions. Snap packages can be easily installed on any Linux distro. Therefore, developers don't have to maintain different packages for different distros. Not only does this make their job easy, but it also makes it easier for new users. Spotify's official app is available in the Snap Store for Ubuntu 18.04 LTS and above.
Previous versions of Ubuntu and some other Linux distributions don't support Snap out of the box. However, you can easily install the snap framework by following the directions here.
To install the official Spotify app on Ubuntu Linux, use the command below in a Terminal.
snap install spotify
This will download Spotify snap package and install it as well.
Install Spotify on Ubuntu / Debian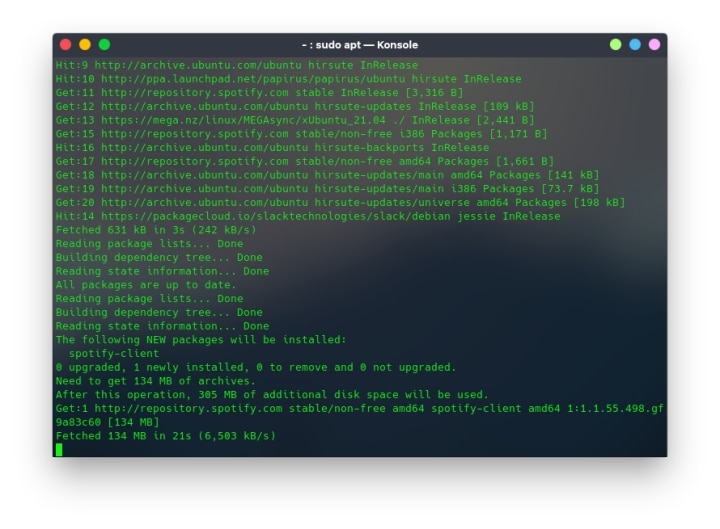 If you're not a Snap fan, you can also install Spotify on Debian and its derivatives such as Ubuntu using the official Spotify repository.  The process is similar to how you would install any apps from a third-party repository. That is, add the repository to your software sources list, then install the package. The commands to do so are a little different, although not very uncommon. This method works for Ubuntu flavors as well such as Kubuntu, Ubuntu Mate, etc. In fact, we're using Kubuntu for demonstration.
To install Spotify on Ubuntu / Debian using the official repository, enter the following commands in the terminal one by one.
curl -sS https://download.spotify.com/debian/pubkey_0D811D58.gpg | sudo apt-key add -
echo "deb http://repository.spotify.com stable non-free" | sudo tee /etc/apt/sources.list.d/spotify.list
sudo apt update && sudo apt install spotify-client
The commands above will add the official Spotify repository to your system, then download and install Spotify on your Ubuntu or Debian-based system. There are 3 ways to install and uninstall apps on Ubuntu. Don't forget to check them out.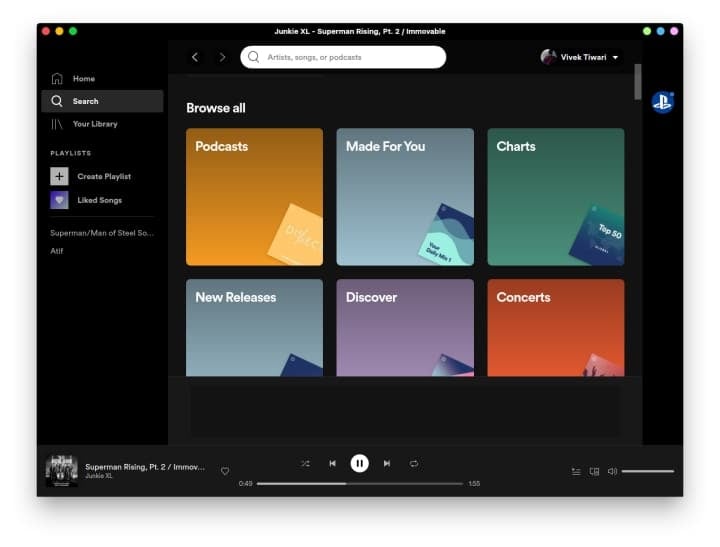 Regardless of the method you choose, you will get the same Spotify desktop client on your Ubuntu Linux machine. App updates will automatically be available along with system updates too, regardless of your installation method. The only difference between the two methods is that of the app's packaging.
Read Next: How to Remove Trach Icon from Ubuntu Desktop