If you own a Samsung Galaxy S or Note Series device and are getting the 'moisture detected in charging/USB port' error, you can fix it. Almost all high-end Samsung smartphones come with an IP68 rating. Moisture detection sensor on such devices is a safeguard to protect them against short-circuiting. If the moisture detected warning won't go away, there are a bunch of quick and easy fixes you can try. You can even disable the moisture-detected feature on Samsung devices via battery settings.
Apart from performing manual diagnostics of your Samsung Galaxy device, you can get key info about it using the list of Samsung secret codes.
List of Samsung Phones with IP Rating
Below is a list of all Samsung smartphones and tablet devices that are backed by IP rating. It means that these devices can withstand dust, and are resistant to water submersion up to 1.5 meters for up to 30 minutes.
IP68 Rated Samsung Phones: Galaxy S23, S23+, S23 Ultra, S22, S22+, S22 Ultra, S21 5G, S21+ 5G, S21 Ultra 5G, S21 Fan Edition, S20 5G, S20+ 5G, S20 Ultra 5G, S20 Fan Edition, S10e, S10, S10+, S8, S8+, S8 Active, Note9, XCover6 Pro, Note20 5G, Note20 Ultra 5G, Note10, Note10+, Note10+ 5G, Note8, S7, S7 Edge, S7 Active, S9, S9+, S9 Active, and S6 Active
IP67 Rated Samsung Devices: Galaxy S5 Active, A52 5G, A53 5G, A54 5G, and Galaxy Tab S9
IPX8 Rated Samsung Phones: Galaxy Z Fold3, Z Fold4, Z Flip3, and Z Flip4
The Galaxy S6 Active was the first Samsung phone featuring IP68 rating. If your Samsung phone is IP rated, you may get one of the following messages depending on your device model.
Moisture detected in USB port. Remove the cable immediately from the phone and make sure both cable and USB port is completely dry.
Moisture has been detected. Unplug the charger and wait until both the charger and USB port are dry.
Moisture has been detected in your charger/USB port. Make sure it's dry before charging your phone. It may take some time to dry completely.
On newer Samsung phones such as Galaxy S20, S22, and S23, you'll also find some tips to fix the 'Moisture has been detected' issue. As long as your phone detects moisture, you'll see a water drop icon in the status bar and a notification from Android System.
Warning: Don't use charging/USB port

We've detected moisture or foreign material in your charging/USB port.
Editor's Pick: 4 Ways to Check the Manufacturing Date of Samsung Devices
Is Moisture Detection on Samsung Phones a Bug?
If your Samsung phone is rated with IP67 or IP68, it means that the OEM has made use of adhesives, gaskets, and seals to make sure moisture or water drops don't go inside the device. Even the speakers in such devices are fitted with mesh grilles.
All of us are familiar with the enmity between water and electricity. If the charging port on your Samsung device is wet or humid, it might cause a short circuit, damage the device and make it unfunctional.
The moisture detection message on Samsung devices is not actually an error or bug but a safety measure to protect your device. The moisture detection sensor intelligently stops the device from charging automatically as soon as it detects moisture in the charging port or the USB cable.
If you are getting the "Moisture has been detected" warning, it doesn't mean that your Samsung phone was in direct contact with water. Most of the time, the charging error might be caused by a very humid atmosphere and sweating, especially if you live in a hot and humid area. The presence of dirt in the USB port of your Samsung device might also cause charging issues. Many users have reported getting moisture-detected warning when the charging port gets dirty.
If you are having problems with charging your Samsung Galaxy smartphone or tablet, it may be due to one of the following reasons:
The charging port is wet or it has moisture residuals.
Dust or sand particles have built up inside the USB charging port.
The charging port has been damaged due to corrosion, and careless usage.
You have used incompatible charging accessories.
Don't Miss: Download Samsung Firmware Files to Flash in Odin
Fixing Moisture Detected in Charging Port on Samsung Devices
So, what do you do when your phone says moisture has been detected? Below, are some easy fixes to get rid of the annoying moisture-detected warning notification if your Samsung phone has recently been exposed to water or a humid atmosphere.
First off, take a soft dry cloth and gently wipe your Samsung phone. Shake it while keeping the charging port down. Then place it in the open air or under the ceiling fan for some time so that the moisture evaporates. If it doesn't fix the moisture detected issue, try the following tips.
1. Remove Moisture or Dust Particles from the USB Port
Start with the following tips to dry the moisture and clean the dust in the charging port. Drying out Samsung Galaxy device completely might fix the charging issue. Even if it doesn't, you must make sure your phone is dry before trying other solutions.
Take a plastic or rubber toothpick, wrap it with tissue paper or thin cotton cloth, and move it gently inside the USB port to wipe the moisture.
You can also try to rinse the charging port with distilled water, alcohol, or petrol and then wipe it using paper towel strips.
Get an alcohol swab and insert it inside the charging port and move around it and leave your phone for some minutes to let it dry.
If you got a hairdryer, use it to blow mildly hot air at slow or moderate speed into the USB port from different angles for a couple of minutes to ensure that moisture dries up.
Blow compressed air at low pressure into the USB port.
Get a set of tweezers and gently rub the plastic part that holds the charging contacts to remove any corrosion and dirt particles blocking device charging.
Use tweezers with tissue paper soaked in isopropyl alcohol to wipe the charging port.
2. Put Your Phone in a Bag of Rice Grains or Silica Gel
We are all aware of the hygroscopic qualities of rice. Rice grains absorb RH (relative humidity). If you are getting moisture-detected in the charging port, stuff your phone in a bag of dry rice and leave it there for an hour or so. The rice grains will suck all moisture from the device and you'll get rid of the annoying charging problems due to moisture detection.
If your phone got wet with seawater, do not place it in rice grains as salty water is sticky. You should rinse and wipe your Samsung phone first with clean and fresh water, and put your phone in a jar with Silica gel which is considered a better moisture absorbent than rice.
3. Drain Your Phone's Battery to Zero
If you are sure that your Samsung phone is dry and you're still unable to charge it due to the moisture issue, stop trying to charge it all. Let your phone's battery run down to zero. When the battery juice is completely drained, boot it up again and plug in the charging pin. Believe me, this moisture detection fix has reportedly worked for many Samsung users.
Read Also: How to Check the Activation Date of a Samsung Phone or Tablet
4. Connect Your Samsung Phone to a Computer
If the moisture detected warning still won't go away, try the following tip. Connect your Samsung phone to a laptop or desktop PC using a USB cable. Put your phone in data transfer mode. To do so, swipe down the status bar and tap on the Android System USB options tile and switch to Transferring file / Android Auto. Your phone should start charging normally. If it doesn't, turn off your phone and connect it to a computer's USB port.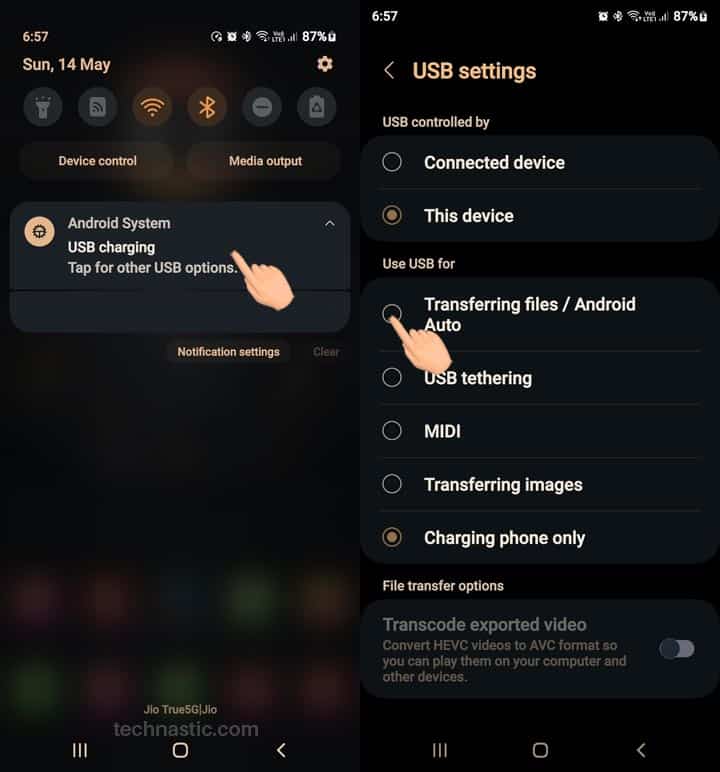 5. Sign out of Your Samsung Account
Well, I haven't tried this tip personally, but one of my friends claimed that he could get rid of the moisture-detected error on his Galaxy S20 simply by signing out of his Samsung account. Check out the screenshots attached below to learn the steps o sign out of your Samsung Account on your Galaxy device.
6. Boot into the Safe Mode
Safe Mode on Android devices is a diagnostic tool for Android devices. If you noticed that you started getting the "Moisture has been detected in the charging port" warning right after installing a 3rd-party app, this tip might help you. A rouge app might trigger serious problems including the moisture bug. Reboot your Samsung device into Safe Mode using the following steps.
Press and hold the Power key to open the Power menu.
Touch and hold the Power off option until the Safe Mode icon appears.
Tap the Safe mode icon.
Your Samsung phone will reboot into Safe Mode. Now plug in the charging cable. If you no longer get the error in the USB port, it means the real culprit is some recently installed app. You can uninstall the suspicious apps one by one in Safe Mode by going to Settings > Apps. To exit Safe mode, simply reboot your device.
7. Disable Fast Charging
Disabling fast charging can make the moisture-detected warning on your Samsung Galaxy device go away. The steps to reach the setting differs depending on the software version.
Now, try charging your device. If the charging issue is fixed, restart your phone, enable fast charging, and check if the moisture detected problem is solved.
8. Wipe the Cache Partition
Another tip that has helped many people get rid of the moisture-detected issue of their Samsung phones, is clearing the cache partition. To do that, you'll need to boot your Samsung device into the Recovery Mode. Having entered the Recovery Mode, highlight the Wipe cache partition option using the Volume Down key and press the Power button to select it.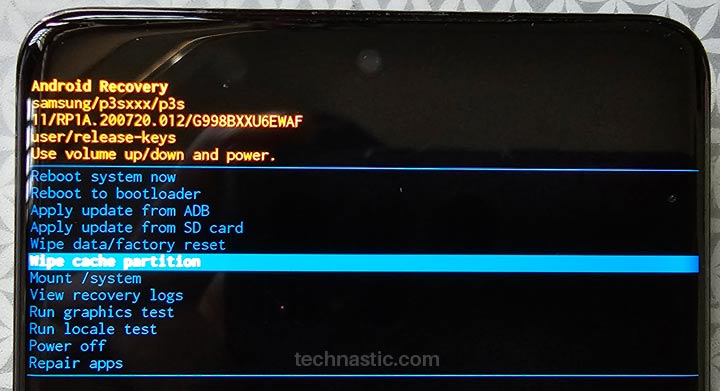 Choose Yes when prompted. When the cache partition is cleared, return to the main menu and select the Reboot system now option. Now, try to charge your phone to check if the error has gone away.
9. Reset Device Settings
Resetting your phone's Settings might also help you fix the charging issues due to the "moisture has been detected" error. Doing so will also clear the USB settings cache.
Navigate to Settings > General management > Reset and select the Reset all settings options.
10. Perform a Factory Reset
Needless to say that resetting your phone will wipe all data and 3rd-party apps but it might fix the charging issue of your Samsung device. You can factory reset your Samsung device either from device settings or via the Recovery Mode.
11. Change Your USB Cable
Do you believe that the charging port of your device is bone dry and clean? Could none of the solutions mentioned above fix the moisture detected error? Either your USB cable or charging port is damaged or there is some issue with the charging port.
Try using a different USB-C type cable to charge your phone. Doing so will rule out the possibility of a damaged charging pin. If the moisture-detected bug has disappeared, it's time to get a new charging cable.
Use a wireless charger so that your phone doesn't run out of juice.
Finally, visit the nearest Samsung service center to get the charging port replaced.
I hope that the fixes described above would have helped you get rid of the moisture detected error on your Samsung device. However, if are getting the issue even after trying everything, contacting Samsung support or visiting the service center is your last resort as there may be some hardware-related problem at play.
Read Next: 30 Best Dark Themes for Samsung One UI