This guide contains information on how to manage trackers via the Enhanced Tracking Protection feature of the Firefox browser. It might have definitely happened with you that you are searching for a product and the next instance you see their ads on your Facebook feed. Or the e-commerce websites showing you products based on your interests and needs only.
This is possible thanks to website trackers. As the name suggests, they track your online activities, your browsing history, sites you log in to and other such details. From the user's perspective, they would only be getting ads based on their preferences. And from the seller's point, more the curated ads, better the chances of getting users engaged. To remove ads from the lock screen of your Windows 10 PC, you may refer to our guide.
But there is one thing to keep a note of. You see, in all these, Privacy takes a back seat. All your browsing activities are being constantly recorded and sent over to third parties for the purpose mentioned above. This is something, which most of you would like to opt-out at the first instance. And Firefox provides a pretty useful feature in this regard. Therefore in this guide, we will be giving out instructions regarding the Enhanced Tracking Protection feature of the Firefox browser. On that note, also check out the steps to delete telemetry data in the Firefox web browser.
Enhanced Tracking Protection in Firefox
The Firefox browser provides for three different methods of Enhanced Tracking Protection. These are Standard, Strict and Custom. Let's have a look at all of these in detail.
Standard: The default mode adopted by Firefox for all websites. Standard manages to maintain an equilibrium between the blocking of trackers and the proper running of websites. Third-party tracking cookies are usually not blocked in this mode.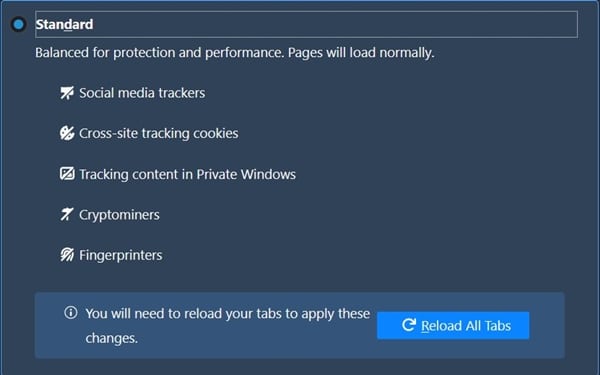 Strict: It blocks all trackers and third-party tracking cookies throughout the browser. However, some sites might not function as expected once you enable the strict mode. If that happens, consider reverting back to the Standard M0de.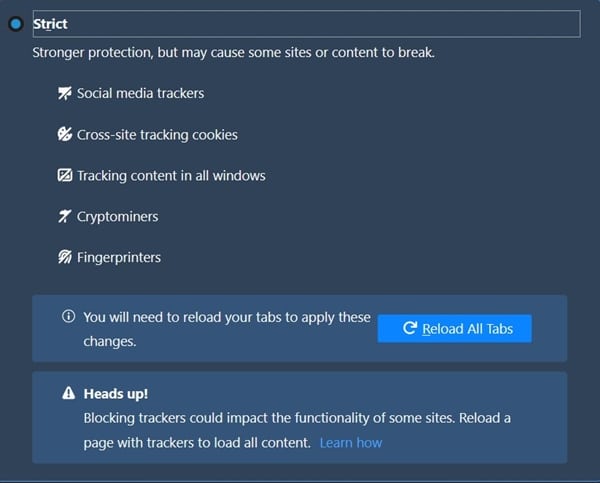 Custom: In between the Standard and Strict Mode. This Enhanced Tracking Protection of Firefox gives you total control regarding what type of trackers and scripts to block. These include Cookies, Tracking Content, Cryptominers, and Fingerprints. Furthermore, you also have the option to choose whether tracking contents should work only in Private tabs or in all windows.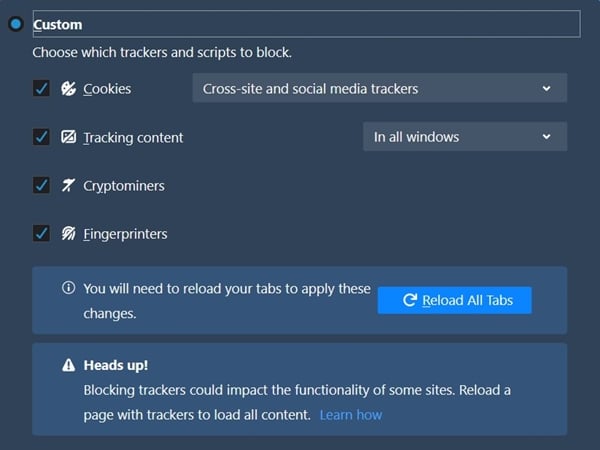 You also have the option to determine the types of cookies trackers should act on. These include Cross-site and Social media Trackers, Cookies from Unvisited Sites, All Third-Party Cookies or All Cookies. The last two options might cause performance issues on some websites, so choose accordingly.
With that said, here are the instructions to effectively manage the Effective Tracking Protection feature of Firefox. Also, check out the steps to clear DNS cache in Windows 10.
Steps to Follow
Open the Firefox Web Browser on your desktop.
You'll now be taken to the page from where you could choose between the three different modes.
Select the desired one and restart your browser once for the changes to take place.
So that was all about the Enhanced Tracking Protection feature of Firefox. Stick with us for more such privacy tips and tutorials.
Read next: How to Share Websites and Pages in Firefox