Wi-Fi calling is now seeing a wide-spread adoption in several countries. The feature is now available in India through Airtel and Jio and is also known as VoWiFi or voice over Wi-Fi. Although it's worth noting that not every smartphone supports the feature. Nevertheless, you will first have to enable the feature on your handset to use it. Fortunately, you do not need to download third-party apps to enable the feature. It can be turned on just like any other function such as Wi-Fi on your Android device.
In this guide, we'll show you how to toggle on the feature on Android phones. There are several Android OEMs that have their custom skin. Therefore, some names of the settings or the user interface might be different for you. For the purpose of this guide, we're using the Samsung Galaxy S9 running the One UI 2.0 beta. The device does support Wi-Fi calling on Jio in India. Before beginning with the guide, we'd suggest checking your carrier's website to see if your Android phone supports voice over Wi-Fi. If it does, then follow the steps below to enable calling on Android.
Enable Wi-Fi Calling on Android phones
The entire process should take no longer than a few seconds. And you can check out the feature right away after you enable it.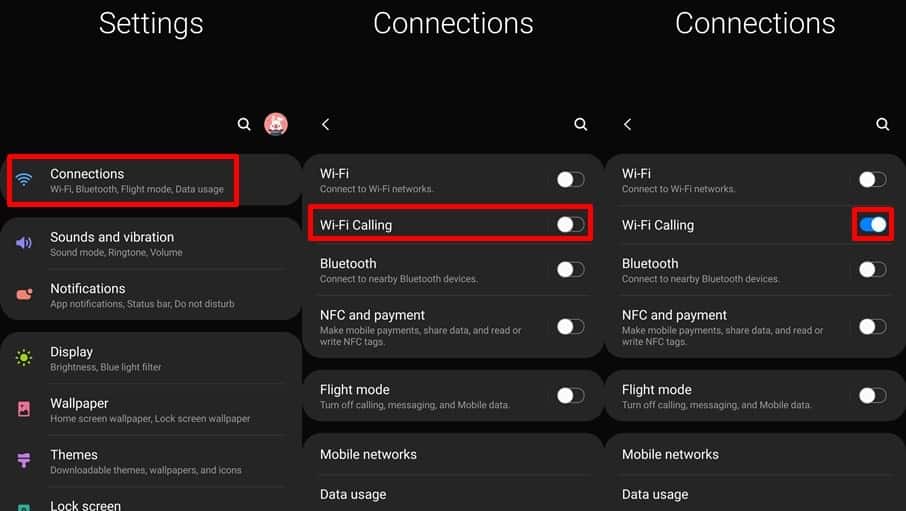 Launch the Settings menu on your Android phone.
Now tap on Connections (Cellular network/Wi-Fi settings). This might have a different name on your Android phone.
Toggle on Wi-Fi calling.
Alternatively, you can perform the following steps as well.
Launch the Settings menu.
Tap on the Search icon and then type in Wi-Fi calling or VoWifi.
Now tap on the search result and then enable the feature.
That's it. The feature will automatically switch between VoLTE and Wi-Fi for the best call quality. Therefore, we'd suggest keeping VoLTE on for a seamless experience.
Check out: The Best Wallpaper Apps for Android Phones
Why is this feature important?
Usually, cellular networks aren't strong indoors which leads to poor call quality. Hence, Wi-Fi calling has been introduced to solve the problem by allowing users to make and receive calls over Wi-Fi. Of course, the faster the Wi-Fi speed the better the call quality will be. Moreover, the feature is mostly free to use and users do not have to pay any extra cost for using the feature. Additionally, if you keep VoLTE enabled, the device will automatically toggle between Wi-Fi and VoLTE to offer the best call quality always. Keep in mind that the feature isn't available all over the country in some countries. Thus you will notice that calling over Wi-Fi does not work in regions that do not support it.
Read next: 7 Things to Look for While Buying a WiFi Router