Samsung is known to pack in a ton of features within its custom skin over Android. One cool feature you might want to make use of is the Video Enhancer. If you watch a ton of movies or shows on your Samsung phone, then this feature can elevate the experience. The feature can be enabled or disabled manually. Therefore, if you don't like what it has to offer, then you can easily turn it off.
Moreover, the feature automatically supports multiple different applications on which you can consume content. Apps such as YouTube, Prime Video, Netflix, Hotstar, and even the default video player are supported. Before we move further, you might also want to check out how you can download and flash stock firmware on Samsung devices. Now, without any further ado, let's check out how to enable the video enhancer feature on Samsung smartphones.
If you think that your Samsung phone is a bit slow or the stock apps installed on it have captured a lot of storage space, you can uninstall the system apps on Samsung Galaxy devices without root.
Toggle on Video Enhancer
Follow the steps below to enable the feature on your Samsung smartphone. In case the option does not show up on your device then, unfortunately, it means your device isn't supported.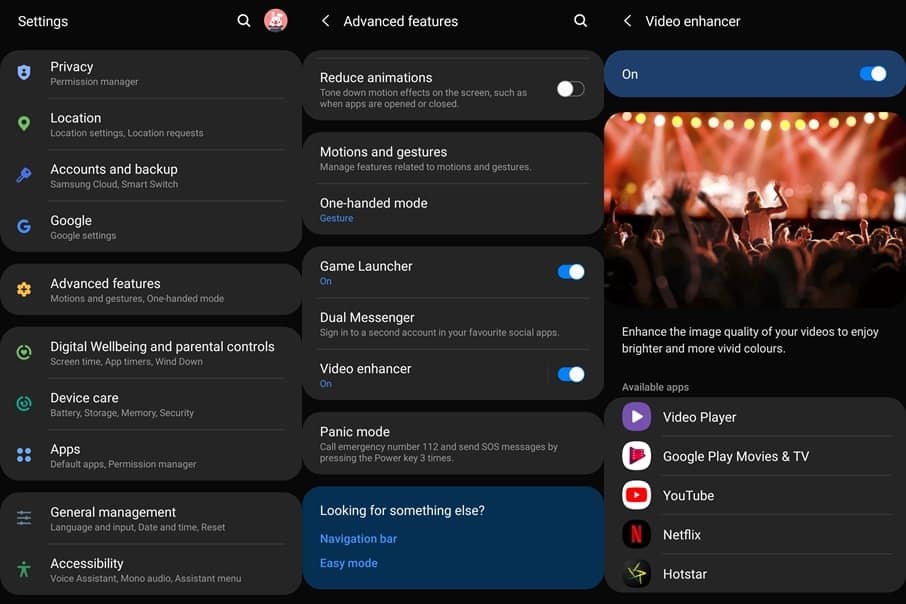 Launch the Settings menu on your phone.
Scroll halfway down and tap on the Advance features option.
Additionally, you can even tap on Video enhancer or Video brightness to check out the available apps that are supported. The apps that show up on the list are the ones that are installed on your phone. Therefore, the next time you launch any one of the listed apps, you should see a noticeable difference. This difference will be in the automatic increase in brightness and the colors on the screen will be a bit more vivid.
Must Read: 4 Ways to Check Manufacturing Date of Samsung Devices
As soon as you exit the supported app, the viewing experience will go back to normal. It's also worth noting that you can manually lower the screen brightness when it increases automatically. This feature can be a pain at night since the brightness increases if you launch an app supported by video enhancer. Thus, if you consume content at night then we'd suggest turning down the brightness manually to avoid eye strain.
What the feature does not do?
While the video enhancer feature might sound like it actually increases the resolution of a low-quality video, that isn't the case. Enabling this feature will not upscale low-res content. As we mentioned earlier, this feature simply boosts the saturation and adjusts the contrast. Therefore, it might not be suitable for those who prefer slightly muted or less saturated colors. Moreover, Samsung smartphones already have some of the best displays on any phone. Hence, you'll probably love watching shows and movies on the device without having to turn on this feature.
Nonetheless, it exists and those who want to make use of it can. Let us know in the comments below if you think the video enhancer on Samsung devices is useful or a gimmick.
Read Next: How to Check Android Phone or Tablet Activation Date