When Windows 10 arrived on the scene, people were still complaining about it not being Windows 7. But Windows 10 brought with it something very important. It was a change in Microsoft's Windows strategy. Windows 10 was supposedly the last version of Windows to be sold. Instead, Microsoft decided to keep supporting the same OS with frequent updates. This has made it possible for Windows to keep up with the competition. Windows 10 is regularly getting new features that bring something new or play catch up to other operating systems. Microsoft has now announced another such feature called News and Interests which will live on your Windows 10 Taskbar. Before you complain, yes it's possible to disable News and Interests on Taskbar.
The feature is being rolled out to the latest Windows Insider builds right now. It essentially places an icon in your taskbar, like the People's icon. It shows you the current weather and temperature right in the taskbar. Clicking on it opens up a panel that contains more weather info as well as news articles. But that's not all, it also shows you scores, trending news, and the status of stocks that you are watching. That makes up the "Interests" part of it. When you do get this feature, you can simply right-click on the taskbar and go to News and Interests, then select Hidden to hide it.
That does not disable News and Interests on the taskbar, however. If you want to completely disable the ability to see the weather in your Windows 10 taskbar, here's how to do it. Moreover, you can make the most of the taskbar using these Windows 10 taskbar tips.
Method 1: Using Group Policy Editor
Group Policy Editor is a tool not found on Windows 10 Home edition. So, unless you have the Windows 10 Enterprise or Pro edition, this will not work for you.
First, open the Group Policy Editor. You can press the Windows key and type Group Policy Editor or gpedit.msc.
From the left column, navigate to Computer Configuration > Administrative Templates > Windows Components > News and interests.
Next, on the right side, double-click on Enable news and interests on the taskbar.
This allows you to edit the policy.
Select Disable and click Apply > OK. If you leave it at Not configured, the feature will be enabled by default.
Don't Miss: How to Get Internet Speed Meter on Windows 10 Taskbar
Method 2: Using Registry Editor on Windows 10
If you have Windows 10 Home edition, you can use the registry editor to enable or disable weather info in your Windows 10 taskbar completely. The registry editor method will work on any Windows 10 editions.
Open the Registry Editor. You can press the Windows key and type Registry Editor or regedit.
Navigate to the following location from the left column or copy and paste the address in the address bar.

HKEY_CURRENT_USER\Software\Microsoft\Windows\CurrentVersion\Feeds

Right-click on the blank space on the right and select New > DWORD (32-bit) Value.
Rename this new value as ShellFeedsTaskbarViewMode and hit Enter.
Double-click on the newly created value to edit it.
Enter 0 (Show icon and text) or 1 (Show only icon) or 2 (Hide everything) in the Value data box.
Click OK to save the changes and close the registry editor.
Restart your PC for the changes to take effect.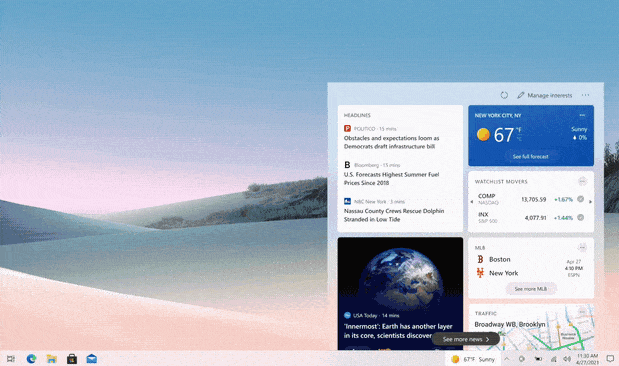 If you're running the latest Windows Insider build or a build that has the feature, you should notice the changes.
Read Next: How to Move Taskbar Icons to the Center on Windows 10