Windows lets you pin your favorite apps to the taskbar since Windows 7. This is still possible on Windows 10 but the icons are aligned from the left to right, just as before. There isn't anything wrong with it, but not everyone is a fan of the placement. Some users prefer it in the center, like the macOS dock icons. Windows 10 doesn't allow users to change the alignment of taskbar icons, however. Fortunately, for every shortcoming of the OS, there are third-party alternatives that let you move taskbar icons to center on Windows 10.
If you've been a longtime Windows user and have been into customizing it, you've probably tried aligning taskbar icons to the center. There have been some third-party tools on Windows 7 previously. A similar utility has been released for Windows 10 as well and it is called Falcon 10. Falcon 10 is a free program developed specifically which can move the taskbar icons to center on Windows 10. This includes icons of apps currently open as well as the app icons pinned to the taskbar by the user. You can install third-party icon packs on Windows 10.
You can make the most of the taskbar on your PC by using these Windows 10 taskbar tips and tricks.
Move Taskbar Icons to Center on Windows 10
Before you can move the Windows 10 taskbar icons to the center, you need to download Falcon10 and install .NET Framework on your PC.
Extract the downloaded zip file from the link above. This will give you two files named AutoItX3_x64.dll and Falcon10.exe. The DLL file is necessary to run Falcon 10 so make sure you keep both the files in the same folder. Double-click on Falcon10.exe to run the program. The program doesn't open up in a window and instead you'll just see its icon on your system tray.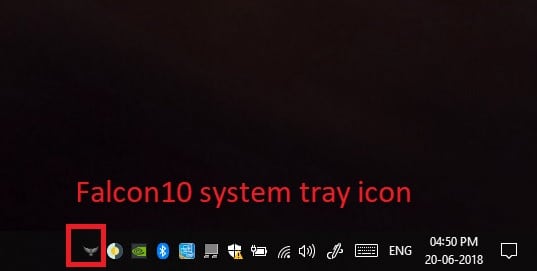 Double-click on the Flacon10 system tray icon and this will open up the program's window. It allows you three choices which are Center Taskbar Icons, Center Windows Button, and Hide Taskbar. All of those are quite self-explanatory. You can check the options that you like. If you do decide to move the Windows button to the center, the Start menu still opens up from the bottom left corner which doesn't seem very natural. So you might want to skip on moving the Windows button towards the center.

Falcon10 requires Windows 10 version 1803 in order to properly work. If you're on an Insider Preview build it might have trouble doing its job. For instance, on my Windows 10 Insider Preview build 17686, selecting Center Taskbar Icons completely hides them. The other two options seem to work well.
Read Next: How to Speed up Windows 10 Boot-Time