Windows has never had any lack of music players but Winamp was still almost everyone's favorite. It wasn't the most functional players around like Media Monkey or others. But it was the best-looking player for playing locally stored music and had the best of looks as well. Not to mention it was easy to enjoy your music and manage it from within Winamp. Unfortunately, Winamp has been out of development and will stay that way. There is another new entry into the music player space though. It's called Dopamine music player and it checks all those boxes that Winamp did.
If you were wondering, yes, Dopamine is named after the "happy hormone" and with good reason. The music player does not aim to provide you with a load of features but to make listening to music on your desktop a joy. The creator, Raphaël Godart, had previously created a similar music player called musiX. However, due to its limitations, he had to start anew with Dopamine. Dopamine music player is designed for Windows 7, 8.x, and Windows 10. It can play MP3, Ogg Vorbis, FLAC, WMA and m4a/aac music formats quite well. Since Dopamine is a player, it does not have the capability to add tags. You can use MusicBrainz Picard to get tags for your music files.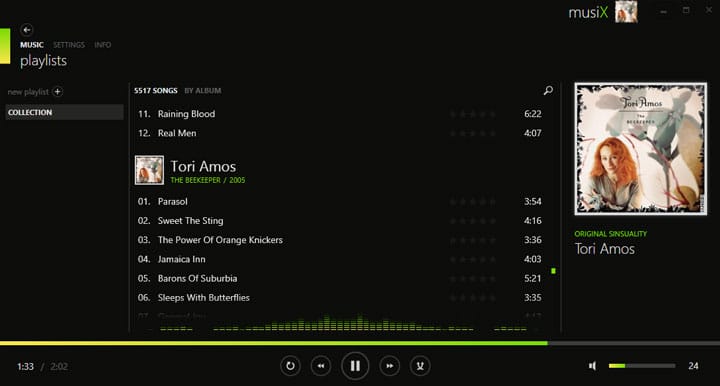 Design and User Experience
The free music player has a beautiful design that blends in quite nicely with the Windows 10 interface. It can even follow your Windows 10 color scheme or do its own thing depending on your choice. To add to it, there's a light and a dark theme option just like you have on Windows 10. Users are asked to make these choices during installation and can choose between different color accents including blue, green, yellow, purple, pink and red.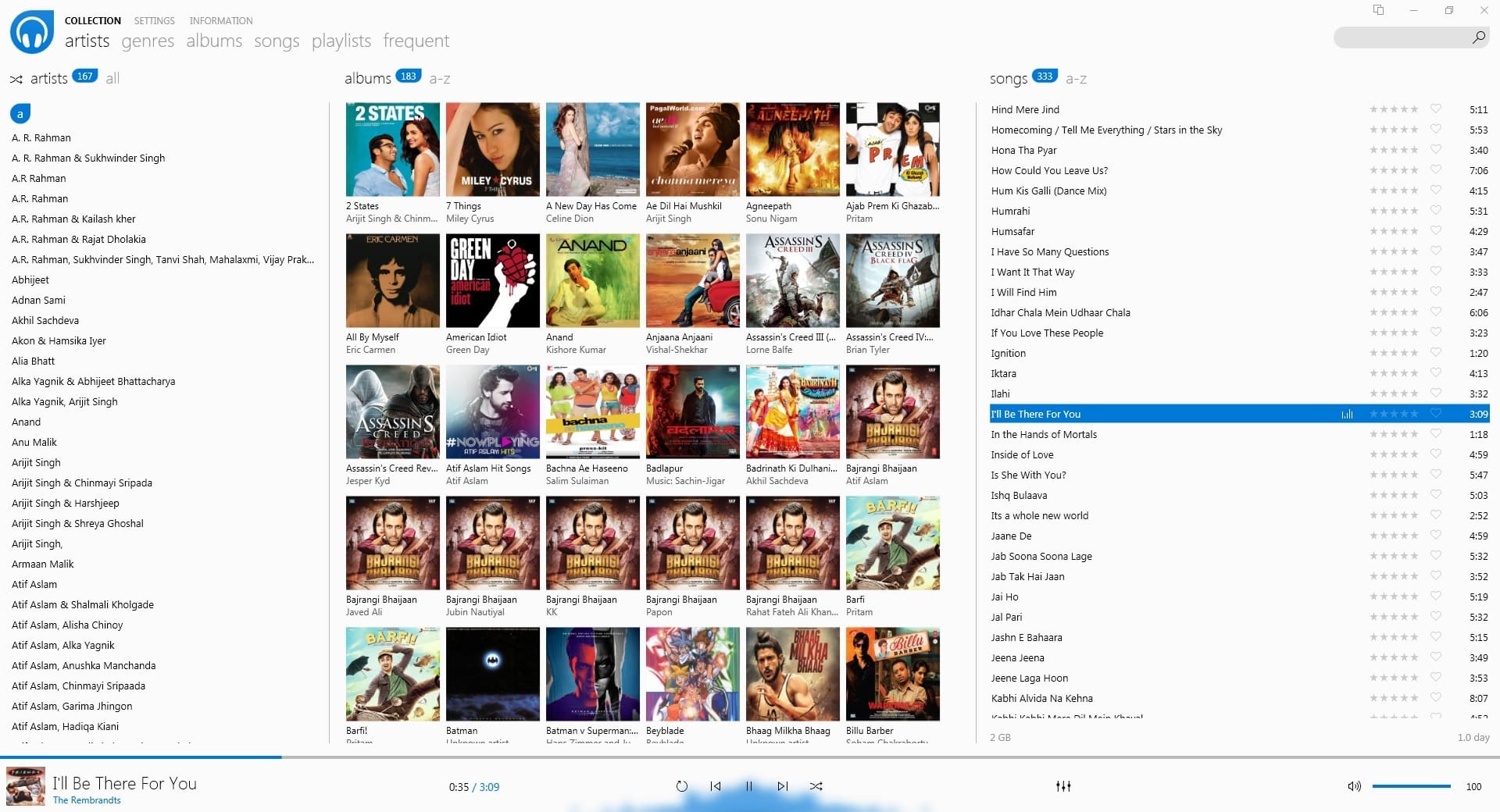 You can browse through your collection like you can on any other music player. It lets you view your collection by artists, genres, albums, songs, playlists, and frequently played songs. There is, of course, a search feature built-in as well. While playing a song you also get to see a visualizer beneath the media controls which you can change or turn off if you don't like. This visualizer is called the Spectrum analyzer and is set to Flames by default. You can change to Lines, Bars or Stripes or disable the feature altogether is Settings > appearance.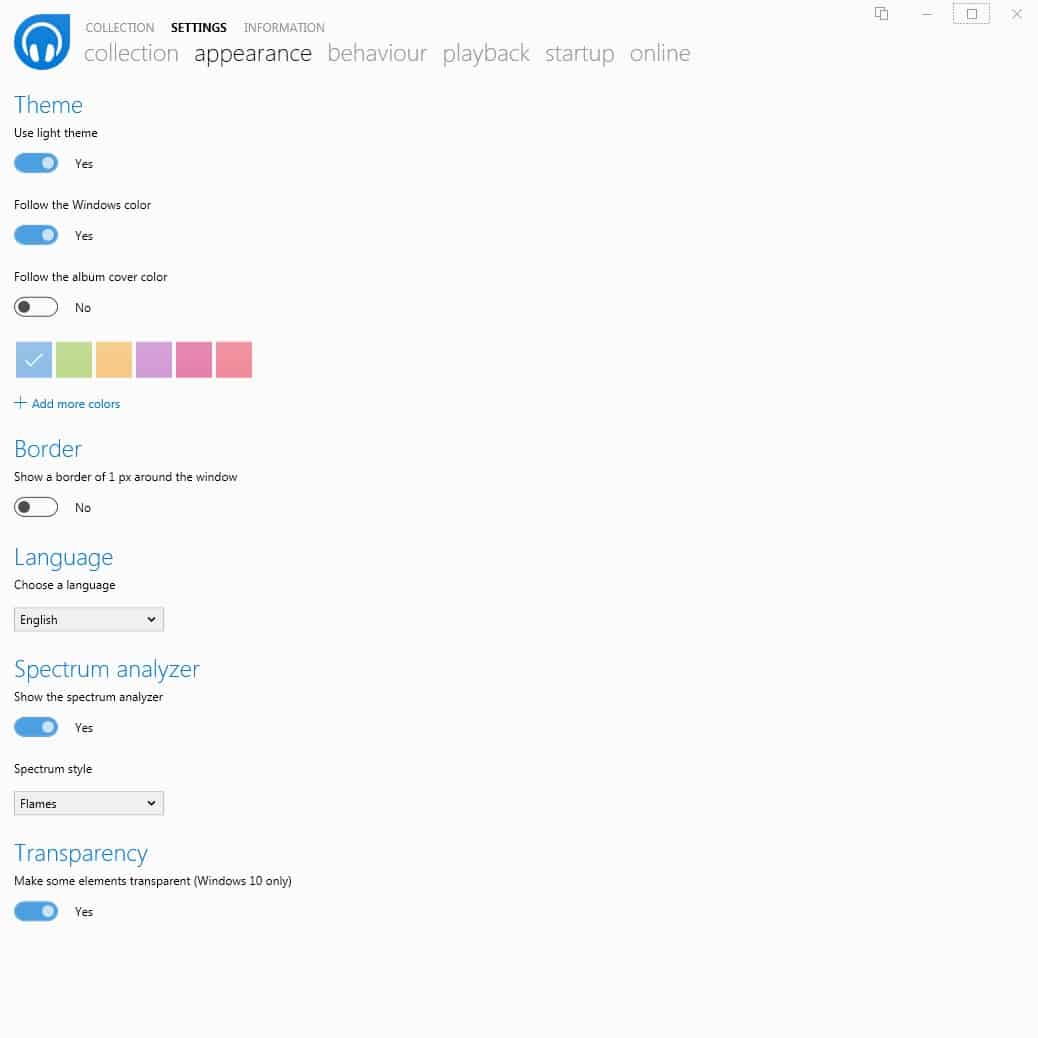 There's also a mini-player mode that highlights the album art and displays media controls underneath it, as well as the Spectrum analyzer. Dopamine can also integrate with the Windows 10 notification system or you can choose to let it use its own notifications. The advantage of using Dopamine's notifications is that you can customize it, such as add media control buttons on the notification and choose where it appears. This can be done in Settings > playback.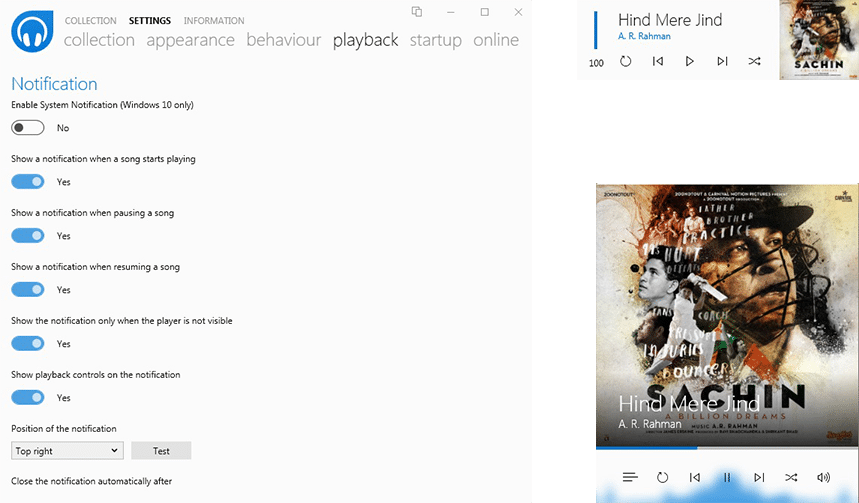 If there's one thing you can tell from these screenshots, it should probably be that getting around Dopamine is easy. Especially if you've been using Windows 10 for a while, you'll feel right at home. You can further enhance your experience by applying a cool system font on your Windows 10 PC.
Dopamine Music Player Features
Dopamine isn't that big on features, yet. It does pretty much what you'd expect from a light-weight media player, that is playing and organizing your local music, and it does do it in style It has an equalizer and is quite customizable as well, as much as Windows 10 is itself. Advanced features such as support for playing files in the cloud is missing. Although, things like Last.fm scrobbling, fetching album art from the Web and displaying lyrics are in the works. You can change the album art with a locally stored image on your PC until then. We don't have an official list of features, but the developer does mention the features Dopamine has that its predecessor musiX didn't.
Mini player
Organizing of music by Artists and albums
Notifications have a close button
Progress (in %) is shown during indexing
Now playing screen hides the playback controls when no mouse movement is detected for some seconds
Improved welcome screen (some basic settings can be set up in a user-friendly way before the main UI is shown.
Download
You can download Dopamine with an MSI installer to install on your PC or as a portable software that you can carry around on a flash drive or something. The links to the latest version, as of now, can be found below along with the link to the official download page, so you can check the latest versions if you're reading this at a later date.
Read Next: Easily Set Data Usage Limit on Windows 10