No matter which operating system you use, at some point in time you will want a good backup solution. When you're a Linux user, you probably tinker with the system a lot. All it takes to send you back to the stone age where you don't have any GUI is that one wrong sudo command. If you're lucky you may still have the command line available, but getting things back up and running can be quite time-consuming if at all possible. It might be better to simply backup Linux often so that you can restore it later. Timeshift lets you do exactly that.
Almost every Linux distro does ship with an easy-to-use backup tool but it doesn't back up everything. You can always manually copy your files, they're not the problem. The problem is the various settings and apps and their settings and preferences. The countless hours you spent customizing your Linux. Maybe not countless, but still a significant amount. There are some third-party tools like Aptik but it doesn't always work as expected. And I've been the victim of that quite recently.
Timeshift
Timeshift is the original backup and restores tool from Linux Mint. Unlike other backup tools, it doesn't just back up your files, or just your apps. It can kind of capture your entire OS, including all your files, into a single snapshot. It's kind of how you take a screenshot of your screen and it stores everything on your screen as an image. If you're familiar with Windows, this is more like the Windows System Restore functionality than a backup tool. You can very much time travel, at least your computer can, to a previous date or time when a snapshot was taken. All your files, all your settings, preferences, restored back to how they were before.
If you love playing games, don't forget to check out these free Linux games that are entertaining as well as engaging.
Install Timeshift on Linux
Timeshift is a Linux Mint product so it automatically works for all Ubuntu-based distributions and Ubuntu itself. It is also available for other Linux distros as well. Once it's installed on your computer, you can easily backup and restore Linux.
1. Ubuntu and Ubuntu derivatives
Open a Terminal and enter the following commands one by one. Ubuntu 18.04 users can skip the second command.
sudo apt-add-repository -y ppa:teejee2008/ppa
sudo apt-get update (Ubuntu 18.04 users can skip this command as it the system is updated automatically)
sudo apt-get install timeshift
2. Arch Linux, Antergos, Apricity and Manjaro
The latest version of Timeshift is available for Arch Linux and can be installed using this command provided you have AUR enabled.
yaourt timeshift
How to Backup Linux with Timeshift
Timeshift is as easy to use as a backup tool can get. There is no command line to deal with, and it is even simpler than creating a system restore point on Windows.
Launch Timeshift from your app launcher, enter your password and the Timeshift interface will appear on your screen.
All you have to do here is click on the Create button. 
The process will start immediately. You can choose to alter the parameters of backup such as the backup location from the Settings before you start. It even lets you schedule daily or weekly backups. This can be really helpful because anytime things go falling south you know you have a recent backup to fall back to.
How to Restore YOUR Linux system with Timeshift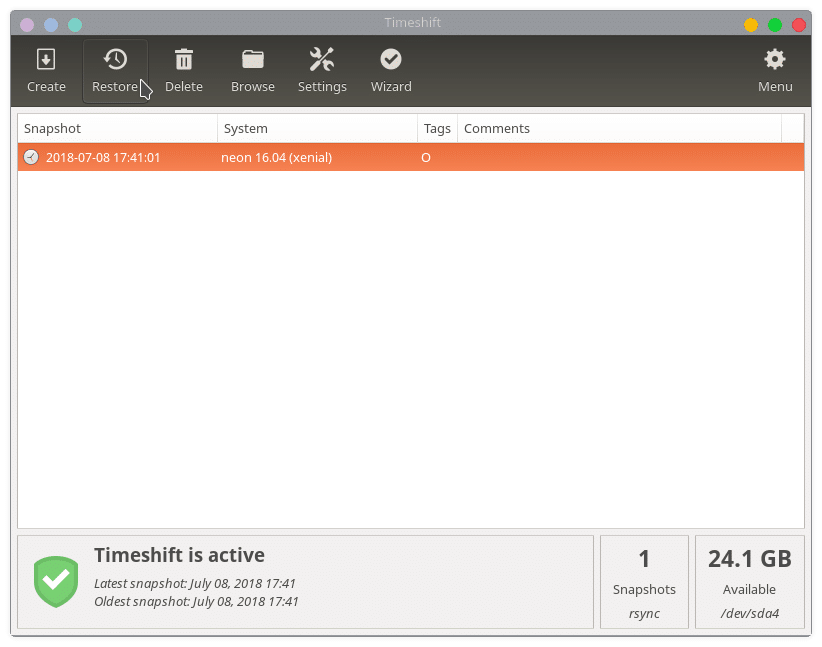 If you can still boot into your OS, restoring from Timeshift shouldn't be a problem at all. Simply launch the app, select a restore image and hit Restore. The problem is when you can't boot into the OS because you'll then need a Live USB. If you don't already have one, you can follow the instructions here to create an Ubuntu Live USB from Windows, Chrome OS, or Ubuntu. When you have a Live USB, you've pretty much solved your problem. The only thing left to do is boot into a Live session with your USB and install Timeshift using the commands mentioned above. When Timeshift is installed, just launch it, select a restore image and hit Restore, just like you normally would.
If you're asked, do let timeshift install the bootloader again if you're unsure.
Read Next: 5 Reasons Why Windows is Better Than Linux