Edison Mail is one of the best email apps on Android and iOS. The feature-rich email application has a bunch of useful software features. Most notably, the app lets you quickly unsubscribe from email lists with ease. This feature is incredibly useful and prevents your inbox from being spammed with promotional emails. You can also check out what is canned response and how to use it in Gmail.
Of course, Edison Mail has a bunch of other interesting features that make the email client stand out. There are a bunch of other applications that do the job as well. But for those who do not want to install a standalone app just to unsubscribe from email lists, Edison Mail is a must-have. So without any further ado, let's check out how to unsubscribe from email lists in Edison Mail.
Edison Mail: unsubscribe from email lists
Unsubscribing from email lists via Edison Mail is as easy as it can be. It would only take a few taps to unsubscribe from the emails you do not wish to receive. Although, it could take a while depending on how many email lists you're subscribed to.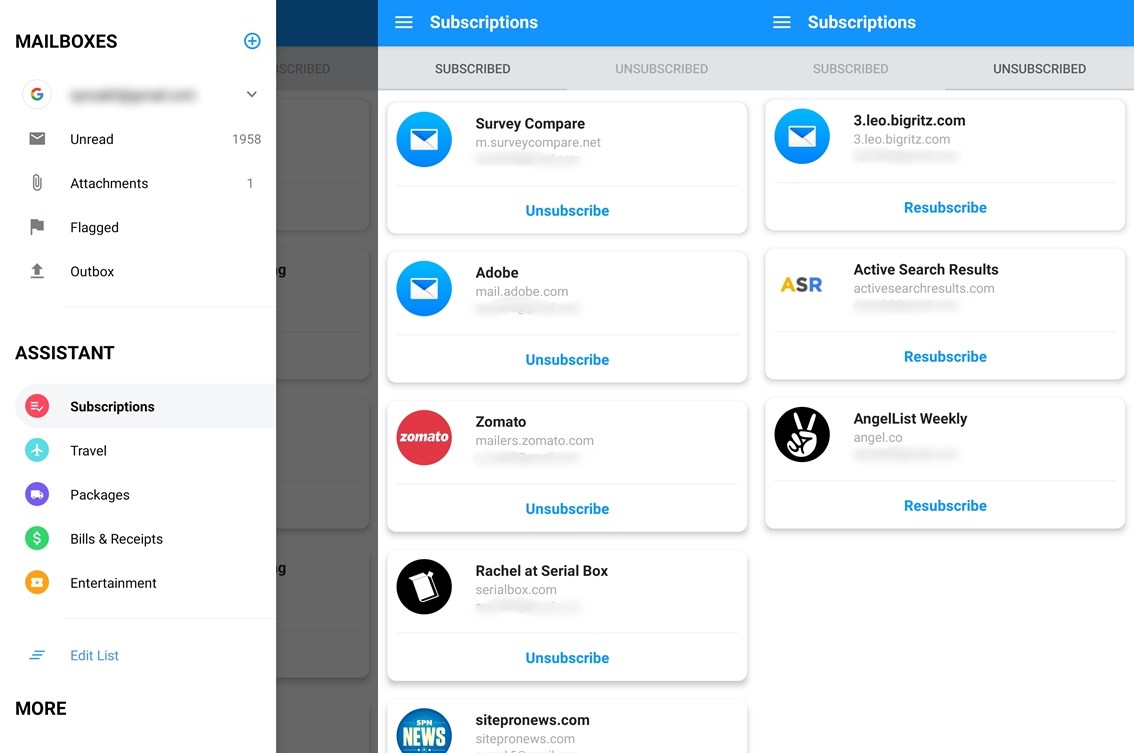 Download and install Edison Mail from the Google Play Store if you do not have the app.
Launch the application and sign in with your email account.
Once your email account is signed in, tap on the hamburger menu or simply swipe in from the left edge of the screen.
Under the Assistant section, tap on Subscriptions.
You would now be able to see all the email lists you are subscribed to.
Tap on Unsubscribe under the email list you want to unsubscribe from.
You can tap on the Unsubscribed tab to view the email lists you've unsubscribed from.
In case you accidentally unsubscribe from a list, you can tap on Resubscribe to continue receiving emails.
Unsubscribing from unnecessary email lists is a good way to keep your inbox clutter-free. Nonetheless, as we mentioned above, Edison Mail has a bunch of other great features. Thanks to the app's 'AI Assistant', you can even view your bills, travel details, packages, and more within just a few taps. Therefore, you will be able to see all your bills and other information in a well laid out format.
Edison Mail also has a dark mode that you can toggle on by swiping in from the left. Then scroll to the bottom and enable the Dark Mode toggle. Additional features of the email app include smart replies, block senders, custom notification sounds and more. You can even check out some cool deals on items within the app. The Community Price Drops feature shows you some good deals to consider. Although, you can turn off the feature at any time.
Read next: What are Disposable Emails and How to Use them