Notifications often get a bad rap for being distracting. However, some notifications are important and require instant attention. Samsung's Smart pop-up feature allows users to simply tap on an app's notification to bring it up in a pop-up view. This helps you respond or see the content within the application itself. Moreover, it allows you to continue using the currently opened app rather than having to switch apps. The feature is available on all Samsung smartphones running Samsung's One UI update.
Smart pop-up view is useful especially to respond to instant messaging app notifications. This is because you would not have to open the notification panel every time to reply to messages. Nonetheless, no matter how you wish to make use of the feature, you first need to toggle it on. If you're a Windows 10 user, you may also be interested in how to customize notifications and action center. Nevertheless, follow the guide below to begin using the Smart pop-up view feature on your Samsung device.
Toggle on Smart Pop-Up View
Before we begin, it's worth noting that not all applications support the Smart pop-up view option. Only apps that support multi-window will be available to use in the smart pop-up view option. Therefore, if you do not see an app in the available apps list, it means that the app isn't supported.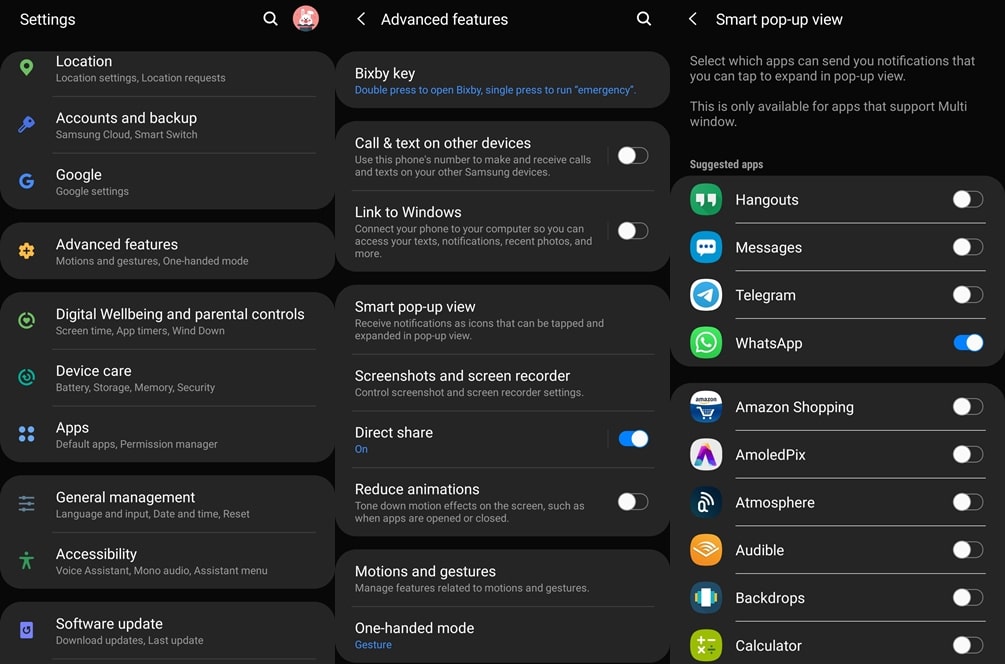 Open the Settings menu on your Samsung device.
Scroll down and tap on Advanced features and then tap on Smart pop-up view.
You'll now see a few suggested apps at the top. These are the apps that work the best with smart pop-up view.
Below the suggested apps, you'll see all the other available apps that are supported.
Tap on the Toggle switch beside the app(s) you want to use in the smart pop-up view.
Now each time you receive a notification from the selected app(s), you would see a floating bubble appear on the screen. Tapping on the floating icon would bring up the app in the pop-up view. You can move around the floating window freely or resize it. Moreover, you can always choose to make the app full screen for better user experience. You can even exit the pop-up view by tapping on the close icon.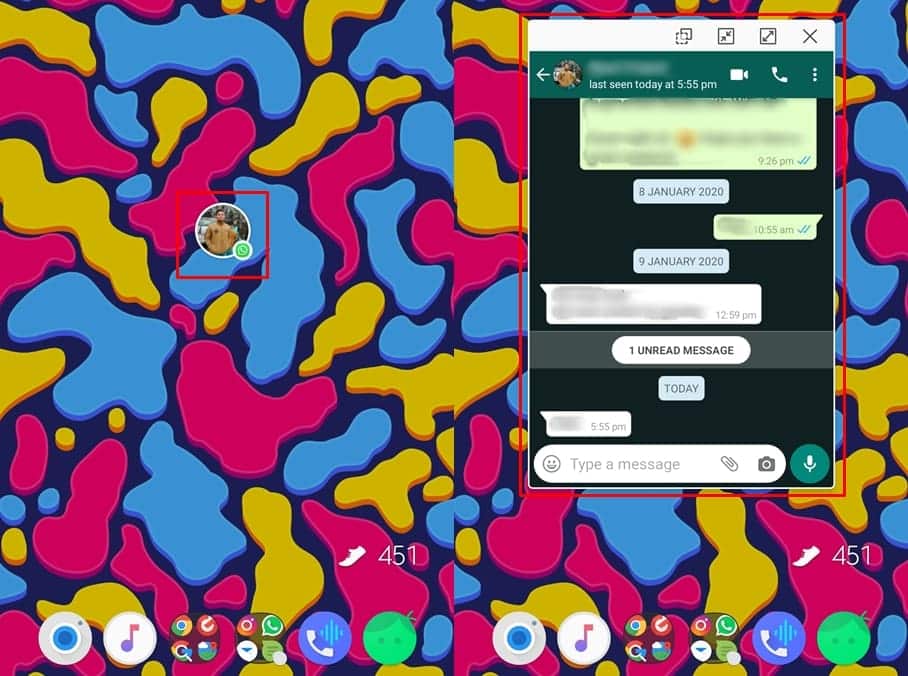 The only downside with using the feature is that the notification bubbles need to be removed manually. Hence, it would be wise to only use this feature with only a few apps. In case you want to disable the feature, simply toggle off Smart pop-up for the apps you had enabled. Nonetheless, what are your thoughts on Samsung's Smart pop-up view feature? Let us know in the comments below.
Read next: Dim Your Phone's Screen With Screen Dimmer on Android