For all it's perks and advantages, Windows 10 is still very much like the Windows versions of yesteryears. This is mostly true in terms of user experience. For instance, let's consider Windows updates. Microsoft is adamant about making users upgrade their devices, but Windows still doesn't make it very easy. On competing platforms such as Linux, Chrome OS, etc. system updates are installed in the background. The next time you reboot you come back to a fully updated OS. Windows updates lock you out of your system and keep you waiting for half an hour or more. To make matters worse, sometimes you don't have an option to shutdown Windows 10 without installing updates.
Unlike previous versions of Windows, on Windows 10 Microsoft has removed the ability to stop Windows updates. Pushing users to keep their systems updated is not exactly a bad thing. What's bad is how Windows updates can make your computer unusable for hours at times. This can be especially annoying when you have that presentation to make at the office or any other work scenario you can think of. If you're stuck in a similar situation where you can't shutdown windows 10 without installing updates, there is actually a way out.
Shutdown Windows 10 without installing updates
1. By deleting downloaded updates
Windows updates are downloaded in the SoftwareDistribution folder found in C:\Windows\ from where they're later installed. The best way to get away without installing the updates is to simply delete them. To do this, first, you'll have to stop the Windows update service.
Open a command prompt as administrator from the start menu and enter the following commands one by one.

net stop wuauserv 
net stop cryptSvc 
net stop bits 
net stop msiserver

This will stop the Windows update service.
Now go to the SoftwareDistribution folder. You can copy and paste the following address into the file explorer address bar.

C:\Windows\SoftwareDistribution\

Here, you'll find a folder named Download. Select this folder then press Shift+Delete on your keyboard. 
Start the Windows update service again by entering the following commands into the command prompt.

net start wuauserv 

net start cryptSvc 

net start bits 

net start msiserver
Don't miss: How to Turn On or Turn Off Windows 10 Timeline Feature
Maybe you don't want to install Windows updates now but you do want to install them later. In that case, deleting the downloaded update might not seem like the best idea. Another clever way around is to simply press the Power button. This would require that the system is set to shut down when the Power button is pressed. Once you set this, the power button can be your escape from installing Windows updates anytime you're in a hurry. It's less complicated and a permanent solution.
Right-click on the battery indicator in the taskbar and select Power options.
On the left column, click on Choose what the power buttons do.
In the drop-downs for When I press the power button select Shutdown for both On battery and Plugged in.
Click on the Save changes button at the bottom.
Anytime you press the Power button now your system would shut down, and as you'll notice, without installing the updates. You can also set the Shutdown value only for On battery and when you do want to skip Windows updates you can just unplug and press the power button.
See also: How to Quickly Transfer Photos from Phone to Windows 10 PC
Skip shutdown altogether
You don't necessarily have to shut down Windows 10 without installing updates if all you want is to avoid installing the update for a few hours. Windows 10 allows you to put your computer to Sleep, which is a low power consumption state. Your computer can quickly resume once you wake it from Sleep mode, and all your apps and files are still open, exactly as you left it. This is not ideal for more than several hours because while it is a low power consumption mode, it does consume the tiniest amount of battery.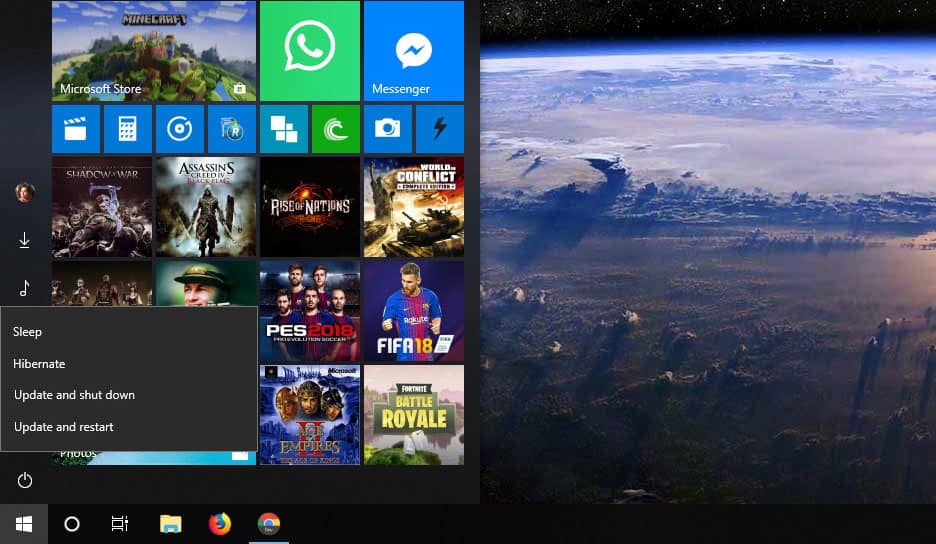 You can select Hibernate instead if you're going to be away for a longer period of time. In this mode, all your running apps are saved onto the HDD or SSD, instead of the RAM. This means your computer shut down instead of running with low power consumption. When you turn it on, the OS loads your apps from the HDD/SSD back onto the RAM. Most importantly, when hibernating, you don't have to wait for Window updates to install.
You may also like: How to Compress Folders on Windows to Save Space