The Media and Contacts settings in Facebook offer more control to the end users. They have been there for years, but they get shifted to different locations in the app settings with software updates. If you recently found Facebook media and contacts settings missing on your phone, don't conclude that Facebook got rid of them altogether. In this little tutorial, we'll show you where to find this settings menu in the Facebook app. By tuning these settings you can enhance your privacy.
Most people just install Facebook, open an account, add a profile and cover image, and think they are all set. They hardly ever customize Facebook via the settings. By going to the media and contacts settings in Facebook, you can disable video sounds in the news feed, Facebook app sounds, continuous contacts upload, video autoplay, and Facebook's in-app browser. So, if you don't want your phone contacts to be uploaded to Facebook's servers, get nagged by the video autoplay and sounds, or open Facebook links in your phone's default web browser, you can fulfill your wish by accessing the media and contacts settings menu.
I know some people who have either deleted or deactivated their Facebook account for privacy concerns. I think it's better to tune the privacy settings on Facebook to your needs.
How to Find Media and Contacts Settings in Facebook 2022
If you find the media and contacts menu missing in Facebook settings, this guide is just for you.
Open the Facebook app on your Android or iOS device.
Tap the profile icon on the top-right corner of the screen to open the Facebook menu.
On the Facebook menu page, scroll up and tap Settings and privacy.
On the Settings and privacy screen, select Settings.
Now tap on Profile settings.
On the next screen, look for Media and Contacts and tap on it.
Now, you can control things like video autoplay, contact sync, in-app browser behavior, and sounds in the Facebook app.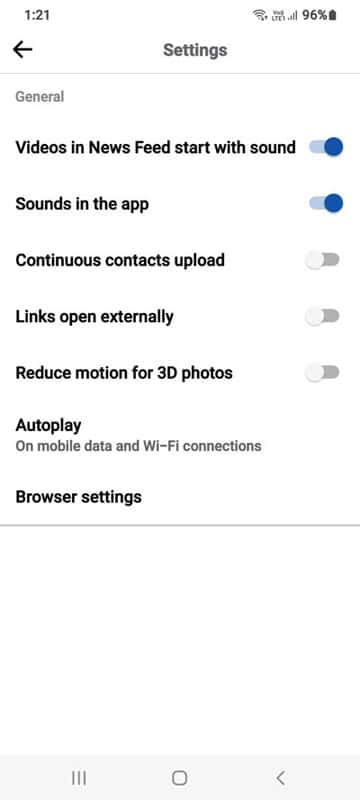 Read Also: How to Turn Off Active Status on Facebook and Messenger
Features in Media and Contacts Settings
Disable Video Sound in Facebook News Feed
Initially, Facebook used to be a text and image-dominated social media service. According to a survey conducted by Hubspot, Facebook has gradually become the 2nd largest social media video hub with a 25% share. Personally, I don't like the video sounds that start playing automatically as soon as I open the app. It feels disturbing to me and so I keep the Video in News Feed start with Sound option disabled.
Manage Contacts Uploading on Facebook
Have you ever wondered how Facebook suggests friends based on your phone's contact list? It's because you have granted Facebook permission to sync your phone contacts. So, what happens when you upload contacts to Facebook? Your personal information on Facebook is shared by Meta with other platforms like Instagram and Messenger as well. There's no way to find your uploaded contacts on Facebook. The data is used partly to suggest friends and serve interest-based ads. Suppose you want to protect your privacy and stop Facebook from accessing your phone contacts. In that case, you must disable contacts syncing in Facebook by tapping the toggle next to the Continuous contacts upload feature in Media and contacts settings.
Stop Links from Opening in Facebook In-app Browser
By default, all links found on Facebook open in its native in-app web browser. If you want to view those web pages in Chrome, Safari, or your phone's default browser, you should turn off the Links open externally option in the media and contacts settings in the Facebook app.
Turn off Video Autoplay in Facebook App
Facebook shows lots of videos from various sources and reels. Many of these videos are sponsored advertisements. Such videos consume lots of data. If you don't want these irritating Facebook videos to start auto-playing, head to the media and contacts settings in the app, tap on the Autoplay option, and select Never Autoplay Videos.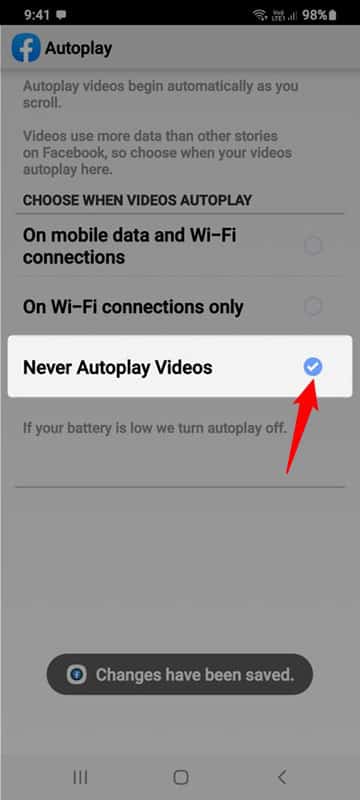 Manage Facebook Browser Data and Autofill
Another privacy-related tweak that you can do in the media and contacts settings is to clear all browsing data from the Facebook Mobile Browser. Moreover, if you don't want Facebook to use your personal information such as name, address, email, and phone number to autofill forms, you can completely turn off the autofill feature as shown below. You can access the Browsing data and Autofill controls under Browser settings in the Media and contacts menu.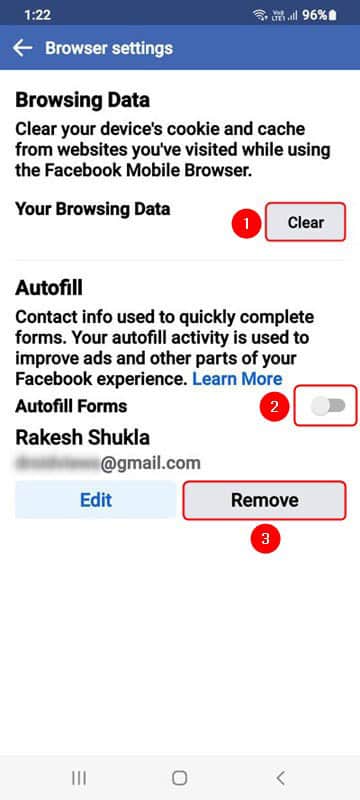 Read Next: How to Use Bold and Fancy Text on Facebook