Most social platforms including Facebook don't support text formatting. WhatsApp is an exception though. If you want to use bold, italic, strikethrough, or underlined text on Facebook, Twitter, or any other social media app, you can use third-party websites and apps for that. I have been familiar with the YayText generator for quite some time but upon more research, I discovered some more alternatives. Keep reading to learn how you can use not only bold text on Facebook, Twitter, Instagram, YouTube, etc. but also several other text styles easily.
When it comes to writing Facebook posts or updates in fonts updates, YayText is probably the most popular online service. However, there are not only some better YayText generator alternatives but also some Android apps that generate and convert normal fonts into fancy ones. Using these apps and services, you can share posts and messages on Facebook, Twitter, WhatsApp, Instagram, Discord, Telegram, YouTube, and elsewhere in a number of text styles to draw attention. All these text generators take advantage of Unicode characters and CSS attributes or HTML tags like 'font-weight: bold', 'font-style: italic', '<bold>', '<em>', etc. to do the magic. Below, we will check them all.
You can use different text styles to emphasize a point in your Facebook post. You can also use bold, italic, or cursive text to structure your text by denoting a specific portion by adding highlights, post titles, or heading. Before you proceed, however, you should also check how you can hide active status on Facebook and Messenger apps on Android, iOS, and desktop computers.
You can use the text generators listed in this tutorial to write text in a range of styles:
Facebook posts
Facebook comments
Messenger Chats
Facebook profile and bio information
Facebook Status
List of Available Text Styles
Though the title of the article mentions only the use of bold, italic, cursive, and underlined text in Facebook posts, there are a lot more choices available. You can check out the preview of all those text styles to have a clear idea.
Aesthetic
Bold
Bold Italic
Ⓑⓤⓑⓑⓛⓔ ⓣⓔⓧⓣ
Bold script
Cursive
Double-struck
Emoji
F̐̈a̐̈c̐̈e̐̈s̐̈
Full width
Italic
Monospace
Script
Sᴍᴀʟʟ ᴄᴀᴘɪᴛᴀʟ
S̷l̷a̷s̷h̷t̷h̷r̷o̷u̷g̷h̷
Square
S̶t̶r̶i̶k̶e̶
T̴i̴l̴d̴e̴ S̴t̴r̴i̴k̴e̴
U̲n̲d̲e̲r̲l̲i̲n̲e̲
uʍoᗡ ǝpısd∩ and lots more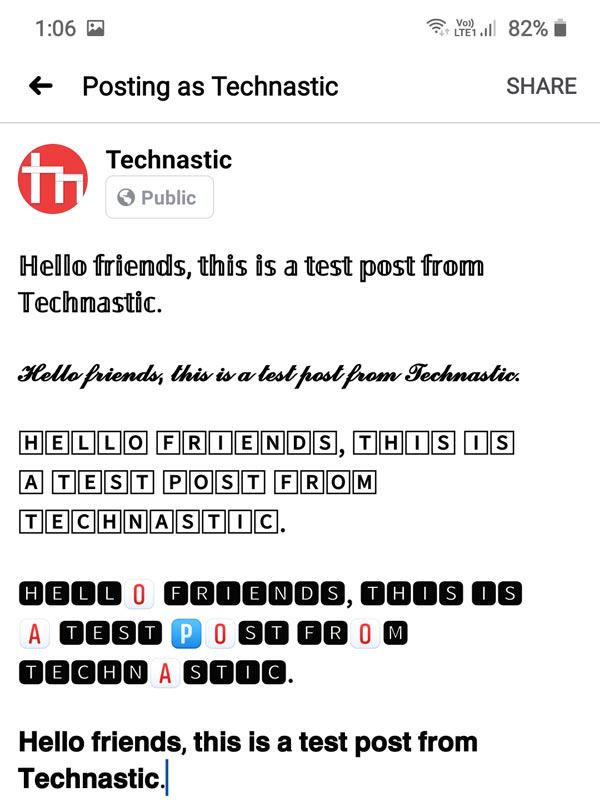 Note: The text generators listed on this page support only English characters and numbers.
Bold Text in Facebook Posts, Instagram, Twitter, YouTube, etc,
In order to write Facebook posts in bold, italic, cursive, or any other text style, we'll be using an online text generator service called FancyTextGuru and FancyTextGenerator. I chose these and not the YayText generator because these 2 work on both mobile and desktop web browsers. Yay and other alternatives mentioned below worked flawlessly on desktop browsers but not on mobile web browsers like Chrome and Firefox on Android devices.
Anyway, here is how to write bold text on Facebook for the web and Android.
Open Facebook and tap the post creation box that says "What's on your mind?".
Write the status or update text using your computer or smartphone's keyboard.
Now, tap and hold the text you typed and select the whole text or the text portion.
You will see a pop-up box with options like 'Cut', 'Copy', 'Clipboard', 'Select all', etc. Tap on the Copy option. On a computer, you can simply highlight the desired portion of the text and copy it using a right-click on the mouse or Ctrl+C key combination on your keyboard.
Open FancyTextGuru or FancyTextGenerator in the web browser on your computer or mobile phone.
Tap and hold the box the text box and paste the text there.
You'll see a variety of text styles including the bold and italic versions of your text generated and listed.
Just tap and hold the desired text style and copy it. You can also visit the text generator's pages directly, type your text and copy the preferred text style.
Return to the Facebook post editor box and tap and hold the text area you want to turn into bold or italic and paste the copied text style. You'll now have your desired text style in your Facebook post.
You can use the method to bold text on not only Facebook but also on Messenger, Twitter, WhatsApp, Telegram, or any text editor that supports Unicode. This trick works even on Facebook Messenger clients.
10 YayText Generator Alternatives
We already mentioned 3 text generators above to write bold text on Facebook. Below are 3 more online services that can convert your normal text into fancy text.
Editor's Pick: Turn off Contacts Upload, Video Autoplay, and Facebook Browser
Writing Bold, Italic, and Fancy Text Styles on Android
While the steps described above work on Android devices as well, there're some keyboard and text generator apps you might find easier to use. Having tried 11 Android apps, I have picked some good apps that will help you write and share bold and italic text along with a huge number of fancy text styles on social media platforms and all other apps that allow you to write and share.
1. Fonts – Emojis & Fonts Keyboard
Fonts – Emojis & Fonts Keyboard is a great app with almost no intrusive ads that lets you write text in a number of font styles in any Android app including Facebook and Messenger.
Install Fonts Keyboard from the Google Play Store.
When the app is installed, launch it from your app drawer.
Tap both the options one after another and select Fonts as your default keyboard.
Having selected the Fonts keyboard, tap the back button.
Now open Facebook, Twitter, WhatsApp, or Telegram app and tap the text box area to write your status or message.
As soon as you do that, the Fonts keyboard app will pop up from below. You are now all set to type your desired text in your preferred text style as shown below.
To select a font style or switch between font styles, you can slide the font selection bar to the left and right direction.
2. Stylish Text
In case you don't want to install a keyboard app for typing text in a fancy way, you can use Stylish Text. It is a pretty simple and neat app with a clean UI. Here's how you can use different text styles and fonts on your Android using this app.
Install the Stylish Text app from the Play Store.
Launch the app and slide the welcome screens until you see the main menu apps app.
Now tap the text box on the top and type your text.
You will then see the stylized versions of the text you entered. Just tap and hold the text style you want to copy. You can also copy the text style by sliding the target text style by swiping it from right to the left.
Once the text style is copied, you can paste it into any app.
With the hope that this article will help you use bold, italic, cursive, underlined, strikethrough, and several other font styles on Facebook, Messenger, Twitter, Instagram, TikTok, YouTube, and other social media apps, I wind up my guide.
Read Next: Disable In-app Browser in Facebook and Twitter Apps