Windows by Microsoft is by far the most mainstream operating system for computers worldwide. While several alternatives have emerged over the years but Windows remains to be the key player worldwide. Windows also has improved over the years, in recent times offering touch screen interface, personalizing and security improvements. Security remains a key area of emphasis due to its widespread use. Still, if you want to install an unsigned driver on your Windows 10 PC, you can do so by following the instructions given below.
Unlike Apple's Mac OS, Windows is very open for exploration by users. Although it is much more open compared to Mac but gradual moves have been made to reduce insecure exposure to mainstream users. Such changes often tend to affect the interface for geeky users as well. For example, Windows 8 brought a change in access to Folder options [lol, we know why that is used]. Anyways our post talks about a different feature.
So far, Windows has allowed literally any device drivers to be installed for devices being connected to its systems. However, the recent updates to Windows 8.1 and 10 have restricted the installation of unsigned drivers. Before you proceed, however, please don't forget to go through our tutorial to learn how you can sign and lock your Windows 10 PC remotely.
What are signed and unsigned drivers?
As per Microsoft, a signed driver is a device driver that includes a digital signature. A digital signature is an electronic security mark that can indicate the publisher of the software as well as whether someone has changed the original contents of the driver package. An unsigned is obviously a device driver that does not include a digital signature.
Why would I need to install an unsigned driver?
Do you own a device that is less used in the mainstream market and is more prominent among few enthusiasts? For example an Android phone like 'Elephone'. It has rare retail availability but it is budding with developers and enthusiasts who are willing to try new procedures, tweaks, workaround on its interface. For these, they need to connect it to the PC in a bootloader mode. The company, of course, prefers to cater to the mainstream audience and leaves the techy stuff on the community to resolve in the forums.
Is it really unsafe?
That depends. Has the driver been fairly tested? Are there enough positive comments to show its genuineness? Does the forum guide on uninstallation? If so, then it is fairly safe. However, do read as many responses to such posts as possible.
If you own an Android device and want to install the latest driver, head over to our collection of USB drivers for Android smartphones and tablet devices.
Installing Unsigned Drivers on Windows 10
Windows will allow you to install unsigned drivers only on a specific type of startup. How to reach there? Do the following:
Press the Windows button > Shift + Restart > Troubleshoot > Advanced Options > Startup Settings.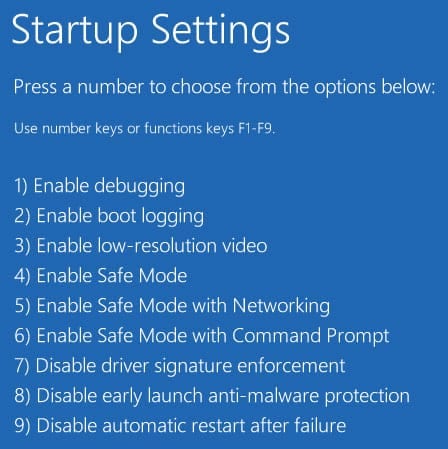 This menu shall show you the various things you can change in the start-up and the available options include
Enable debugging,
Enable boot logging,
Enable low-resolution video,
Enable Safe Mode,
Disable driver signature enforcement
Use the number displayed corresponding to the driver signature enforcement. In all likeliness, it should be 7 / F7. You should now be able to install any unsigned driver on Windows 10 without error messages.
Do try it out & shoot us a comment on what else you'd like to see here. Share it with friends if you found this useful.
Read Next: Some Cool Windows Taskbar Tips and Tricks