The Internet is as enticing as it gets and we come across hundreds of awesome websites that steal our minds. Spending some time on various websites is cool but if it comes to remembering the account credentials of each and every website, it's horrible. Most of us have a habit of storing passwords online to avoid entering the credentials each time you visit a site. There are many password managing services available online but Google Password manager is always the simple option for anyone.
Google Password Manager is a simple password manager service from Google which syncs your account credentials to various devices you use with your Google account. Google has expanded its services to various web platforms, Android, iOS, covering most of the web-based platforms. The easiest way to access your account credentials is to log in to your Google account on Chrome browser and visit the websites you've saved.
The best thing is Google has evolved over the years and it is well interlinked to the various platforms. Here is a list of ways through which you can access your passwords.
Using Chrome browser on Desktop
Google Password Manager syncs your accounts using the Chrome browser and helps you to manage your passwords. So it can be used on any Desktop operating systems which are capable of running Chrome browser.
Using Chrome on any Mobile platform
Google Chrome is available on various mobile platforms like Android, iOS, etc. So, all you need is to install the Chrome app on your mobile to sync the passwords using Google Password Manager.
Using Web Interface
Well, Google has thought a bit further and made a web interface that lets you manage your passwords from any location through its web portal (https://passwords.google.com). All you need to do is just sign in with the Google account in this portal and access your passwords. With the advent of smartphones, web interfaces have been customized to work better with a good user interface on these devices.
How to Use Google Password Manager
Enough with the various ways of accessing the Google Password Manager, now let's see how to use it. Well, it's quite simple. Have a look at the below steps.
Open Google Chrome browser on your Desktop or smartphone/tablet.
Sign in to your Google account in the Chrome browser. To sign in, click on the menu icon with 3 vertical lines and go to Settings and click on the Sign in button. You can also click on the icon encircled in the below image to sign in.
A dialog box will appear on the screen. Enter your email id and password and click on the sign-in button.
It will take some time to log in. Now click on the Advance sync settings button. A dialog box will appear on the screen.
Ensure that "Encrypt synced passwords with your Google credentials" is selected and click on OK button.
Now navigate to Passwords and forms in settings and enable "Offer to save your web passwords" option. If you want to fill the web forms automatically with a single click then enable the "Enable autofill to fill out web forms in a single click" option.

You can view and delete the saved passwords by clicking on the Manage passwords link in the Passwords and forms section.
To save your passwords, just visit any of the websites and log in normally. A pop-up will appear asking whether to remember the password. If you click on the remember button your password will be saved and will be automatically filled the next time you open the website (provided you should be signed in Google Chrome browser with your Google account).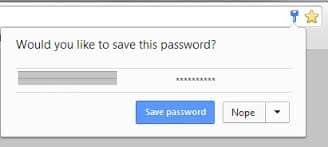 Isn't it simple and handy? If you have any queries and suggestions, please comment in the below comment section. Do not forget to check out these useful Google URLs to make the most out of your Google experience.