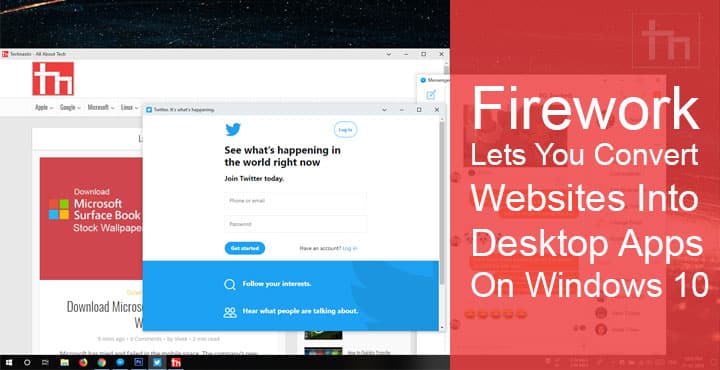 Native apps have been all the rage for the best part of this decade. The availability of apps, or lack thereof, has made and killed various mobile operating system platforms. Microsoft has been trying to get developers interested in developing apps for Windows mobile. They tried giving money, then they made the apps universal to try and take advantage of their dominance in the desktop market. Nothing seems to have worked much for Microsoft's mobile dream. And yes, nobody needs a Facebook app on the desktop or even a twitter app. But there are some apps that you do need. Firework allows Windows users to convert websites into desktop apps, thus filling the app gap to an extent.
Before you jump to conclusions, this is not even remotely similar to the Progressive Web Apps or PWAs found on Android. Firework simply wraps up a website in a window, without the interface of a browser. This essentially results in a website's interface with the usual Window borders, like a native app. That's not all Firework does, it is significantly faster than loading a website in your browser. The loading times are almost non-existent. Once you've added an app and run it, it opens up as soon as you click on it. Even a website like Facebook opens instantly and you can pin it to your taskbar like any normal desktop app. Not every website is treated the same though, and you can't pin certain websites to the taskbar.
Firework is essentially a browser itself, except it does not support most browser features such as tabs. Its focus is elsewhere, so that's expected. You can download it from the official website linked below.
Download Firework by Startpack
Convert websites into desktop apps with Firework
Download and install Firework, and run it.
Upon launching it, you will see a small window near the start button, with a few apps already installed. These would be Word Online, Messenger, Pocket, and SoundCloud. I've changed things a little as you can see in the screenshot below. 
To add a new website or page just click on the + button in the top-right and enter the URL. It fetches the website name and favicon/icon, after which you can edit both of these if you want. 
When you're satisfied with the icon and name, click Add. You can change any of it later as well with a right-click on the icon.
Don't miss: 5 Multitasking Tips for Windows 10
Get familiar with Firework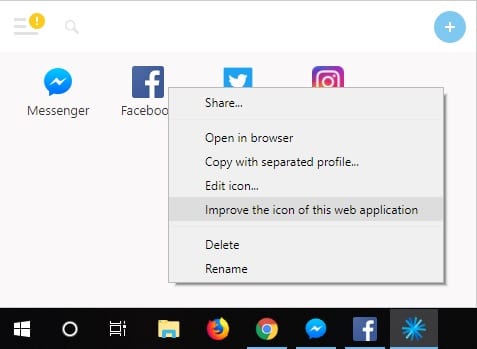 You'll now see the website's icon in Firework, and you can launch it by clicking on it. If you right-click on an icon, you get the following options:
Share
Open in browser
Copy with separated profile
Edit icon
Improve the icon of this web application
Delete
Rename
These are quite self-explanatory except for Improve the icon of this web application. It simply sends a request to the developers to take a look at the favicon or name fetched for a website and change things around, in case it's not fetching the correct data.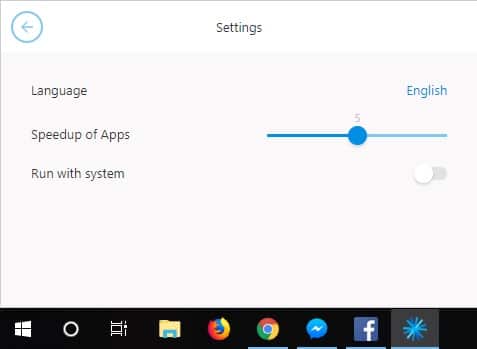 If you click on the drawer icon in the top-left and enter Settings, you'll find the following options:
Language
Speedup of Apps
Run with system
Speedup of Apps lets you decide how many apps should stay in memory for quick launching. The more apps in memory the more resources will be consumed. Run with system, in case you couldn't guess, lets you enable or disable automatic startup of apps when you turn on your PC.