It's no secret that smartphones have been getting better and better for the past decade. It's also quite obvious that smartphones have been getting bigger and bigger. Who knew with more features comes more screen? A big screen is actually a nice feature in itself. But it does make using these devices with one hand pain in certain parts of the body. Many Android manufacturers, even Apple, have come up with software tricks to make it a bit easy when you really need it. And now, you can enable one-handed mode in Android 12, regardless of the manufacturer.
Android 12 is currently is still in beta as of the time of this writing. But if and when you do get Android 12, you can easily enable one-handed mode on it. Because phones are supposed to be mobile devices that you can use while moving around. Most "one-handed" modes on smartphones aren't really something you would want to have turned on permanently as it defeats the purpose of having a giant screen. Not to mention, it doesn't look good.
Don't Miss: How to Turn Safe Mode On and Off on Android
Enable One-Handed Mode in Android 12
On Android 12, the one-handed mode can be easily accessed by a simple gesture once it has been enabled in the Settings.
Pull down the quick settings panel and tap on the gear icon or launch the Settings app from the app drawer.
Scroll down to the bottom and select System.
Go to Gestures and on the next page and select One–Handed mode.
Tap on the toggle next to the label Use one–handed mode to turn it on.
Below it, you can also toggle on Exit when switching apps.
By default, the one-handed mode exits after 8 seconds. You can adjust this by tapping on Timeout.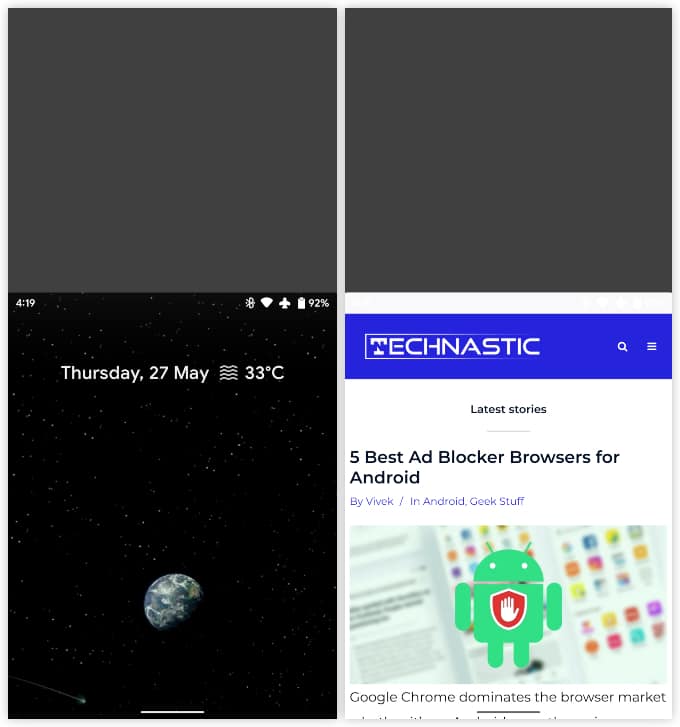 To access one-handed mode now, simply swipe down on the navigation bar or the bottom center of the screen. This will bring down the entire Android interface to the bottom half of the screen. This way you can reach the top of the interface with just one hand, without any finger gymnastics. When you're done, tap anywhere on the upper half or swipe up from the bottom center of the screen. You may also choose to wait for the timeout if you want.
The implementation on Android 12 is more like iOS than any other Android OEM skins. Android skins like Samsung's usually shrink the entire screen down to either side, maintaining the aspect ratio. This allows you to use the mode for some time before you exit it. But with Android 12's implementation, you can't even see the bottom part of the screen. So, when you need to reach the bottom of the screen, you have to exit on-handed mode again.
Although to be fair, the shrunk-down interfaces from other Android OEMs are not very practical. It's a subjective matter, so your opinion may differ. Do you like the iOS-eque implementation of one-handed mode in Android 12?
Read Next: How to Check the Activation Date of Android Devices