In this tutorial, we will be looking at three different tracking protection that the Edge Chromium browser has to offer. Trackers, as the name suggests, tracks your online presence and sends these data to the concerned parties. By online presence, we usually mean the cache, cookies, the sites you visit, the ads you interact with, among others. But why do they do so? Well, the idea is simple. To get as much information about you as possible. This, in turn, helps them to send you only the personalized and curated ads.
By doing so, they make sure that you usually have a higher chance of interacting with these ads. Well, this is quite understandable. But not everyone feels safe about this practice. As a result, many browsers have incorporated a Tracking Protection feature. And Microsoft Edge Chromium is no different, which comes with three different levels of Tracking Protection. Let's have a look at all these three levels and which one is suited for you. On the other hand, if you're having Firefox browser, refer to our separate guide to managing Tracking Protection on it.
Edge Chromium Tracking Protection
The browser's three levels include Basic, Balanced and Advanced. Here is what each of them has in store: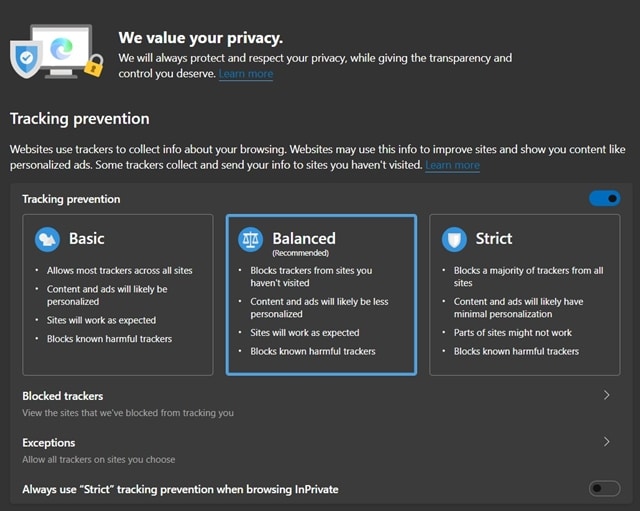 Basic Level: The basic level is known to block all the known harmful trackers. By harmful, we mean those who could attack your privacy or cause great damage to your system resources. But this level doesn't act on any of the trackers that collect data for sending curated contents and ads. So if you're fine with third-party services having a look at some of your browsing activities and in turn getting personalized ads, then you could choose this method.
Balanced level: The tracking protection level that Edge Chromium chooses by default. Similar to the basic level, it also blocks all harmful trackers that might be a cause of concern for your data privacy and system. Apart from that, it also blocks some (limited) trackers that collect your browsing history. As a result, you will be getting less curated content, but you'll still be getting some. This will again not block any of the ads on the sites you visit.
Strict Level: Well, the name says it all. It blocks all the kinds of trackers, be it harmful or even the ones that collect your browsing activities. Although you will still see ads, they will hardly be based on your topic of interest, This is simply because trackers won't be having any clue whatsoever regarding your topic of interest. The blocking is so extreme that you might also notice a few websites not functioning as expected. If that's the case, consider switching to the Balanced profile. This strict level is enabled by default in the browser's InPrivate Browsing.
So these were the three different Tracking Protection in the Microsoft Edge Chromium browser. Now let us have a look at the steps to enable the same. On that note, also check out the steps to change the default search engine on Microsoft Edge Chromium.
Enable Tracking Protections
Open Edge Chromium browser, click on the three horizontal dots situated at the top right and select Settings.


Next, go to Privacy and Services. You should now see the Tracking Protection section at the top. Select the one that suits your needs.

Furthermore, you could also have a look at the trackers that Edge Chromium has blocked till now. To do so, head over to Blocked Trackers section.
With that, we conclude the guide about Edge Chromuim's Tracking Protection. Which one will you ultimately end up choosing is ultimately your choice of interest? But do let us know the same as well in the comments section below.
Read next: Clear Entire Microsoft Edge Browser History on Windows 10