The next release of Ubuntu, Ubuntu 19.04 Disco Dingo is right about the corner. Ubuntu releases new LTS versions every April, after all. This time, however, although we're getting a new Ubuntu version, it's an interim release and not an LT (long term support) release. This means support for 19.04 will extend only to 2020. Ubuntu 19.04 is not very different from Ubuntu 18.10, but it does have a few tricks up its sleeves.
GNOME 3.32
Ubuntu 19.04 Disco Dingo's best and worst changes occur at the desktop level with an upgrade to GNOME 3.32. The new GNOME desktop release is important because the GNOME Desktop Environment is gaining significant improvements in speed. Frame rates, smoother start-up animations, faster icon load times, GPU usage reduction, etc. are all part of this new update. It now also includes the latest version of Nautilus. Meaning features like file favorites and elegant resizing are on offer.
The new version of Nautilus has also lost a minor but very important feature, i.e. on-desktop icon support. So GNOME 3.32 behaves more like Chrome OS, not allowing any icons on the desktop. On Ubuntu 19.04 Disco Dingo though there's a new desktop icon extension that is enabled by default. Broadly speaking the desktop icons extension works okay, but there are a few issues remaining. For instance, files cannot be (currently) dragged and dropped from the desktop on to an app to open/move it.
There are several minor regressions like that as of now. We can only hope these will be solved for the stable release.
GNOME 3.32 is also saying goodbye to application menus that appear on the top panel. This feature has long been associated with issues that have been haunting GNOME. The developers are therefore getting rid of it. Instead of the top bar, application menus will now be available within the applications themselves.
Linux 5.0
Ubuntu 19.04 is built on Linux Kernel 5.0. The next major Linux kernel release will include features like:
AMD FreeSync support.
NVIDIA Xavier display support.
Intel Icelake Gen11 graphic support improvements.
Initial support for NVIDIA Turing GPUs.
ASpeed video engine support.
Initial support for NXP i.MX8 SoCs
NVIDIA Tegra suspend-and-resume for X2 and Xavier SoCs.
ARM big.LITTLE Energy-Aware Scheduling.
POWER On-Chip Controller driver support.
Improved AMD CPU microcode handling.
Fscrypt Adiantum support.
Binderfs implementation.
EXT4 and XFS fix.
Retpoline overhead reduction work.
Aquantia AQtion USB to 2.5/5Gb Ethernet adapter support.
And much more.
Scaling support
Although the new update doesn't include much in the way of new features for displays there's an important introduction. Up until now, Ubuntu Linux hasn't included fractional scaling support. This ability is only useful for those who use larger HiDPI displays. In Ubuntu 19.04 the feature might come in the form of a hidden option, so you'll need to enable it. With fractional scaling, users can fine-tune their displays more granularly. You don't have to set the scale to 1 and wish you could make things either fractionally smaller or bigger. Now you can simply make things either fractionally smaller or bigger.
Wider theme support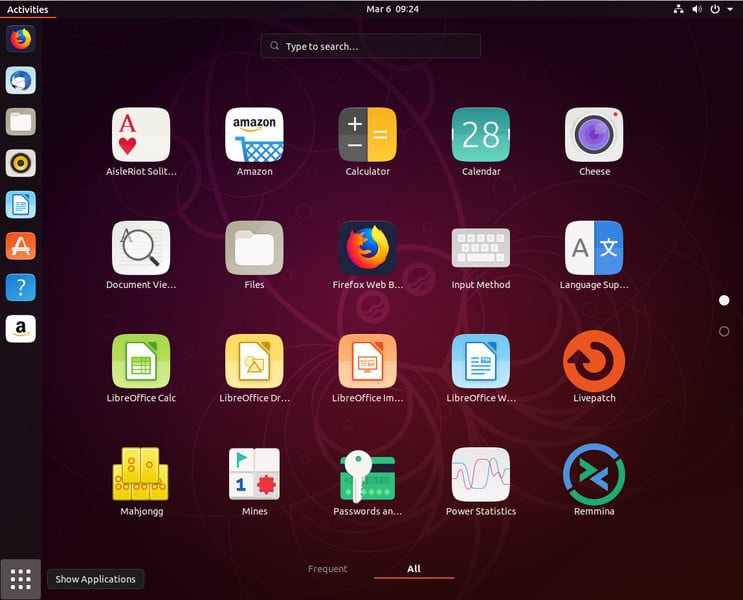 The default Yaru theme introduced with Ubuntu 18.10 will have wider support for third-party apps. That means you'll find fewer of your apps will default to non-Yaru icons in the Launcher, so everything will have a far more consistent look.
Android integration (nope)
It is important to note that the Android integration feature which has been in the works since more than a year now is being dropped again. The feature was first set to arrive with Ubuntu 18.04, then Ubuntu 18.10, and then Ubuntu 19.04. Like the last few times though it's not coming still. Although as always, you can still make use of the GSConnect extension on which the Android integration feature was supposed to be built on.
Download Ubuntu 19.04 Disco Dingo Beta
You can download the Ubuntu 19.04 beta ISO from the official Ubuntu release server, linked below:
Download Ubuntu 19.04 Beta (64-bit .ISO)
A tool like Etcher can be used to flash the ISO image to a USB stick to boot Ubuntu 19.04 beta (or install it) on your computer.
Read Next: Download Xubuntu 18.04 Stock Wallpapers