The Start button had been the talk of the town ever since Microsoft decided to remove it from Windows 8. Faced with a passionate backlash from users the software giant decided to bring it back in Windows 8.1. But it was still a start button that opened a start screen. The love for the classic Windows start menu was never felt around the globe as much as back then. Microsoft ditched the start screen in Windows 10 finally and brought back a start menu that was a step in the forward direction. Though some people still prefer the classic Windows start menu, the tile-based Windows 10 start menu is generally a hit. The small number of start screen lovers, if there are any, can still get the start screen back. But those who like the new modern look, here is how you can customize Windows 10 Start Menu on your PC.
Pinning and unpinning tiles is kinda easy.
To pin an application to the Start menu right click on it and select Pin to Start. You can do this with an app in your Start menu or from the Windows File Explorer as well if its a desktop app. 
To unpin an app, right click on the Start menu tile and select Unpin from Start. You can also unpin a desktop app by browsing to its location using the Windows File Explorer. 
Click on the start button or press the Windows key.
Hover your mouse over to the edge of the Start menu, so your cursor looks like a double-sided arrow. 
Click and drag up and down or right and left depending upon the edge you're holding onto with the cursor. 
Change the size of tiles
At first, it may seem like the tiles have a fixed size. Because if you hover your mouse over the edge of a tile, the cursor doesn't change. This is usually how any OS indicates that something can be resized. Windows 10 does allow users to resize tiles though.
In order to do so, you'll have to right-click on the tile that you want to resize. 
Turn on/off live tiles
One of the advantages of having tiles over icons is live tiles. Tiles, especially the larger ones have enough space to display relevant or essential information in real time. Something that widgets do on other platforms such as Android. But like widgets on Android, live tiles too are a sucker for battery and can also consume a minimal amount of data in updating the information. They can even overwhelm if you have a lot of tiles on your start menu. Fortunately, live tiles can be turned off.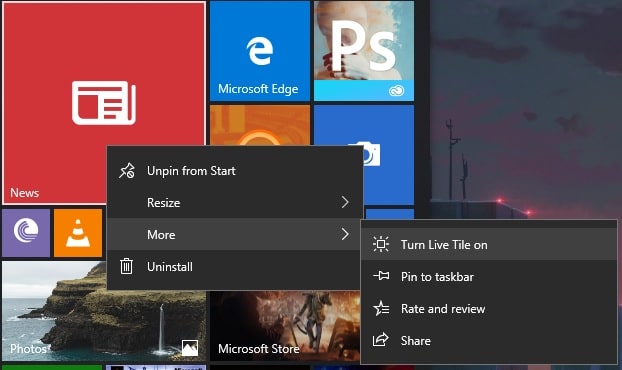 Just right-click on a Microsoft Store app and select More > Turn live tile off. If the live tile is already off, you can see Turn live tile on instead.
Pin more tiles, enable/disable app list, most used apps, and other settings
By default, Windows 10 allows three regular square tiles, or a wide tile and a regular tile, or four small square tiles to be aligned together side by side in one column. If you try to align more tiles the tile is placed in a different column. If you were to dive into the settings though you can make Windows allow you to add one more regular sized tile within the same column. This makes up space for two wide tiles within the same column.
You'll notice other options here as well that you can play around with. The toggles have fitting and descriptive titles.
The Windows 10 Start menu by default has a dark, translucent background with generally blue tiles. It looks cool but if you don't dig it, you can change it.
Here, you can select any color you want, and it will be chosen as the default color of tiles in the start menu as well as the accent color for the modern UI. You can also set it to pick an accent color from your wallpaper automatically. 
If you scroll down further, you can make the Start menu background, taskbar and action center, that is the entire Windows desktop shell use your selected color. Just select Start, taskbar, and action center under Show accent color on the following surfaces.
Group tiles into folders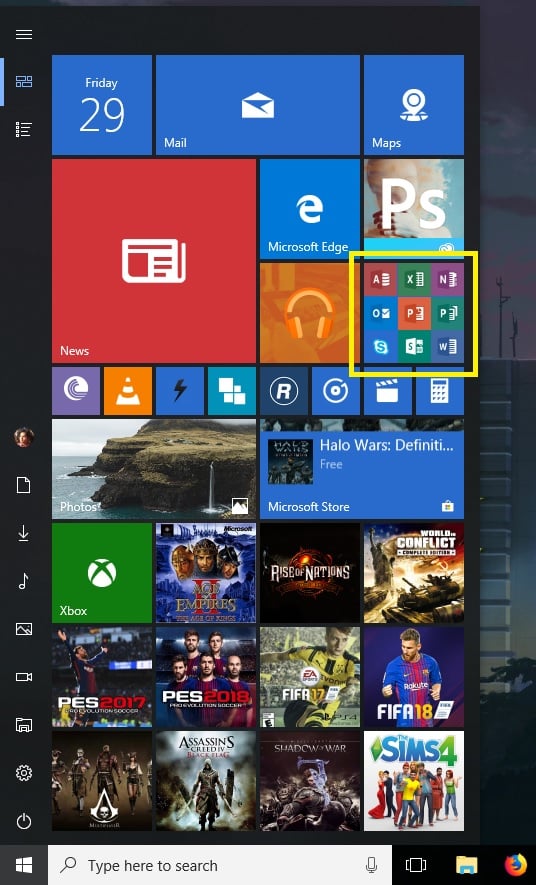 Even after resizing tiles and the start menu itself and allowing more tiles to be pinned, it is possible that you are still running out of space on the start menu. Or maybe you just don't want to make the start menu big and bloated. Whatever your reasons, on the newer versions of Windows 10, you can group tiles into folders.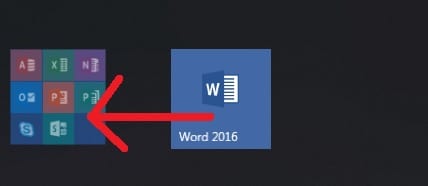 This works as you would expect by simply dragging and dropping tiles onto one another, just as it is on your smartphone.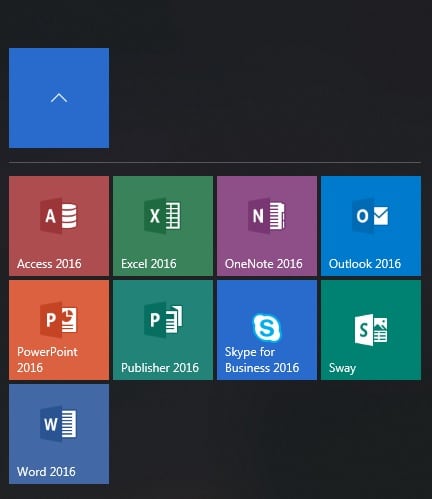 In case you were wondering about those fancy game tiles on my start menu, you can make your own using MyTile.