MyTileWindows 10 combines the best of the modern Windows 8 and the traditional Windows 7. There probably isn't a better example of this than the Windows 10 start menu. But this presents a tiny little problem for people like me who want their desktops to look pretty. If you pin a lot of apps to the Start menu in Windows 10 instead of having desktop shortcuts, the result is visually not very appealing. The way older apps present, when pinned to the start menu, can be a tad ugly. If that sounds familiar then no doubt you've also wished there was something you could do to make those ugly tiles more presentable. Luckily, now you can create Windows 10 custom tiles with a little app called MyTile.
This isn't the first app ever that can let you create custom Windows 10 tiles. There are better options available. Better, but also resource consuming, considering all you want to do is change some tiles. You can have a look at Better StartMenu on the Windows Store. That app will need a helper app that needs to always run in the background if you want your tiles to launch the respective app or file. That's a bit of a letdown, which is why I prefer MyTile.
Developed by Flinston_Ger from XDA, MyTile is different in that it does not require a helper app which has been the case for similar apps until now. This is because MyTile uses visualmanifest.xml via which the latest Windows 10 allows custom tiles. Due to this, the tiles also support the usual jump lists and context menus. There are, however, a couple of minor limitations as well. Since Windows 10 does not allow wide or large tile sizes for non-Windows Store apps, your custom tiles too can only be created in medium and small sizes. Also, the app can only create tiles for programs and shortcuts in the Start Menu folder. To make more out of the Start Menu though, you must not miss our Windows 10 Start Menu customization tips.
Download MyTile
Using the app is pretty simple and straightforward unlike some other solutions available right now. Download the archived package from the download section above. Extract the contents into a folder once downloaded. It contains the following four files :
MyTile.exe
MyTile.visualelementsmanifest.xml
MyTile-mytile.png
template.xml
But before you can use MyTile to create tiles for your favorite apps, you should probably make sure the apps have a shortcut in the start menu. This is because MyTile does not allow you to browse for files or programs. It instead simply displays a list of all the installed programs which have a shortcut in the start menu folder.
Create Windows 10 Custom Tiles for Shortcuts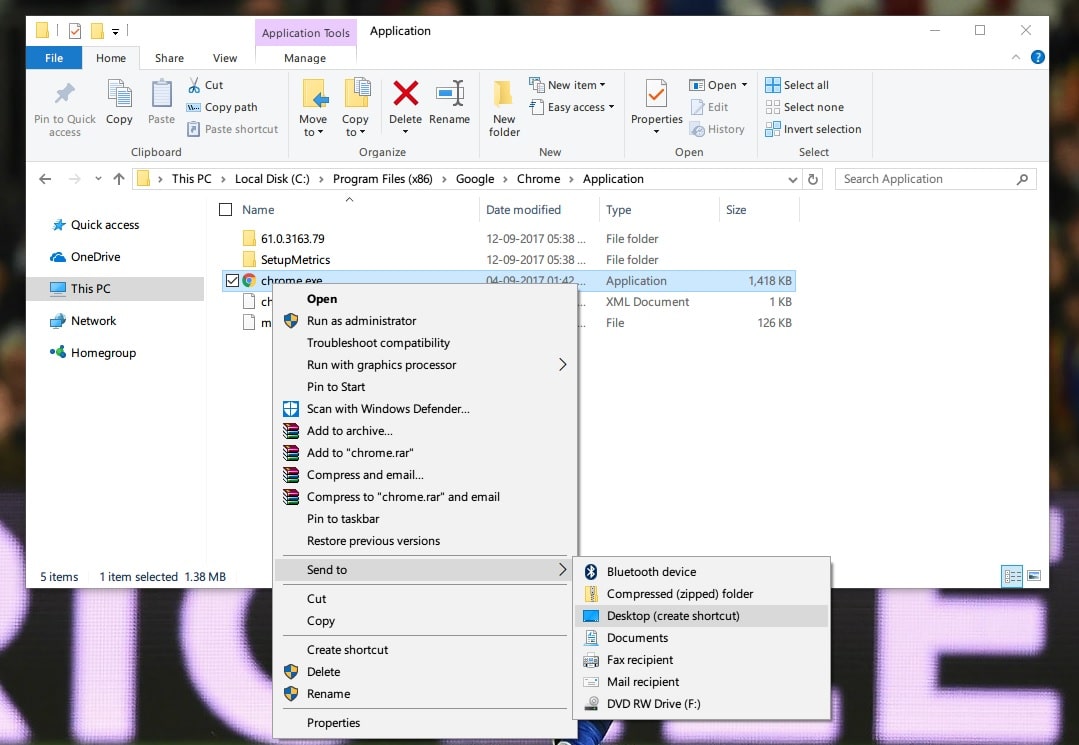 When you want to create a custom tile for an app, make sure you have a shortcut already present in the Start Menu folder. You can create a shortcut for any file or program by right-clicking on it and selecting Send to > Desktop (create shortcut).  You'll need to move this shortcut to C:\ProgramData\Microsoft\Windows\Start Menu\ before you can create a custom tile for it.
Create a custom tile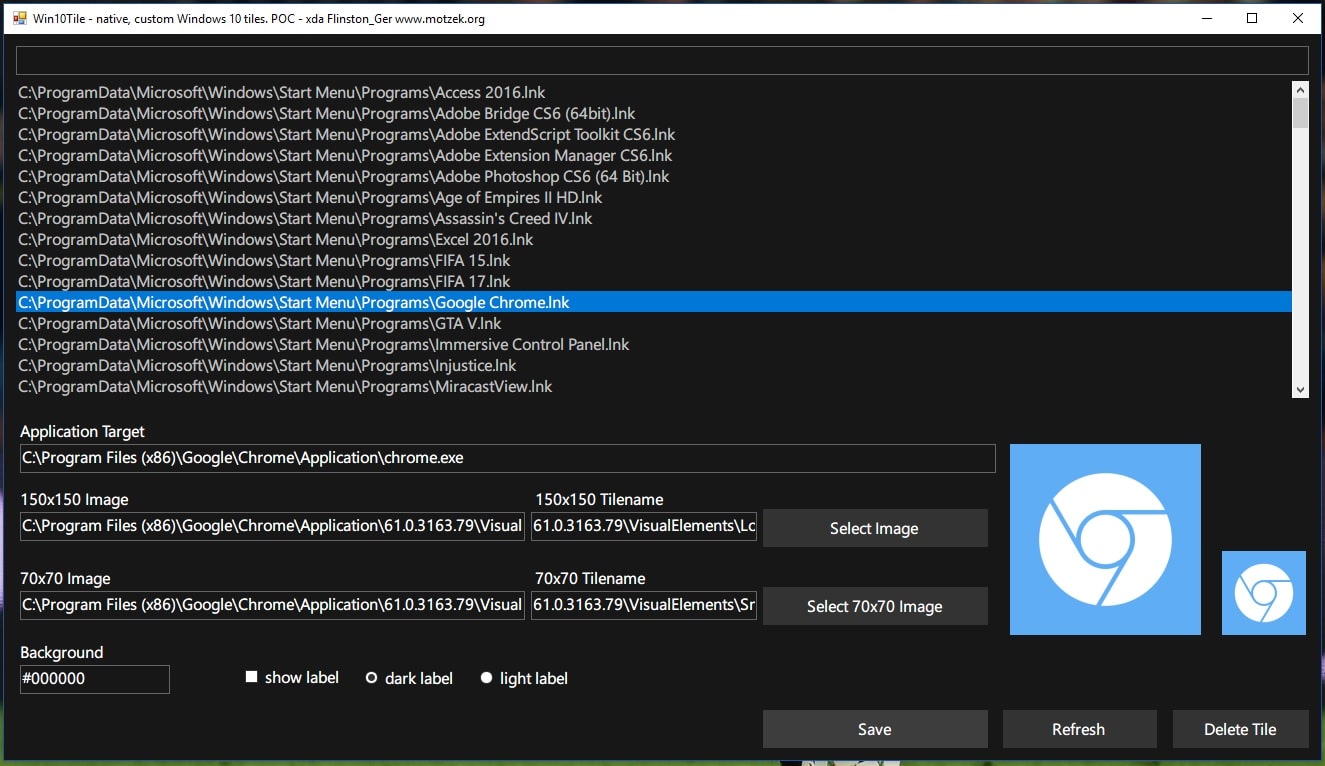 To create a custom tile on Windows 10, right-click on MyTile.exe and select Run as administrator. Select the app shortcut you would like to create a custom tile for from the list. Below the list of apps, you will have the option to select a tile icon or image. You can either select a square image to use as a tile or simply select an icon and change the background color accordingly. MyTile even lets you select the color of the Tile label and whether to show the label or not. When you're satisfied with the look, just click on the Save button.
Pin the tile to Start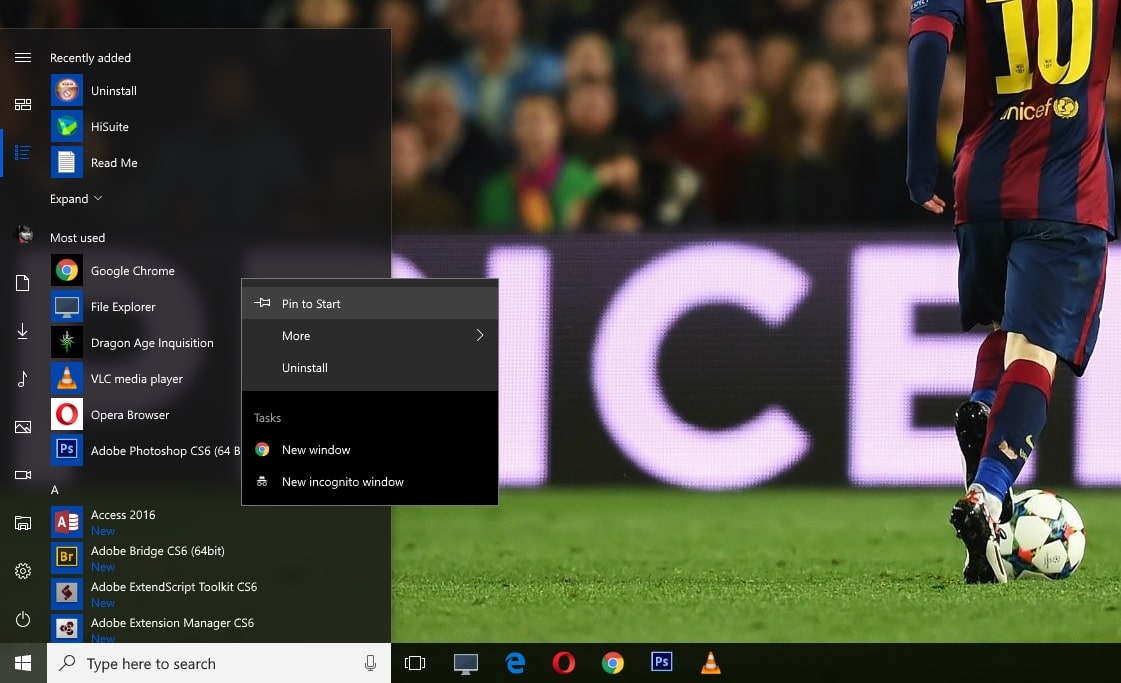 Your custom tile has been created but MyTile does not automatically pin the tile to your Start menu. This isn't a major inconvenience though because you can easily do so yourself. If you don't already know, to pin anything to start, just right-click on it and select Pin to Start. There is no limit to how many tiles you can create, at least not due to the app. Go ahead and create a beautiful tile for all your favorite desktop apps and pin them to the start menu.
Read Next: Save Spotlight Lockscreen Wallpapers on Windows 10