I'm the kind of guy who never settles with one wallpaper. Seeing the same wallpaper 24×7 may get kind of boring. Changing wallpaper is not that tedious task too, it's very easy. I change my wallpaper almost daily.
But just to spice things up a bit – what if you don't have to change your wallpaper ever again? Will it change on its own? Such a function is available in Windows and I use it very much. It's simple, just set a time interval and select a bunch of wallpapers. Now after a time interval, the wallpaper will change automatically. Neat!
If you are looking for some awesome wallpapers, do check out our previous posts about the best live wallpapers and the best static wallpaper apps.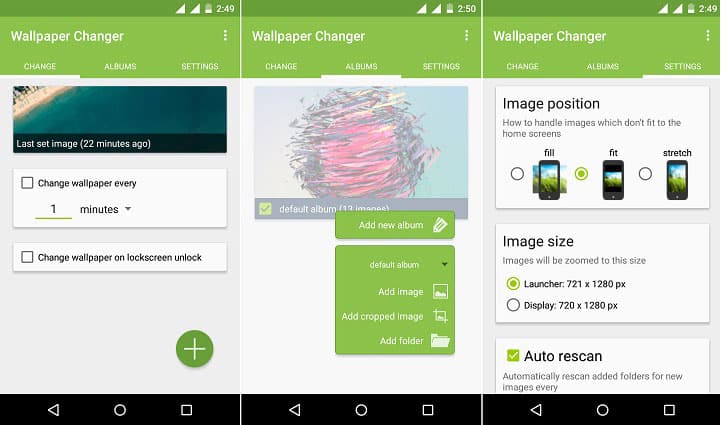 Here's how to change your Android wallpaper automatically.
Go to the Google Play Store and download Wallpaper Changer
Open the app to configure it
Before doing anything, enable app's live wallpaper by tapping the orange bar on the top
Select the method you want to be used for changing the wallpapers.
You can set the wallpapers to change after a certain period of time or after every screen unlock
Swipe to the "Albums" tab to select the wallpapers
Tap the green Floating Action Button (FAB) to create a new album
Select wallpapers. It will be grouped in an album automatically
Exit the app. Your wallpapers will start to change after a set interval of time
In the third tab i.e. "Settings" tab you can further configure the wallpaper settings. These settings include Image position – fill, fit, and stretch. It also has options like Auto rescan of wallpaper folder and random wallpaper order.
Changing wallpapers automatically could easily freshen up your home screen. Do try this app and share your thoughts with us in the comments section below.
Read next: How to Turn off Talkback on Android